Thanks to Liz for all three items.
Ramadan 2009: America and Islam
Saudi Gazette | 06 Sept 09
James J. Zogby
I HAD the distinct honor of being invited to address this year's Iftar dinner at the Pentagon, together with Ms. Farah Pandith, the State Department's Special Representative to Muslim Communities, and Ms. Dalia Mogahed, of the Gallup Corporation. In attendance were over 125 American Muslims, members of every branch of the US military, and their guests from the White House, Congress and other government agencies.

The evening provided an opportunity for reflection on the changes that are occurring among American Muslims and in the US' relationship with Islam.

When I first came to this city, over 30 years ago, there were no Iftars, nor was there any formal recognition of Ramadan or the Eids by anyone, anywhere. I can recall going to the Reagan White House to propose a presidential Eid message and being asked to write it. And then reminding them each year after that.

The practice was broadened and institutionalized during the Clinton years, with President Bush adding an Iftar dinner, which he hosted each year of his presidency.

At this point, there are Iftars all over this city — the White House, State Department, Congress, National Security Agency, and more.

A primary factor accounting for this change and the growing recognition being given to Ramadan, is the presence and vitality of a growing Muslim community. There are thousands of Muslims serving in the US military and hundreds serving in every branch and agency of the US government.

It is not just that the US is heavily engaged in the Muslim World, it is that America's Muslim community is no longer invisible. Their presence, hard work and contributions to our country are being recognized. And with that, their faith is being appreciated.
Yeah, that's what did it — that's what made us "appreciate" their "faith" — it was all that hard work and "contributions". Nothing at all to do with the more "explosive" contributions, or this: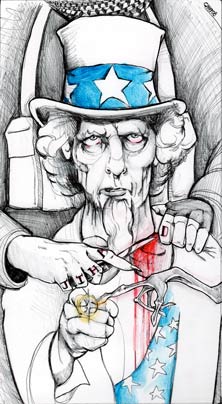 A tribute to American Muslims, yes — but also a tribute to the capacity of America to grow and change…America possesses an alchemy, of sorts, with its remarkable capacity to transform people and itself. With citizenship you get more than a passport and the right to vote — you become American. And that is not all, because, in the process, America becomes changed. As each new wave of immigrants has come to our shores and become Americans, the very character and definition of the country and its culture has changed.
Yeah, that's all this is — it's just like every other immigration wave before it. And here he sums up the American arch in a nutshell:
…Twenty-four years ago, for example, I was called to Dearborn Michigan, where the leading candidate for mayor in that year's election had just sent out a mailing to every household in the city. Blazoned across the front page were the words "The Arab Problem" — which he went on to describe as the danger posed by a large influx of Arab immigrants flooding the city, who don't share "our darn good way of life".

As that community grew and prospered and changed, the city and mayor changed, as well. Years later, I went to Dearborn to receive, from that same mayor, the official "masbaha" of the city of Dearborn. He opened the ceremony with greetings in Arabic, quoted the Qur'an and then spoke of the contributions Arab-Americans had made to his city. (Note: in this year's Dearborn elections, five of the fourteen candidates for city council are Arab-Americans!).
Fall in!
On another occasion, I was called to Michigan to deal with a crisis that had erupted in the schools during Ramadan. Muslim children who wanted to fast had asked to have a study period during lunchtime. Instead, they were made to sit in a corner of the cafeteria. Other children began to taunt them, some threw food at them. Fights broke out and some of the Muslim children had been suspended.

When I met with the Arab-American children and their parents, one 14-year-old girl told me that she had spoken with the principal and suggested a solution.

The problem, she said, was that the non-Muslim children "don't understand our culture. Maybe we can help them learn about us." To which the principal responded "our job is to teach you our culture, not to learn your culture".
With past immigrations, incidents like this were pervasive and they built character. Every new group to the melting pot got a whole lot of shit. Yet somehow, with this immigrant group the opposite is happening.
That 14-year-old Yemeni-American girl was right and her principal was dead wrong.

When America is at its best, it is growing, learning, changing and becoming more diverse and better.

And so, as I looked out at the Pentagon audience of young men and women, dressed in the uniform of Army, Navy, Air Force and Marines and saw the pride their commanding officers had in them, and heard the stories of their service and valor, I thought of that 14-year-old Michigan Muslim girl (who, incidentally, is now a grown woman teaching US military personnel about Arabs and Islam) — and of the America that is embracing Muslims, transforming itself and becoming new. And I was proud.
In continuance of the free world's Mountain coming to Muhammad, Brits this year are being invited to join in the fast during Ramadan. Vital practice for what will soon no longer be a mere invitation:
Non-Muslims invited to join Ramadan fasting
NON-MUSLIMS have been invited to find out what Islam is really about by fasting with The Wycombe Islamic Society next week.

The organisation is encouraging people of other beliefs and religions to join them for Iftar, the meal which ends a days fasting during Ramadan on Thursday September 10.

During Ramadan - the holiest month in the Muslim calendar - believers must abstain from all food, drink, gum chewing and any kind of tobacco use or sexual contact between dawn and sunset.

They are also not allowed to gossip, lie, or slander. [Though killing infidels is allowed before, during and after sunset.]
…
The aim of the event is to give an insight into how Muslims feel during the religious period.

A short presentation will take place at the end of the feast [at the] new Wycombe Islamic Centre off Totteridge Road at 6.15pm. A meal will follow at 7.30pm - when the sun sets. …

Mr Jawed said he hoped the event will help foster better community relations.

"It will give people a valuable experience into another faith which is prevalent in our community but suffers from misconceptions," he said.

He added: "People will have a chance to experience the real Islam which is about prayer, fasting and charity."
Anyone who wants to take part can contact Mr Jawed at….
Prayer for our demise, fasting to get god to help them, and charity to Hamas, Hezbollah et al.
We've got a taker! The arch is complete. In Canada, here is just the latest recruit:
It was smooth sailing for this new Muslim, until Ramadan came along. But Alex Carter is fasting
For the past nine months, Alex Carter has been taking a crash course on how to be a Muslim.

He has spent much of his time focusing on the basics of the new faith he accepted last December at an Islamic conference in front of thousands of people.

He's learning how to pray, slowly getting used to the Arabic alphabet and immersing himself in the local Muslim community.

Until now, it had been smooth sailing.

But as Ramadan approached, Carter began to get a little worried about fasting for the first time. Some Muslims consider it the most physically and mentally challenging time of the year.

"There is a lot of preamble before the month," said Carter, 27, who grew up in the suburbs of Vancouver, and was raised Christian. "As you get closer (to Ramadan), everyone is talking about how long you have to fast, what day it has to start and how many days it will last…

"My wife and I started fasting together," he said. "And every time we would get hungry, we would just look at each other and say we're hungry."

It was comforting to know they weren't alone. "For me, the strength really comes from the community," he said. "To know there are millions of people out there and we are doing this together really helps."

And good to remember why he was doing it. "It really makes you think about the blessings, the food, water, sustenance that we have," he said.
…
On a few days, he has taken a few sips of water to get him through the day. He knows it isn't technically allowed, but for him it is a small concession in the life-long process of becoming Muslim.

This is the second of three Ramadan profiles to run this month.
Keep on rocking in the free world…