1. Obama gets reelected.
(Shouldn't he get a second Nobel?)
2. Palestinians vow to take their case to the UN unilaterally.
3. Hostess closes shop.
4. Hamas launches rockets at Israel.
5. The Palestinians become UN non-member observer state.
6. Croatian and Albanian Nazis are acquitted at The Hague.
Given these achievements — and all in a single month — where's that Nobel?
Background on one of the items above, from a Simon Wiesenthal Center email:
UN VOTES TO ADMIT 'PALESTINE'
Campaign to Deny Jewish People Historic Link to Land of Israel Continues Unabated
November 29, 2012
"Today's vote in the UN has nothing to do with reality. Peace in the Middle East will only come when the Palestinians sit down with the Israelis and negotiate. There is no other way to achieve peace in the Middle East." — Rabbi Marvin Hier

Palestinian President Mahmoud Abbas has once again shown he never misses an opportunity to miss an opportunity for peace. Instead of pursuing direct negotiations with Israel for a Two-State solution, and in violation of the 1993 Oslo Accords, Abbas unilaterally pressed the UN General Assembly to upgrade Palestine to a Non Member Observer State.
(I'm afraid Abbas isn't "missing an opportunity." He's simply found a different opportunity, one that worked in Kosovo, a precedent that he's cited himself.)
Today, he got his wish and continues the insidious campaign to erase a deep and abiding truth: the Jewish people have a profound history in the Holy Land dating back over 3,500 years. Abbas himself recently declared, "[The Jews] claim that 2,000 years ago they had a Temple. I challenge the claim that this is so."

This slander echoes the lies spread by official Palestinian TV which, according to Palestinian Media Watch recently aired an interview stating, "No trace of Jewish history in 'our land' … Temple exists on the minds of radical organizations."

Tragically, the NGO world and most world leaders, including many churches, have not uttered a word as Palestinian propaganda infers that the prophetic writings of Isaiah, Jeremiah and Ezekiel – revered by Jews and Christians alike – were never uttered in the Holy Land.

And this is what today has become the new 'Big Lie' - that the Jewish people are intruders in their own land.
Intruders in their own land. Like mere Serbs. "'Myth' of the Serbian Claim to Kosovo," anyone?
Palestinians certain to win recognition as a state (By EDITH M. LEDERER, AP)
The Palestinians are certain to win U.N. recognition as a state Thursday in a General Assembly vote that Israel and the United States warn could delay hopes of achieving an independent Palestinian homeland through peace talks with Israel.

The United States, Israel's closest ally, mounted an aggressive campaign to head off the General Assembly vote, which the Palestinians view as a historic step in their quest for global recognition.

In a last-ditch move Wednesday, U.S. Deputy Secretary of State William Burns made a personal appeal to Palestinian President Mahmoud Abbas promising that President Barack Obama would re-engage as a mediator in 2013 if Abbas abandoned the effort to seek statehood. The Palestinian leader refused, said Abbas aide Saeb Erekat.

With most of the 193 General Assembly member states sympathetic to the Palestinians, the vote is certain to succeed. Several key countries, including France, have recently announced they would support the move to elevate the Palestinians from the status of U.N. observer to nonmember observer state. However, a country's vote in favor of the status change does not automatically imply its individual recognition of a Palestine state, something that must be done bilaterally.

The Palestinians say they need U.N. recognition of a Palestinian state in the West Bank, Gaza and east Jerusalem, the lands Israel captured in 1967, to be able to resume negotiations with Israel. They say global recognition of the 1967 lines as the borders of Palestine is meant to salvage a peace deal, not sabotage it, as Israel claims.

The non-member observer state status could also open the way for possible war crimes charges against the Jewish state at the International Criminal Court.

Israeli Prime Minister Benjamin Netanyahu said Thursday the recognition of an independent state of Palestine in the U.N. General Assembly will not advance the Palestinians' quest for a homeland. He said the Palestinians will not win a state until they recognize Israel as the Jewish homeland, declare an end to their conflict with the Jewish state and agree to security arrangements that protect Israel.

While Israel argues that Abbas is trying to dictate the outcome of border talks by going to the U.N., the recognition request presented to the world body in fact calls for a quick resumption of negotiations on all core issues of the conflict, including borders.

Netanyahu's predecessors accepted the 1967 lines as a basis for border talks. Netanyahu has rejected the idea, while pressing ahead with Jewish settlement building on war-won land, giving Abbas little incentive to negotiate.

For Abbas, the U.N. bid is crucial if he wants to maintain his leadership and relevance, especially following the recent conflict between his Hamas rivals in Gaza and Israel. The conflict saw the Islamic militant group claim victory and raise its standing in the Arab world, while Abbas' Fatah movement was sidelined and marginalized.

The Palestinians chose the "International Day of Solidarity with the Palestinian People" for the vote…

U.S. Secretary of State Hillary Clinton warned Wednesday that the U.N. vote will not fulfill the goal of independent Palestinian and Israeli states living side by side in peace, which the U.S. strongly supports because that requires direct negotiations.

"We need an environment conducive to that," she told reporters in Washington. "And we've urged both parties to refrain from actions that might in any way make a return to meaningful negotiations that focus on getting to a resolution more difficult."
Now THAT'S irony, Folks. She's warning against everything she did re Kosovo/Serbia.
The U.S. Congress has threatened financial sanctions if the Palestinians improve their status at the United Nations.

Ahead of the vote, Republican Sen. Orrin Hatch filed an amendment to a defense bill Wednesday that would eliminate funding for the United Nations if the General Assembly changes Palestine's status.

"Increasing the Palestinians' role in the United Nations is absolutely the wrong approach, especially in light of recent military developments in the Middle East," he said in a statement. "Israel is one of America's closest allies, and any movement to strengthen one of its fiercest enemies must not be tolerated."

Israeli government spokesman Mark Regev said that by going to the U.N., the Palestinians violate "both the spirit and the word of signed agreements to solve issues through negotiations," which broke down four years ago.
Kosovo, anyone?
But Israeli officials appeared to back away from threats of drastic measures if the Palestinians get U.N. approval, with officials suggesting the government would take steps only if the Palestinians use their new status to act against Israel.

Regev, meanwhile, affirmed that Israel is willing to resume talks without preconditions.

U.N. diplomats said they will be listening closely to Abbas' speech to the General Assembly on Thursday afternoon before the vote to see if he makes an offer of fresh negotiations with no strings, which could lead to new talks. The Palestinians have been demanding a freeze on Israeli settlements as a precondition.

As a sign of the importance Israel attaches to the vote, Israeli Foreign Minister Avigdor Lieberman flew to New York and was scheduled to meet Secretary-General Ban Ki-moon before the vote…

Unlike the Security Council, there are no vetoes in the General Assembly. The world body is dominated by countries sympathetic to the Palestinian cause and the resolution to raise its status from an observer to a nonmember observer state only requires a majority vote for approval. To date, 132 countries — over two-thirds of the U.N. member states — have recognized the state of Palestine.
But, like, that's more than the "state" of Kosovo.
The Palestinians have been courting Western nations, especially the Europeans, seen as critical to enhancing their international standing. A number have announced they will vote "yes" including France, Spain, Norway, Denmark and Switzerland. Those opposed or abstaining include the U.S., Israel, Germany, Canada, the Netherlands and Australia.

The Palestinians turned to the General Assembly after the United States announced it would veto their bid last fall for full U.N. membership until there is a peace deal with Israel.

Following last year's move by the Palestinians to join the U.N. cultural agency UNESCO, the United States withheld funds from the organization, which amount to 22 percent of its budget. The U.S. also withheld money from the Palestinians.
Laying claim to cultural heritage of a region is part of the land seizure strategy, so UNESCO membership is key for the Palestinians. As it is for the Albanian "Kosovars," who are recasting Serbian history as "Kosovo" history, to eventually be, simply, Albanian history. While the U.S. has a problem with these methods when Palestinians are doing it to the Israelis, it doesn't have a problem as Albanians do it to the Serbs.
OH, and one can't help notice that International Day of Solidarity with the Palestinian People is the very next day after Albanian Independence Day, a.k.a. Albanian Flag Day, a.k.a. Greater Albania Day, a.k.a. Shoot-a-Serb Day:

An Ethnic Albanian boy waves an Albanian flag during a rally marking the Albanian Flag Day on November 28, 2012 in Presevo, southern Serbia. At least 2,000 ethnic Albanians, who form a majority in this region bordering Kosovo, gathered today to celebrate the 100th anniversary of Albania's independence. Albania marks 100 years of modern statehood by commemorating the November 28,1912 declaration of independence from the Ottoman Empire.
Oh, it's "marking" a lot more than that. It's marking future territory.
In addition to Serbia's Presevo region, Albanians have also marked Greece. (Remember last year's Flag Day on that point. And check out 2010's.)
And here they marked Macedonia this week, where the central ceremony — the main event — was held: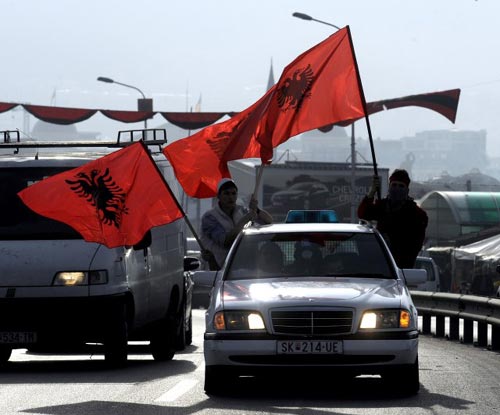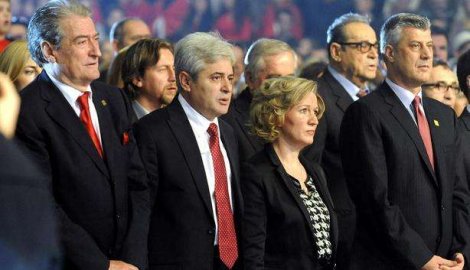 The ceremony in Skopje, Macedonia was attended by both Albania's president Sali Berisha and Kosovo's "prime minister" Thaci. Why?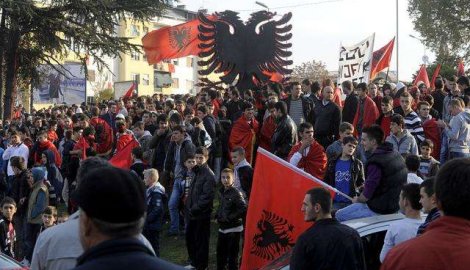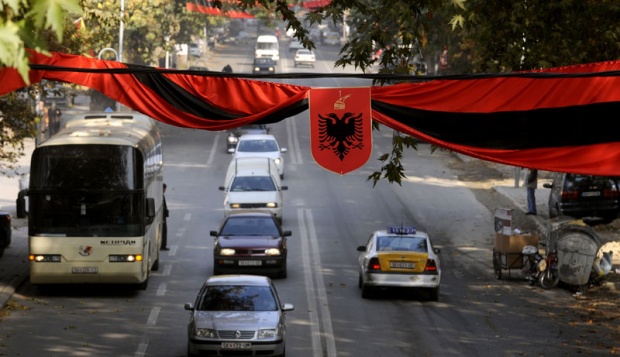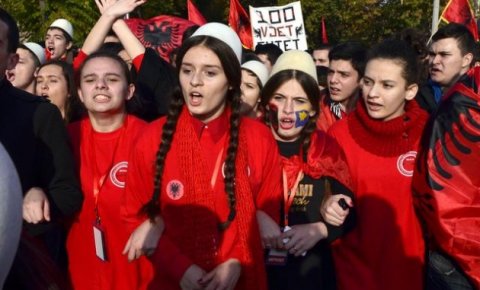 Gray Falcon's Nebojsa Malic remarked:
Imagine Mexico had its central national day ceremony in San Antonio. I imagine it would go rather well with the Texans?

There is no Macedonia. No country can be this humiliated and still considered existing.

Balkan Insight, meanwhile, blamed Macedonians for "offending Albanians" by not coming to the Tirana ceremony.
See his short blog on the matter "Monument to Evil."