January 11th 2008 04:38:00 AM
Need some vacation ideas for 2008? On the eve of the new year, the Associated Press came up with a grand suggestion — in case you hadn't thought of it yourself. And unless you're crazy, you haven't.
Explore Kosovo and Step Back in Time
Kosovar Albanian Muslims stand outside the Grand Mosque of Kosovo in the capital Pristina in this Oct. 23, 2006 file photo, during the prayers marking the first day of Eid al-Fitr celebrations, the end of the holy month of Ramadan. For adventurous travelers seeking a glimpse of a region still colored by the medieval collision of Slavs and Ottoman Turks, and spiced by Islam and the mysteries of Eastern Orthodoxy, Kosovo is a fantastic destination. (AP Photo/Visar Kryeziu, File)
I'd say "adventurous" is definitely the right word. And did you catch that, Kids? Islam is a "spice"! Just be careful — it burns. Oh, and here's what that "collision" between Slavs and "Ottomans" looks like: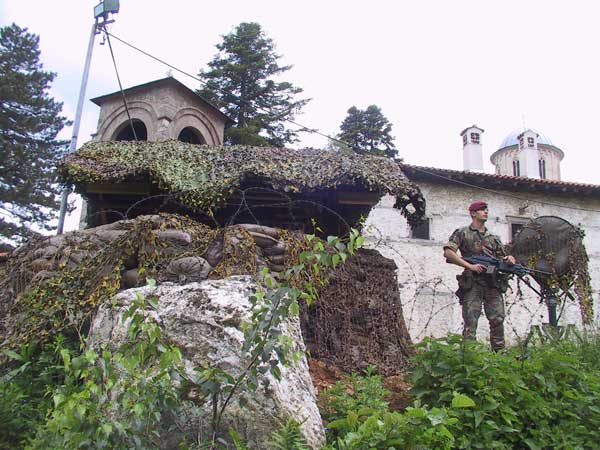 An Italian NATO peacekeeper stands guard in front of the Serb Orthodox Monastery of Visoki Decani in western Kosovo…
And who's guarding the mosques? Why no one! Because there's no need. Because the "collision" is no collision at all, but a daily assault by one side against the other.
Ah, those old-fashioned, medieval Slavs! Creating a mysterious situation for travelers by refusing to bolt from Muslim-seized lands.
But wait — in the new, super-fly Kosovo, these "Ottomans" aren't exactly Ottomans. Or else how does one explain this from Chris Deliso's book:
In August 2000, the Saudis sent construction workers armed with official permits to the western Kosovo town of Djakovica, where they bulldozed parts of an Ottoman library and Koranic school dating back to the sixteenth century. The Wahhabis had little tolerance for the traditional aesthetics of Ottoman Islam. To be "authentic" places of worship, as a contemporary article put it, mosques should be "white, boxy structures devoid of detail." Predictably, NATO troops in the area kept out of it, allowing the Saudis to destroy the centuries-old Ottoman structures.

Arab charities also engaged in the wanton destruction of gravestones, mausoleums, and, especially, shrines devoted to Kosovo's storied Sufi order of Islam…Almost a year earlier, in October 1999, visiting Harvard University Fine Arts librarian Andras Riedlmayer had observed charity workers from the United Arab Emirates ordering local Albanians in the village of Vushtrri "to sledgehammer the graves of their ancestors, completely clearing two historic graveyards…of more than 100 gravestones dating back to the 15th century…"
Before we start feeling too sorry for the local Albanians, however, let's remember that this is where Serb-hatred gets you. It gets you Saudi Arabia, which will give you a taste of your own medicine as it takes over. The takeover, of course, being the logical, foreseeable conclusion of accepting Islamic help in your nationalist separation from the larger infidel society.
Here's another Ottoman-related happening since our assistance in that land grab — in neighboring Macedonia (also from Deliso):
Another fascinating case of what is happening now can be seen in Macedonia's southwestern town of Struga, an ethnically mixed tourist destination on Lake Ohrid whose civil administration changed from Macedonian to ethnic Albanian control….[P]ermission was given to remove a small Ottoman mosque, which had been built over a Byzantine church, replacing it with a huge, Saudi-style mosque…Built very close to a hotel on Struga's placid lakeshore, the new mosque's well-amplified minaret blasts out the call to prayers five times a day, something that has irritated local non-Muslims and, significantly, foreign hotel guests. As a manager at one hotel on the shore opposite the mosque sadly conceded, "the European tourists coming for a quiet vacation get jolted out of bed by the noise coming from the mosque…and don't return." When asked whether such a policy was fair to non-Muslims, an imam at the Islamic Community of Struga…suggested that music wafting from cafes in the evenings was equally offensive to Muslims.
Brought to you by the U.S. of A. Now, travelers, let's continue with the Kosovo PR article:
The Visoki Decani Monastery is nestled in a stunning canyon ringed by rugged mountains, but it's not the altitude that takes your breath away.

Step inside the 14th century Serbian Orthodox abbey, inhale the fragrant myrrh that perfumes the frescoed interior, and suddenly you're transported through the ages to a bygone era of monks, marauders and martyrs.
Don't we wish!
It's a rare Balkan oasis — a place of unspeakable beauty, sanctity and solitude. And somehow, the heavily armed Italian peacekeepers standing respectful guard just outside the ancient monastery's cobblestone courtyard make it seem all the more poignant.
Poignant! To the travel writer and traveler, this is "poignancy". Not precariousness and surely not relevant to anything like a big picture. It's just a Slav-Ottoman thing.
Is it safe? That's a fair enough question to ask about a place where a 1998-99 war between ethnic Albanian insurgents and Serbian troops killed 10,000 people, and where ethnic strife still occasionally erupts.

The answer: an unequivocal yes. About 16,000 NATO peacekeepers patrol the province, which is roughly the size of Belgium or Connecticut, and visitors can count on plenty of warm Balkans hospitality.

Pristina, Kosovo's gritty capital, is the most logical starting point, if only because Austrian Airlines and a handful of other carriers fly daily there from Vienna and a few other European cities.
Its tiny airport is your first clue that you're about to alight in what was, just a decade ago, a rough neighborhood. Military jets and helicopters line the tarmac, and signs warn visitors not to snap pictures.

Don't be put off by Pristina's drab communist-era apartment blocks and muddy trash-strewn streets. The city is working hard to clean up its act, and tucked among the tenements are some of southeastern Europe's most lively cafes and bars. Demographically, it's much like Dublin: a youthful city where half the population is under age 25.
Under 25 and Muslim. I think that's called a profile.
In Prizren, wander the banks of the River Bistrica, which winds through the town, and haggle with the merchants selling hand-crafted silver jewelry and embroidered cloth. Indulge in a cappuccino — the Kosovar version is especially decadent, topped with a thick dollop of cream and chocolate syrup.
To celebrate the tradition in which the new Kosovo (Kosova) was born, make sure to have that coffee served to you by a naked 80 year-old Serbian woman:
What of the widow of the famous World War Two veteran, the Partisan who had fought the Nazis with great success in the mountains of southern Serbia? He died thirty years before his widow. She was more than 80 years old when the [Kosovo Liberation Army] in uniforms broke into their house on 16 June 1999. There were several old Serb women in the same house; her neighbours had taken shelter with her…The [KLA] stripped them and raped them. They forced them to serve them coffee.
Back to the more idyllic Kosovo:
Climb the hill and take in the panoramic views from Prizren's 11th century Kalaja Fortress. Back down in town, check out the Mehmet Pasha Mosque, built in 1561, and its hexagonal mausoleum; and the larger Sinan Pasha Mosque with its Baroque paintings and ornaments.
Or check out the Medina mosque in Vitina, once dubbed "the bin Laden mosque" because of all the bin Laden photos that adorned its walls until recently, after Americans serving in Kosovo balked. Not far from it is one of the many Statues of Liberty dotting the Kosovo landscape. While in Vitina, visit the Church of St. Petka, which has withstood 15 RPG attacks and counting since our intervention, then be sure to stop in to the new brothel that opened in front of it. Back to the article:
The elegant exterior of the [Decani Monastery], built with sumptuous slabs of pale yellow onyx and light violet breccia marble, is a marvelous combination of Gothic, Byzantine and Romanesque features. Equally lovely is the courtyard, where the scraggly bearded Serb monks offered safe haven to Albanian refugees during the war. [There's that Slav-Albanian "collision" again! That one-way "ethnic tension".]

But it is the interior that beckons. A single step inside helps explain why Serbs stubbornly cling to their conviction that Kosovo is the heart of their ancient homeland, if not the cradle of civilization itself.

A hush — to the spiritually inclined, an undeniable presence — washes over you the moment you set foot inside. Christ and the saints beam down from some of the continent's best-preserved fresco paintings and icons, and the monks say the faithful are still healed by contact with the remains of Holy King Stefan entombed in the chapel.

Conflict of any kind seems entirely out of place, even though as recently as last spring, someone fired an anti-tank rocket that damaged Decani's outer wall.
Yeah, that kind of nonsense is completely "out of place"!
No one was hurt, and the young 20-something monk tending the chapel is nonplussed. He's seen worse, and expects better.

"NATO is here," he says. "But it is God who will protect us."
If You Go…
KOSOVO: http://www.visitkosova.org [sic] has useful information on how to get around Kosovo and tips on important cultural landmarks and other destinations.

GETTING THERE: Austrian Airlines flies daily to Pristina from Vienna. British Airways offers nonstop service from London's Gatwick Airport, and Adria Airways operates regular flights from Brussels and other European capitals.
That's right, Folks. Now you can get your sex slaves DIRECT! Why go through the immigrant middleman in your country? Why rely on Albanians coming to you when you can get to their stock of slaves and heroin direct?
CURRENCY: The euro is used in Kosovo.

LANGUAGE: Albanian is the predominant language but English is widely spoken, especially among young Kosovars.
Caveat: If you happen to be a naturalized citizen of one of these Western European countries, perhaps originally from Poland, Slovenia, Ukraine, Russia, Slovakia or any other Slavic-speaking nation whose language sounds like Serbo-Croatian, you may want to refrain from speaking in your native tongue while in Kosovo if you don't want to find yourself bleeding to death on the ground.
As an aside, I must ask: are travelers generally known to be insane? Are they known to be stupid and uninformed? Is this how there can be a "Come to Kosova" article? Does the travel industry rely on travelers to simply have no clue as to what's going on in the world and to never put two and two together? I probably answered my own question in my article "Pity the Travel Writer."