July 03rd 2008 12:28:59 PM
Ad Featuring Popular Police Pup Sparks Anger in Scottish Muslim Communities
Muslims in the Scottish district of Tayside are outraged by the appearance of a wide-eyed, 6-week-old puppy on postcards distributed by the local police force, according to the Daily Mail.

Postcards showing police dog-in-training Rebel, a German shepherd born in early December, are causing a furor among the region's Muslims who believe dogs are "ritually unclean," the Daily Mail reports.

The cute cards were meant to notify locals of a new telephone number for non-emergency phone calls but instead have become a flashpoint for a clash of cultures. Shopkeepers are refusing to display the offending ad and a Dundee city councilor is calling for an investigation.

"My concern was that it's not welcomed by all communities, with the dog on the cards," said Dundee councilor Mohammed Asif, according to the report.

The Tayside police force said the police puppy, the force's "newest recruit," was not intended to cause offense.

"His incredible worldwide popularity — he has attracted record visitor numbers to our Web site — led us to believe Rebel could play a starring role in the promotion of our non-emergency number," said a police spokesperson.
More, from the UK Daily Mail:
…Dundee councillor Mohammed Asif said: '…They (the police) should have understood. Since then, the police have explained that it was an oversight on their part, and that if they'd seen it was going to cause upset they wouldn't have done it.'

Councillor Asif, who is a member of the Tayside Joint Police Board, said that the force had a diversity adviser and was generally very aware of such issues. He raised the matter with Mr Vine at a meeting of the board.

Tayside Police Chief Constable John Vine said the advert was not intended to cause any offence
The chief constable said he was unaware of the concerns and that the force had not sought to cause any upset but added he would look into the matter.
…
One of seven German Shepherd pups born in early December, he has now completed his course of inoculations, and is free to venture out onto the streets of Tayside.
No! Don't let him venture out. The dog isn't safe now.
First of all, I would put every person who complained about the dog on a terror watch list. After all, we know that it isn't a "tiny minority" that's getting the Three Little Pigs books taken out of public schools and libraries. Hating on dogs, pigs and Jews is as good an indicator as any as to where a Muslim stands with regard to Western society.
My fellow Westerners, as they're doing with Jews, so they're doing with dogs: Muslims are making us choose between them and dogs. So decide now. Who would you rather live with:
or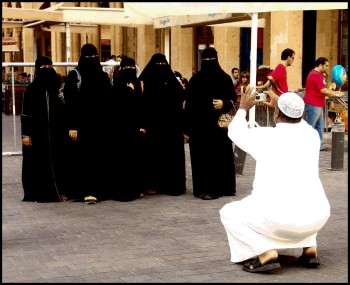 As I've said on stage, Muslims hate dogs, Jews and America. That is, everything that makes the world just a little warm and fuzzy.
I've also said and written that one reason Muslims don't like dogs is that dogs sniff out their murderous intentions and don't fall for their bullshit. Because unlike people, dogs still listen to something called instinct.
And as I wrote last month in a post about Israelis coming up with a technology that deciphers dog barks in prison:
So let's underscore yet another dog-related difference between Jews and Muslims. Jews seek to understand dogs, while Muslims seek to kill dogs. Politics and ideology aside, Jews — like dogs — are productive, constructive and intelligent members of society. So when a Jew sees a sign reading "No Jews or Dogs Allowed" (as a comedian acquaintance of mine claimed to have seen on the door of an Arab-owned business in downtown Manhattan), know that it's a compliment.
On that subject, every few generations one set of monsters or another rears its head and tells the world to choose between it and the Jews. And every time the world chooses the monsters over the Jews for as long as it can. But even though the world is always willing to part with its Jews, I don't think it will part with its dogs. What I'm basically envisioning is: "First, they came for the Jews, and I said nothing. Then, they came for my dog, and I said, 'Hell no!'"
And so I'm hoping that when civilization finally does pick the dogs over the monsters, by extension that will save the Jews. So I place my faith and my fate in the reliable paws of the canine world.
Meanwhile, I'd put the Tayside "diversity adviser" on the watch list as well. How is not having doggy postcards diversity? After all, what if the non-Muslim majority of Tayside likes dogs? What if others in the community want to see a puppy on their police postcards? How is excluding the animal kingdom diversity? How will not exposing people to animals foster sensitivity and reduce animal cruelty?
Thanks to Joe for sending this in.
Related:
Last month I posted about how all the dogs in Kosovo have been killed (aside from the ones that this over-burdened animal rescuer has managed to save). The anti-dog thing is a common trait between Muslims and the "not really Muslim" Albanians. More than Islam as the binding factor, it is primitiveness that accounts for the staggering similarities between Muslims and Muslim Albanians. Here is an old AFP item from November 21, 1999:
Albanians want UN to kill 'Serbian' dog
Pristina, Yugoslavia - A group of Kosovo Albanians want a dog adopted as a mascot by United Nations police to be put down because it is Serbian, UN sources in Kosovo said Sunday.

Members of the UN police force in Yugoslavia adopted the stray bitch, who is expecting a litter, at the beginning of September. They named the animal UNMIK, the acronym for the UN Mission in Kosovo.

A group of ethnic Albanians came two-and-a-half weeks ago to tell the UN police they had to kill the animal because the dog was Serbian, US officer Sam Holton, who looks after UNMIK, said.

Soldiers told the Albanians they would not comply with the request, but Holton said they were worried for the animal's safety.

The father of UNMIK's puppies is a black dog belonging to British soldiers called KFOR, named after the international peacekeeping force in Kosovo, Holton said.

Revenge attacks on Serbs have been commonplace in Kosovo, since the majority ethnic Albanian population returned after fleeing Belgrade's repression. - Sapa-AFP
(Note: As we know — but if you're just tuning in — with that last sentence the AFP, like every other publication on earth, was just trying to perpetuate the myth that the Albanian population fled Serbian "repression" when in fact it fled NATO bombs, as I've explained ad infinitum, along with over 100,000 Serbs and a bunch of everyone else. And Belgrade's "repression" was actually a repression by the supremacist Albanians who ran all the institutions in Kosovo, and which every Yugoslav republic plus the Kosovo government voted to put an end to.)