July 17th 2008 04:40:28 PM
Last October I collaborted on an article with PeoplesCube.com proprietor Oleg Atbashian. The article was a spoof of the final "attempt" at "negotiations" between Serbs and Albanians in New York that week, and was titled "Kosovo Delegation Kills Serbian Delegation During Talks".
It was accompanied by the following images and captions: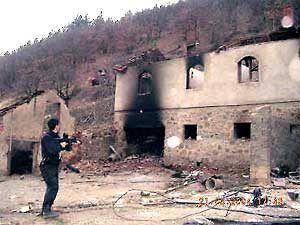 UN peacekeeper inspects improvements made to 14th century Serbian Monastery by Muslim architects of Kosovo.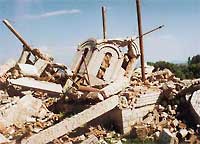 Ruins of a Christian church in Kosovo blown up by Muslim Albanian urban planners after it was deemed unsuitable for conversion to a mosque.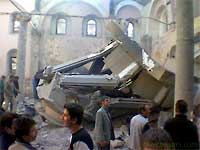 A team of Albanian interior decorators evaluate the scope of work at the freshly ruined St. George Cathedral. (As usual, Serbian nationalists claimed they were a "Muslim mob looting and reveling in the ruins.")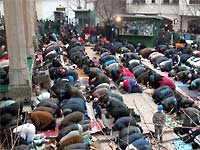 Albanian interior decorators take a break from redecorating 14th century churches to participate in a planning conference and receive instructions from the boss.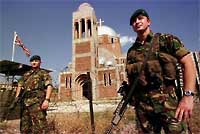 British peacekeepers protect one of the few remaining churches in Kosovo from Albanian architects.
While this "spoof" was close enough to the truth, I found out that Oleg and I were kidding even less than we thought after reading the final three paragraphs of this 1999 article in the UK Independent:
Nato turns a blind eye as scores of ancient Christian churches are reduced to rubble (20 November 1999)
…Last week, I drove down the same road to Prizren and sought out the same church. I found the field and steel gate. But the church was a ruin. A single wall stood. The rest was pulverised stone. Goodbye, then, to the icons and the saints with the staring eyes. Goodbye to Jesus. Goodbye to the Serb Orthodox church. All across Kosovo I found identical scenes, places of worship — sometimes 600 years old — levelled with explosives and hammers, the very identity of Serb history turned to dust amid fields and hillsides by Nato's Kosovo Albanian allies.

The Serb church has issued its own list of destroyed or partly demolished buildings. Between 13 June — when Nato troops entered Kosovo — and 20 October, they say, 74 churches have been turned to dust or burnt or vandalised. The 15th-century monastery of the Holy Trinity above Musutiste, begun in 1465, has been levelled with explosives. The monastery of the Archangel near Vitina, built in the 14th century, has been looted and burnt. So has the church of the Archangels in Gornje Nerodimlje. And the church of St Paraskeva, near Pec. And the church of St Nicholas in Prekoruplje — razed and its nine 16th-century icons lost, including that of the apostle Thomas.

The rubble of Orthodox churches across Kosovo stands as a monument to Kosovo Albanian vandalism and to Nato's indifference or — at the least — incompetence. After declaring that Kosovo must remain a "multi-ethnic society", 40,000 troops from K-For cannot, it seems, look after its historical heritage against the violence of those whom its spokesmen treated as allies in the war against Yugoslavia's President, Slobodan Milosevic, only five months ago.

True, K-For soldiers are now billeted beside Orthodox and Catholic churches across the province. Floodlights haunt the sepulchres of ancient keeps, and in the Serb town of Gracanica, Swedish troops order Kosovo Albanians to strip off the least offensive bumper sticker advocating independence for the province. Two soldiers from north of Stockholm guard the entrance to Kosovo's most famous monastery.

But elsewhere, religious desecration is Nato's shame. When I turned up in Djakovica to find its Orthodox basilica blown up by bombs, Italian troops — now guarding the rubble from anyone idiotic enough to try to demolish the wreckage — instructed me to put down my camera. They were under orders to prevent all pictures being taken, they said. Back I went to Pristina, to K-For's local office, to an Italian officer who said that, yes, I could return to Djakovica and take any pictures I wished. And back I went.

The Italians were now courtesy itself. They even wished me to identify correctly the Italian tank — a Centaur — that stands outside the demolished church. And I could take all the pictures I wanted of K-For troops guarding the integrity and sanctity of a church that had already been blown apart. This time the soldiers were more than friendly. Watch out for the dangerous walls, they warned me. Would I like a picture of the soldier in front of the tank with the destroyed church in the background? What on earth was going on?

Now, I truly believe that the Italian peace-keepers in Kosovo, like their opposite numbers in Beirut in 1982, are among the best peace- keepers on our planet….But this demolition cannot be just "revenge" — Nato's usual excuse for the destruction under its auspices. You do not just fill with rage and spend days gathering explosives to blow up churches. This is vandalism with a mission.

Outside Klina last week, I came across another blasted church, blown to pieces just two months ago. Its shattered dome lay over walls and crosses and iconstasis. And wandering amid the rubble was a Kosovo Albanian, Ymer Qupeva. What on earth was he doing here? I asked. Sympathising with the Serb worshippers? "I have come to view the professionalism of the destruction," Mr Qupeva said. "They did very well — they planted explosives against all four walls."

Mr Qupeva was a graduate of "pyrotechnics" at the University of Zagreb and wanted to make sure the Kosovo Albanians had done their job well. It was, he said, a "Karic" church — the Karic brothers in Belgrade are reputed mobsters — and one of many built across Kosovo. "They used the stones from the Klina Partisan memorial to build the walls," Mr Qupeva said. "The Serbs claimed someone had a dream that they should build a church next to the old tree by the road." And blowing up the church? Did he agree with that? "It was good," he said bleakly.

Now the church is finished. Blown up with great professionalism. And for good measure — so is the old tree beside it.