August 05th 2012 03:44:41 PM
In last week's blog excerpting a 1995 CNN interview with Ratko Mladic, the retired general mentioned how the Bosnian Muslims opened fire on a Yugoslav Army (JNA) convoy of unsuspecting soldiers who were in the midst of an agreed withdrawal from Sarajevo in May 1992. It happened on Dobrovoljacka Street which, if my poor Russian is any indicator, translates into Good Will St. [CORRECTION: I've just been told that while dobra volja does mean good will, dobrovoljac means "volunteer," so it's actually "Volunteer St." But Good Will St. makes for more irony and a better title, so I'm leaving it.] Below are some aspects to this little-known early act of war — a war which, nonetheless, the attacked side is blamed for starting. First are two reports about the first-ever commemoration in Sarajevo for the slaughtered and injured multi-ethnic JNA soldiers.
Sarajevo tense on massacre anniversary (May 3, 2010)
SARAJEVO — Two gatherings were held in Sarajevo, Bosnia, to mark 18 years since the crime….[Serbs] carried white roses and candles through Dobrovoljačka Street, and honoring the victims of the crime for which no one has been held responsible to date.
…
The Green Beret Association…announced they would go to the same street today, "to honor the defenders of Sarajevo"…The so-called Green Berets were a Muslim paramilitary formation during the 1992-95 war, which was later integrated into the Bosnian Army.
Controversy Over Dobrovoljacka Street Gathering (April 29, 2010)
Sarajevo police have granted permission to a group from Republika Srpska to mark 18 years since [the incident] while the city's mayor has protested the planned gathering…It is the first time ever since the end of the war that May 3 will be marked in this way in Sarajevo.
…
Alija Behmen, mayor of Sarajevo, sent an urgent request to the Sarajevo Cantonal Interior Ministry on April 28 asking the Ministry to ban the event over concerns that the gathering could cause violence.
…
On May 3, 1992, a column of the Yugoslav People's Army, JNA, was attacked in Dobrovoljacka Street as it was leaving Sarajevo. According to existing reports, a number of JNA soldiers were killed and wounded. The exact number of injured and killed and the precise circumstances of the incident have still not been established.
…
Behmen cited the regulations…by which a public gathering can be prohibited if it "calls for and incites an armed conflict or use of violence, national, religious or other forms of hatred, that is, when there is a clear danger of large scale violence and breakdown of public order and peace."

According to him, the announced event falls into this category.[…]
That is, commemorating non-Muslims is a call to arms and incitement to hatred.
The May 3, 1992 attack on the column was mentioned in the first chapter of Gen. Sir Michael Rose's 1998 memoir Fighting for Peace: Lessons from Bosnia:
At the Presidency, our first meeting was with the Vice-President Ejup Ganic…A large, shambling man, Ganic spoke English with an American accent and adopted an earnest, evangelistic manner similar to religious broadcasters in the US, where he had spent many years. He was always surrounded by a group of depressed-looking officials who hung on his every word and smiled at every joke, while their eyes flickered nervously about the room.

Ruthless, without once demonstrating to me during my time in Bosnia a shred of human decency, Ganic seemed to use other people to advance his own wealth and power. He had been the person in charge of the Bosnian Government during the massacre of Serb officers who were leaving Sarajevo under UN safe passage. A Sanjak Muslim, he had abandoned his name and birthright early on and thrown in his lot with Tito, who had sent him to America to study at the Massachusetts Institute of Technology in Boston. On his return, he entered politics, initially as the Yugoslav representative in the Bosnian Parliament, but before long he had once again switched allegiance and ended up heading an extreme political element within the ruling Muslim Party for Democratic Action (SDA). His oily charm and good English endeared him to the international media and as a result he acted as the chief propagandist and spokesman for the Bosnian Government. He was also in charge of military operations.

This arrangement enabled President Izetbegovic to distance himself from some of the more unacceptable things that happened under his regime. As the person in charge of the Bosnian Army, Ganic was responsible for implementing the Government's strategy designed to drag the US and NATO into the war on the side of Bosnia. He seemed to be interested neither in peace, nor in the continued suffering of the Bosnian people. Instead he fed the media the political concept of the "victim State." He once said that ultimately Muslims from Bosnia, Sanjak, Kosovo and Albania would form a single political entity. On one occasion he offered me what appeared to be a bribe, but, when he saw the look of utter contempt in my eyes, he swiftly turned the offer into what seemed to be a veiled threat against my life. By the time I left Bosnia a year later, I regarded him as a contemptible individual.
Ganic and the attack on the convoy were also mentioned in Canadian Maj. Gen. Lewis MacKenzie's 1993 memoir, PEACEKEEPER: The Road to Sarajevo. MacKenzie served as chief of staff of UNPROFOR, commanding UN peacekeepers in Sarajevo in the summer of 1992, under Lt. Gen. Satish Nambiar and deputy commander Maj. Gen. Phillipe Morillon.
Chapter 17 - The Convoy Incident:
MAY 3 [1992] Around mid-morning, Bosnian Vice-President Ejup Ganic came to my office and met with me and Colm Doyle of the EC [European Community]. Ganic explained that President Izetbegovic, on his return from Lisbon, had been kidnapped* at the Sarajevo airport; he was being detained by the JNA at their Lukavica camp, just east of the runway. Ganic said he was not a strong leader, and needed his President back in order to control the radical officers within the Bosnian TDF, who were rapidly getting out of control…

Our conversation was interrupted by one of our officers, who reported that the JNA Officers' Club in downtown Sarajevo had just been attacked, and three JNA officers had been killed. The JNA was now retaliating with tank fire against the Presidency building and the Mayor's office….

Once we reached the top of the hill looking down into Sarajevo from the south, we could see the city was…the scene of heavy fighting….We also started to see bodies, and body parts..

The heaviest shooting was about fifty metres away. I could see TDF soldiers sticking their rifles through the windows of civilian cars that were part of the convoy and shooting the occupants. As Steve and I ran by, we saw blood splattered over the windscreens of some of the cars.

When we reached a crowd of some twenty TDF soldiers, we realized they had driven a car across the road to split the convoy in half. The JNA soldiers were sitting helplessly in the back of their trucks; the TDF were demanding that they throw out their weapons and military equipment. To make the point, one of the TDF soldiers, who had two grenades hanging from his teeth, was threatening to throw a third into the back of the truck full of JNA soldiers if they didn't hurry up and surrender their weapons. Weapons and kit were flying out the back of the truck and landing all around the TDF soldiers….

Thomas yelled back that he had just been told on his radio that the TDF had fired through the gun ports of a JNA armoured personnel carrier at the tail of the convoy, and everyone inside had been killed. The Swedish guards at that location were being threatened and shots were being fired all around them, so I told Thomas to have them break off and go back to the PTT. There was no sense having our people killed; they were outnumbered a hundred to one….

Izetbegovic explained to them [the TDF] that he had promised security to the JNA convoy, and that they should immediately stop the ambush and let the convoy past….

After five minutes of conversation with their President, the TDF leaders returned to their troops along the convoy; however, by now the damage had been done. Some 200 JNA soldiers had disappeared. At first I assumed they had bolted for the Serb-controlled area just south of the ambush site; later I discovered they had been taken prisoner. All of the JNA weapons and military equipment of any value had been confiscated by the TDF, and six to seven JNA officers had been killed in cold blood during the incident….

I stopped to bum a light from a sentry, who insisted I keep his lighter. He spoke English, so I asked him what had happened. He explained that the TDF soldiers had received an order from someone in the Presidency to attack the convoy. We never found out for sure who gave the order, but my suspicion was that Vice-President Ganic was a lot tougher than he wanted to admit, and had given the green light to carry out the attack. On the other hand, it could have been the result of some local commander's initiative….

MAY 4 The next day, the Bosnian government was obviously feeling guilty about its soldiers' actions in the ambush. I received an early-morning call from the Presidency to say that they were interested in negotiating a prisoner-of-war exchange…On arrival, we met with Bosnian Minister of Defence Jerko Doko, who wanted to do a large POW exchange with the JNA. "And who do you intend to exchange?" I asked.

"Why, the JNA soldiers we captured yesterday," he replied.

"No deal," I said. "You captured those soldiers by breaking a promise of safe passage, promised in front of witnesses by the President himself and the commander of your TDF. You have put the UN and myself in a very difficult position. I want those prisoners back without any matching concessions from the JNA…."

Minister Doko and I proceeded to the jail across the street, where we were shown approximately 180 JNA prisoners….All but thirteen of the 180-plus soldiers returned with us to Lukavica. There was a bit of firing at the convoy along the way, but nothing serious….
As I wrote last month, in 2010 the Bosnian government undertook a diplomatic campaign on behalf of Ganic when his extradition from Britain was sought by Serbia. Demonstrating the international servility to Muslim Bosnia were news reports at the time, with the UK dutifully blocking extradition and casting the usual anti-Serb aspersions that ethnic or political motivations underlay prosecution efforts — as happens whenever Serbia even thinks about going after Bosniak, Croatian or Albanian Yugoslav-killers the way Bosniaks, Croats and Albanians go after accused Serbs. Here was one of those reports:
British Court Blocks Extradition Of Bosnian Former Leader (July 27, 2010)
A British court has rejected a request by Serbia to extradite former Bosnian wartime leader Ejup Ganic to Belgrade to be tried for war crimes.

Judge Timothy Workman said his decision was based on his belief that a Serbian-run trial of Ganic would be politically motivated. He characterized Belgrade's case against Ganic as "brought and…used for political purposes" and "an abuse of process of this court."
…
He was arrested on March 1 at London's Heathrow Airport on a provisional extradition request from Belgrade for alleged "conspiracy to murder with other named people and breach of the Geneva Convention, namely killing wounded soldiers."

The incident in question involved the deaths of dozens of Yugoslav National Army (JNA) soldiers on May 3, 1992, while a truce was in effect and the soldiers were in retreat…Ganic is just one of 19 former Bosnian officials Belgrade wants to put on trial for the attack by Bosnian forces.

Outside the courthouse in London, Ganic hailed the decision as a vindication and told reporters that "the government of Serbia tried to undermine the judiciary" in Britain. "I was proud when I heard the closing arguments of the judge," he told RFE/RL…

Sonja Biserko, the [Croat] head of Serbia's Helsinki Committee for Human Rights, testified on Ganic's behalf during the court hearing and told RFE/RL she wasn't surprised by the ruling. "I expected the decision [to be] in favor of Dr. Ganic," she said. "The whole case has been politicized, and the request for extradition had the aim to revise the [history of the] war in Bosnia and Herzegovina."

Bruno Vekaric, Serbia's deputy war crimes prosecutor, said Belgrade will appeal. "…We want to get the answers through the next process…Is Ganic, or somebody else, responsible for the deaths of 60 victims in Dobrovoljacka Street?" [They weren't given the chance, as the judge released Ganic immediately to Bosnia, and so an appeal was moot.]

The ruling will be welcomed in Sarajevo, where Bosnian authorities have been criticized for not launching their own investigation into Ganic's role in the incident. The belief among many is that such a move could have preempted Serbia's action.
…
Following Ganic's arrest in Britain, thousands of Bosnians protested outside the British and Serbian embassies in Sarajevo and Bosnia's main Muslim party, the Party of Democratic Action (SDA) collected signatures for a petition demanding his release.
…
The UN tribunal's [former] chief prosecutor…[Carla] Del Ponte sent the case back to prosecutors in Bosnia on June 17, 2003, with the advice that it was their responsibility to further investigate the allegations against Ganic and determine whether there were grounds for a war crimes trial in Sarajevo.
One notes that Ganic, unlike the Israeli Serb wanted by Bosnia, was not kept in jail until his case was decided but was granted bail. That British judge Workman, meanwhile, is a real piece of work. We know that Brits are always groveling before Muslims, but this guy really went all out, lest any Muslim ever mistake him for a non-collaborator when killing time comes to the UK:
Extradition of former Bosnian president Ejup Ganic thrown out (July 27, 2010)
An attempt to extradite the former Bosnian president Ejup Ganic from Britain was thrown out of court after a judge accused Serbia of a politically-motivated abuse of international law.
…
Mr Workman, sitting at Westminster magistrates court, was damning in his verdict on the case, saying it attempted to rewrite history to equalise guilt between the Serbs and Bosnians. [Note the court parroting the Bosniak line — already seen earlier from Ganic and Biserko — that the Ganic allegations are "designed to minimise Serbia's blame" in the war.]

"…These proceedings are brought and are being used for political purposes, and as such amount to the abuse of process of this court."

Mr Ganic said the extradition attempt was a gross abuse that had cost him five months of his life. "They abused the system here, and kept me here for five months," he said. "They are messing around in the international scene to cover up the war crimes they are responsible for."

The 65-year old professor received support from Baroness Thatcher, who is a personal friend and Diana Jenkins, the Sarajevo-born British businesswoman, who provided £300,000 in bail money.
(Must be nice. You really get the royal treatment if you're a non-Serb from Bosnia. For Thatcher's atypically typical Balkan idiocies, see here.)
…Emina Ganic, the daughter of the former leader, who had burst into tears when the verdict was read out, asked for an apology to her father who said he had suffered attacks during his detention in the high security wing of Wandsworth prison.
…
Mr Workman said the Serbian government had offered to drop the prosecution if the current Bosnian government endorsed a resolution acknowledging the Srebrenica massacre by the Serbian parliament. Bosnia opposed the declaration because it failed to acknowledge the genocide. The resolution was an important plank of Serbia's application to join the EU.

Edward Fitzgerald QC, who represented Mr Ganic, said the Serbian action would cost the taxpayers hundreds of thousands of pounds after costs were awarded to the defence. "It's a disgrace," he said. "I've never heard of such a travesty."
Obviously, he doesn't follow The Hague Tribunal, nor the political show trials that Serbs are perpetually put through around the world, nor the reptilian bargaining that Serbia is forced into by the internationals. But it gets even richer: Former Bosnian president Ejup Ganic fears for his life if extradited to Serbian prison (July 10, 2010)
"If I go to a Belgrade prison I would be hanged, it would look like an accident or they would stage some kind of 'suicide'," Dr Ganic told The Sunday Telegraph in his first newspaper interview since his arrest.
(Clearly, Ganic had heard of this happening to Serb leaders at The Hague, which still covers for the Bosnian-Muslim side of the war. Suspicion of others comes from knowledge of ourselves, and Ganic is sure that the Serbs are as vile as the Bosniaks. Note that this item came just weeks after a Muslim throat-slashing on Serb General Radovan Krstic in a British prison. And so yet again — like with the Srebrenica deflection from the biggest war crime of the Balkan wars (against the Serbs in Croatia's Krajina) — here on the heels of British complicity in the near death of a Serb general, we have the Brits indulging projections onto Serbs of crimes that the Muslim-led international community is guilty of.)
"It would be impossible to have a fair trial there. None of our Bosnian witnesses could be called because they would fear being jailed themselves by the Serbians.

"Given the nationalistic mood in Serbia no judge or politician would ever release me. My children will never see me again if I am sent there."

This week his lawyers argued at City of Westminster magistrates' court against his extradition, on the grounds that the charges against him are politically motivated and because he would not get a fair trial in Belgrade. [Sounds an awful lot like what the judge ended up ruling.]

His Serbian enemies have sought to portray Mr Ganic as a former leader of hostile Muslim forces who were eager for revenge as fighting in Sarajevo escalated. [So the proudly hostile Muslim forces demonstrably waging war (a.k.a. "revenge") on multi-ethnic Yugoslavia is merely something that "his Serbian enemies" have sought to portray, as is Ganic's having been their leader.]

But he has always been known as a secular and pro-Western politician. [Gee, you don't think that could have anything to do with his having endeared himself to the international media, as we've just learned from Gen. Rose that "his oily charm and good English" did.]

One of his strongest supporters in Britain was Baroness Thatcher, and some of the former Prime Minister's advisers helped him find lawyers after he was arrested and jailed in HMP Wandsworth for 10 days.
…
Bosnian forces under Dr Ganic's command attacked a convoy of Serbian soldiers who were leaving their compound under truce, allegedly killing dozens of them after they had surrendered. Dr Ganic was acting president at the time.

Belgrade prosecutors claim several other Serbian units were attacked including soldiers at a hospital, and canteen staff who were tortured and murdered.

Dr Ganic denies the charges, claiming Serbian losses have been exaggerated and insisting that generals under his command tried to stop armed Sarajevo citizens from firing on the soldiers.
…
His Oxford-educated daughter Emina Ganic, 29, the executive director of the Sarajevo Film Festival, said: "By arresting my father the Serbs are trying to create a symmetry of guilt.
…
Miss Ganic said: "This case is rekindling ethnic tensions. It is feeding the basest sentiments in our two countries. There is still an unresolved political issue about who is to blame for the war." [The legal and physical free-for-all on Serbs never fuels ethnic tensions; only when the Serbs dare to pursue legal parity are "ethnic tensions" reignited.]
…
Dr Ganic said he has been impressed by British justice in the courtroom [impressed by sycophancy?] but not in prison.

"They put me in a cell with a convicted drug dealer, wouldn't let me have access to a lawyer or a Bosnian diplomat for four days, and refused to give me the medication I need for blood pressure," he said. [One is surprised even that much happened to a Bosniak in Britain. "Serb for a Week"?]

"The other prisoners were fine - they couldn't believe that a former president was locked up with them. But the guards were very rude. When I asked for my medicine they told me to shut up." [Better than being a former general among rapists and murderers and having his throat slit by Muslims. See Gen. Krstic.]

Dr Ganic said that his greatest wish is to return to normal life - stop reporting to a police station daily, a condition of his £300,000 bail, and get back to teaching duties at the University of Buckingham. […]
His chances of that were always better than any accused Serb's. He was arrested, had his case decided, and was back in Bosnia to a hero's welcome in the space of five months. Meanwhile, Alex Cvetkovic — a Serb wanted by Bosnia — has been sitting for almost two years in a prison in also-intimidated Israel while his extradition case is resolved, most likely not as pleasantly as the Muslim's.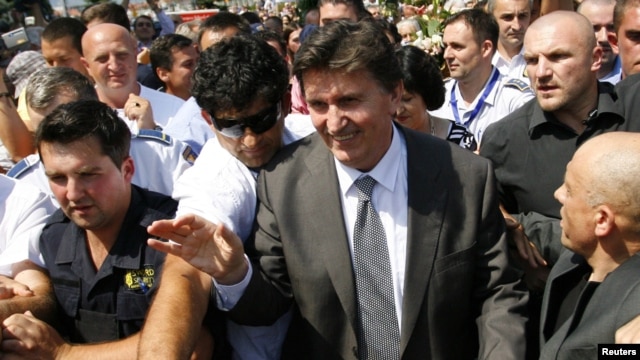 July 28, 2010 - "About 500 people turned out to welcome the 64-year-old Ganic at Sarajevo airport….Ganic told journalists that his five-month legal battle in Britain 'was not in vain' because he had returned with two victorious results — 'a document confirming that aggression was committed against Bosnia-Herzegovina' and a ruling that the proceedings against him 'were politically motivated.' …The crowd welcoming Ganic included Bosnia's Grand Mufti Mustafa Efendi Ceric, Muslim politicians, and Bosnian war veterans….Damir Arnaut — the head of Ganic's legal team and an adviser to [then Bosniak president and terror-supporter] Haris Silajdzic…[said,] 'I expect that the Serbs will in the future think twice before it tried to chase any of our defenders at airports. I am sure that in any other country, like in Great Britain, their requests of this kind would simply not be considered.' …[Judge Workman] said he could see only two explanations for the attempt to extradite Ganic: 'That of incompetence by the Serbian prosecutors or a motive for prosecuting that is based upon politics, race, or religion.' (Radio Free Europe/Radio Liberty)
Only one other report at the time mentioned the bit about hospital and canteen staff being tortured and murdered, The UK Guardian of July 5, 2010:
Graphic images of the war in Bosnia were shown at a London court today….Video showing burned-out ambulances and the corpses of soldiers was played as Serbia sought to persuade City of Westminster magistrates court to hand over the engineering professor, detained at Heathrow in March after a degree ceremony at the University of Buckingham.

It is alleged that Ganic, 64, ordered attacks on a medical convoy and a military hospital, as well as on a military convoy that saw the massacre of more than 40 soldiers as they retreated from the Bosnian Muslim area of Sarajevo in May 1992…

The charges centre on the so-called Dobrovoljacka Street attack after Bosnia had declared independence from the Serb-led former Yugoslavia. James Lewis QC, for the Serbian authorities, said Ganic was the "person in command and control" when the attacks happened. They began with a raid on 2 May 1992 on a non-military Yugoslavian officers' club in which catering staff were either tortured or shot. A medical convoy including ambulances sent to assist was "effectively ambushed" and came under fire from machine guns and missiles. A witness in a statement described unarmed soldiers being shot as they tried to surrender and their bodies left in the street for two days as a warning. The next day a military hospital was hit and a retreating military convoy attacked. […]
Ganic thanked Turkey for its help in his case, while praising Ottoman moves to buy back its occupation of the Balkans: Turkey's gestures made me happy (The Anatolia News Agency - Sarajevo, July 30, 2010)
Former Vice President Ejup Ganic of Bosnia-Herzegovina said on Friday that he was pleased with the gestures and interest of Turkey during and after his custody…Ganic said that his arrestment in London five months ago was an insult, adding that he felt as if Bosnia was arrested too.

On July 27, a British court…blocked the extradition and freed Ganic immediately. Ganic said that while he was in London, Turkish Foreign Minister Ahmet Davutoğlu paid a visit to him. Ganic noted that while he was returning to Bosnia, he first arrived in Istanbul, and Davutoglu welcomed him at the airport.

Ganic said that Turkey's gestures made him very happy.

Regarding Turkey's recent efforts for peace in the Balkans, Ganic said…that Turkey pursued a very wise politics, and it was a neutral actor which was exerting efforts for peace in the region.

Noting that Turkey's economy was very strong, Ganic said that the country's influence was increasing. He added that Turkey was one of the strongest countries of NATO which brought a great credibility to the country…
Less than a year after the failed Ganic extradition came a Serbian extradition request to Austria for Jovan Divjak, an ethnic-Serb general in the Bosnian-Muslim army, again with predictable results, since the West's Islamic largesse extends to fellow-travelers and useful idiots:
Austria won't send Bosnia general to Serbia (March 7, 2011)
Austria will not extradite to Serbia a former Bosnian army general arrested last week on a Serbian warrant demanding he face war crimes charges, the foreign ministry said on Monday.
…
"According to our international law experts, an extradition to Serbia is inconceivable," Foreign Minister Michael Spindelegger told the Kurier newspaper.

A ministry spokesman confirmed the comments, which he described as "a signal towards the people of Bosnia." He said extradition requests had to take into account Austria's foreign policy interests, international law and other factors. [Such as all the Bosnian-Muslim terrorists operating on Austrian soil, whose banks financed much of the gory anti-Serb jihad.]
…
The United Nations war crimes tribunal in The Hague has dropped the case due to lack of evidence[(TM)].

A British court, which last year arrested Bosnia's wartime presidency member Ejup Ganic on the same warrant from Serbia, released him, saying the charges were unfounded.

Divjak, an ethnic Serb who defected from the former Yugoslav People's Army after it bombed Sarajevo in April 1992 and joined Bosnian forces, is seen as a hero in Sarajevo, which Bosnian Serb forces besieged [sic] for 43 months.

On Saturday, around 5,000 people protested peacefully in the Bosnian capital demanding his release from Austrian custody.

Divjak is the third Bosnian high-ranking official arrested outside the country on Serbian warrants for crimes committed on Bosnian territory during the 1992-95 war. […]
On March 8, 2011, the U.S.-funded propaganda outfit Radio Free Europe/Radio Liberty printed an indulgent interview with Divjak, who gave his account of events surrounding the May 3 attack on the surrendering convoy. Included with the interview is a short video demonstrating that Gen. Divjak did give orders that the convoy be allowed to pass, but that the hodgepodge of armed Muslims acted independently when they started shooting. (The caption reads: "Archive footage from Sarajevo on May 3, 1992, shows a JNA personnel vehicle carrying Bosnian President Alija Izetbegovic and UN General Lewis MacKenzie. The vehicle is part of a convoy of JNA troops who had been guaranteed safe passage out of the city in return for the release of Izetbegovic. Jovan Divjak, a general with the Bosnian Territorial Defense forces, is seen attempting to negotiate safe passage.")
It's the sort of exculpatory video that exists aplenty of Serbs such as Mladic, Karadzic and Milosevic — but are never shown. Such as the video of Milosevic telling Kosovo Serbs that the police shouldn't be beating them, rather than "thundering" in a prepared "nationalist" speech that "you will never be beaten again, as media and governments have decisively portrayed it. " Then there's the video of Mladic aboard a bus, reassuring Muslim refugees from Srebrenica that they won't be harmed, with a refugee getting up to shake the general's hand. The video of Mladic handing out candy to Muslim children, meanwhile, is shown but placed in a sinister context, wherein he supposedly proceeds to kill these children's parents. There was even a rumor that he snatched the candy back later, but even the busiest of the Serbs' Western haters was unable to find evidence of that. There were also tortured attempts to twist into a threat Karadzic's impassioned warning against war that if the Muslim side insists on war, the Muslims will disappear from Bosnia, given the Serb advantage there. (Little did he know the world would line up to help the Muslims kill the Serbs.)
But now to return to the supposedly exculpatory evidence for Divjak and Ganic, which Western media went to pains to draw out on their behalf — juxtaposing everything back into the context of Serb "aggression," which is supposedly what led to the "chaos" and "confusion" that ensued (see any of the above-linked Ganic items). The defense is that neither Ganic nor Divjak — nor presumably the other 17 people whose arrests Serbia was seeking for the incident — had given an order for the attack, but that it happened spontaneously, and that Divjak explicitly gave orders to let the convoy pass (and note that several Hague-convicted Serb generals ordered that no civilians be harmed in the course of operations, yet this didn't keep them from getting the book thrown at them.) Still, we have a problem. If this were a single incident of a surrendering Yugoslav convoy coming under Bosnian-Muslim fire, one could consider the possibility that no particular military or political higher-up was to blame. But unfortunately it happened again 12 days later, on May 15th:

Tuzla Column Massacre
Bosnian jailed in Serbia for war crimes (Sept. 28, 2009)
A Serbian court on Monday convicted a wartime Bosnian security officer of ordering a 1992 attack on a Yugoslav army convoy that killed at least 50 soldiers, and sentenced him to 12 years in prison. The trial of [Bosnian Croat] Ilija Jurisic at the Serbian war crimes court has strained relations between Bosnia and Serbia. Bosnian officials had claimed the proceedings were staged and politically motivated and demanded his release.
(So, again, we have making non-Serbs pay for their crimes being a strain on relations, as opposed to the crimes themselves causing the strain, or impunity for those crimes causing the strain. And, of course, we also have the trial being "politically motivated" again.)
Jurisic was found guilty of ordering the attack against the Serb-led army convoy consisting of dozens of army trucks carrying some 100 soldiers withdrawing from the predominantly Muslim Bosnian town of Tuzla in May 1992.

The court said in its verdict that the Bosnian troops first killed the truck drivers with sniper fire, and then fired mortars and rocket-propelled grenades at the idled vehicles. At least 44 army soldiers were also injured in the clash.

Bosnian authorities have maintained that the Yugoslav soldiers fired first during the pullout arranged between Belgrade and Sarajevo. They said the Bosnian troops acted in self-defense in one of the bloodiest clashes during the opening days of the 1992-95 Bosnian war.
…
The war in Bosnia started after the country's Muslims and Croats voted to split from Serb-led Yugoslavia, triggering a rebellion by the Bosnian Serbs*…
Naturally, the Wikipedia page on the massacre also has the Yugoslav soldiers firing first: "Bosnian authorities, however, say that they acted in self-defense and that Yugoslav soldiers fired first…"
Because it's perfectly logical for a retreating soft-skin vehicle convoy to open fire on hostiles that have it surrounded in easy ambush positions. The convoy was cut into pieces without the JNA troops knowing what hit them. Further, the Muslim side has increasingly stopped even pretending that the Yugoslav Army fired first. Sefer Halilovic, wartime president Alija Izetbegovic's first top general, a few years ago described in the Federation TV documentary series "The Generals Speak" how the decision was made to attack the Army despite the treaty to let it withdraw — because the Muslims wanted its weapons and supplies. And STILL it was self-defense, rationalized Halilovic, because it was all in the name of fighting "back" against that anticipated/inevitable/advance-planned "aggression" by those Serbo-Chetniks (itself a projection, as Izetbegovic and Halilovic had planned a war as early as 1991). So he was bragging about attacking the JNA as something that had to be done. Indeed, why bother making excuses and hiding that the Muslims attacked first? Being the ever righteous victims, anything they did was "self-defense" and therefore legitimate, so what's the problem?
The rest of the Wiki entry:
The [Jurisic] case was dismissed before Bosnian courts. [Of course.] He was arrested at the Belgrade Airport in May 2007 and was found guilty of improper battlefield conduct in 2009 and sentenced to 12 years in prison. In October 2010, an appeals court later overturned the sentence. The Belgrade Appeals Court ordered a re-trial and released him from detention.

The city of Tuzla celebrates 15th May as "City Liberation Day". [Just like Croatia celebrates Serb-cleansing Day on Aug. 5 (Operation Storm) as well as its precursor Operation Flash, celebrated on May 1st as Day of Liberation of Western Slavonia, when over 15,000 Serbs under "UN protection" were cleansed from Western Slavonia.] Tuzla citizens have continued to express their support for Ilija Jurišić. Subsequently, Jurišić was welcomed by a large crown upon his return to Tuzla on 11 October 2010 after his sentence was overturned. [Of course.]
Below is a summary of the Jurisic indictment and proceedings, based on reports from the trial at the time:
Massacre of Yugoslav Army Conscripts Approved by Sarajevo (De-construct.net, Jan. 22, 2009)
On May 15, 1992, Bosnian Muslim paramilitary troops, aided by local officials, used snipers to ambush and attack [a] Yugoslav Army convoy while it was attempting to withdraw from the territory of then-Yugoslav republic of Bosnia and Herzegovina…

At the trial of Croat Ilija Jurišić…Deputy Chief of Military Security at the time, Marko Novaković, who testified on January 16, said that the attack "never could have been carried out without the express approval of the Bosnian Muslim supreme command in Sarajevo."
…
According to the indictment, [the] JNA convoy, consisting mainly of unarmed 18-year-old conscripts from all parts of former Yugoslavia and of all nationalities, who were serving in the unified country in various military polygons throughout [the] state of Yugoslavia, obeyed a decision on peaceful withdrawal of troops from the territory of Bosnia-Herzegovina, in order not to [exacerbate] with their presence a tense atmosphere at the time one segment of the population, Bosnian Muslims, demanded secession of the republic from Yugoslavia.

The JNA convoy that attempted to withdraw from the town of Tuzla was given guarantees by [the] Muslim leadership that they will be allowed to retreat and provided a safe passage to Serbia through Bijeljina. Nevertheless, [the] convoy was ambushed and brutally attacked by Bosnian Muslim paramilitary troops, with the help of local officials headed by Jurišić, at the very start of [the] retreat. At least 92 conscripts and up to 200 members of the JNA were reportedly killed, 33 were wounded, 140 were taken prisoners and the majority of JNA's military and sanitation vehicles were destroyed in this attack.

Jurišić, who at the time was a member of the Bosnian Interior Ministry police reserves and a senior officer in the Public Security Service operational HQ, is accused of issuing a direct order to attack [the] JNA convoy in retreat. On the basis of his orders, snipers in nearby buildings first shot and killed the drivers of the military vehicles, thus stopping the vehicles and blocking the way for the rest of the column. They then proceeded to target the conscripts in those vehicles, shooting and killing the young men who had not been equipped to fight or resist attack, the indictment states.

As the JNA conscripts were jumping out of the vehicles, they were being cut down by the snipers. [An] identical attack was also carried out against the visibly marked sanitation vehicles in the convoy.

…Tatomir Krušić, a conscript who was wounded in the attack, testified that on the afternoon of May 15, 1992, when the JNA convoy had set off…he had heard gunshots and seen that the driver of the truck he was in had been shot.

"The army convoy was coming under fire from all sides. Bora (the driver) was shot and I told everybody to get out of the truck. The four of us jumped out, and that's when I was wounded," Krušić recalled.

The brutal attack on the convoy of unarmed conscripts was being broadcast live on a local Bosnian Muslim television station [station FS-3], showing that the column was being shot at even from the Tuzla hospital building. Part of that footage, including abuse and murder of the conscripts by the Bosnian Muslims and Croats is shown in the documentary "Truth". As local Muslim television was showing the burning column of Yugoslav Army vehicles, the commentator in studio asks for [a] cold beer and then informs the viewers they ought to go and "help out" one conscript he saw reaching the entrance of a nearby building, suggesting the wounded soldier should not be left alive.

Another survivor of the Tuzla Column atrocity described how one of his unarmed friends that was lightly wounded in the arm managed to hide in the entrance of a building, only to be handed over in a body bag six days later. Most of the 140 conscripts who were caught alive were subsequently abused, tortured and killed in the Bosnian Muslim and Croat camps.

President of Bijeljina's Association of Missing, Imprisoned and Killed Bosnian Serb army members and civilians, Žarko Radić, said it is impossible to tell how many of the conscripts…have been buried in Spomen Kosturnica, [a] mass grave turned into memorial after the civil war. He said there are cases where remains of several soldiers and civilians killed in [the] Tuzla column were placed in the same casket. It is believed that remains of at least 80 JNA conscripts killed in Tuzla are buried as "unknown persons" in Bijeljina alone.

Jurišić pleaded not guilty to the charges when the trial began on February 22 [2008]. He was arrested [on an] international arrest warrant on May 2007, at Belgrade airport Nikola Tesla, while attempting to escape to Cologne, Germany.
Of the two JNA column massacres, the first on May 3rd is more famous because the attacked troops were under UN protection, and also it involved Ganic, Sarajevo, and Izetbegovic. The bloodier incident in Tuzla was also farther away from journalist eyes and therefore less well-known. Both incidents are considered opening salvos in the war by those who know about them, though they've been carefully kept from the public starting soon after they happened, making these the shots unheard 'round the world. Though the war was really already in progress, these attacks were a Muslim declaration of war on the Yugoslav Army, pushing the remaining officers and troops to join the newly formed VRS (Bosnian Serb Army), under the command of Ratko Mladic.
* Izetbegovic's kidnapping: On May 2nd, while Izetbegovic was abroad at a conference, the militias loyal to him ("Patriotic League" and others) began an attack on Yugoslav Army facilities in Sarajevo, in direct violation of an agreement to let the Army peacefully withdraw from Bosnia and Macedonia. (The authorities in Macedonia, by contrast, kept their end of the bargain and as a result Macedonia seceded peacefully.) Following the May 2nd attacks, Izetbegovic was detained upon his return to Sarajevo on May 3rd, by the JNA forces in charge of the airport. Gen. MacKenzie successfully negotiated an exchange: Izetbegovic would be released in exchange for the Muslims allowing free passage to the JNA forces they had besieged. Once the vehicle carrying Izetbegovic had passed, however, the convoy retreating from the 2nd Army District Headquarters was ambushed and massacred. The remaining JNA facilities - the Marshal Tito barracks (site of the current U.S. embassy) couldn't even be evacuated until June 6th and only through extensive negotiations with the UN, as they were under siege by Muslim forces who were after the heavy weapons stashed in the armory.
* One thing that was unique about the Ganic reports is that every one of them referred to the war being triggered by Bosnia's secession, rather than by some guy named Milosevic who became Yugoslav president two years after the war started — which is who Western governments would have you believe started it.
Additional Note: I might have mentioned that Dobrovoljacka St. has since been renamed, after a decent-seeming Muslim scholar named Hamdija Kresevljakovic (who has probably converted since dying).