December 15th 2010 06:49:19 AM
I'll tell ya, Albanians give a whole new meaning to the term ORGANized crime.
It's an interesting day for Balkans observers when one headline comes in reading "Kosovar Leader says People Lost a Friend in Holbrooke" and the one immediately following it reads "Kosovo PM is head of human organ and arms ring, Council of Europe reports" .
Of course, readers of this blog knew that all along.
Allow me to personally leak the U.S. diplomatic cables from yesterday and today, which I can hear from here: "F************************ck!"
(And not because our officials didn't know about all this, but because it got out.)
In a follow-up to this story last month — which underscored the involvement of an individual who had been a senior-level official (it wouldn't be an Albanian racket if it didn't!) — the UK Guardian was the first to report yesterday:
Two-year inquiry accuses Albanian 'mafia-like' crime network of killing Serb prisoners for their kidneys
Kosovo's prime minister is the head of a "mafia-like" Albanian group responsible for smuggling weapons, drugs and human organs through eastern Europe, according to a Council of Europe inquiry report on organised crime.

Hashim Thaçi is identified as "the boss" of a network that began operating criminal rackets in the run-up to the 1999 Kosovo war, and has held powerful sway over the country's government since.

The report of the two-year inquiry, which cites FBI and other intelligence sources, has been obtained by the Guardian. It names Thaçi as having over the last decade exerted "violent control" over the heroin trade.

Figures from Thaçi's inner circle are accused of secretly taking captives across the border into Albania after the war, where a few Serbs are said to have been murdered for their kidneys, which were sold on the black market. [Note: The "a few" clearly doesn't include the couple hundred who were kidnapped and killed for organs during the war, though not all of the 300 captives at the time were Serbian.]

Legal proceedings began in a Pristina district court today into a case of alleged organ trafficking discovered by police in 2008. That case – in which organs are said to have been taken from impoverished victims at a clinic known as Medicus – is said by the report to be linked to Kosovo Liberation Army (KLA) organ harvesting in 2000.

It comes at a crucial period for Kosovo, which on Sunday held its first elections since declaring independence from Serbia in 2008. Thaçi claimed victory in the election and has been seeking to form a coalition with opposition parties.

Dick Marty, the human rights investigator behind the inquiry, will present his report to European diplomats from all 47 member states at a meeting in Paris on Thursday.

His report suggests Thaçi's links with organised crime date back more than a decade, when those loyal to his Drenica Group became the dominant faction within the KLA.

It says the group's supremacy over splinter groups in the guerrilla movement enabled them, from 1998, to seize control of "most of the illicit criminal enterprises" in which Kosovans were involved south of the border, in Albania.

During the Kosovo conflict, Slobodan Milošević's troops responded to attacks by the KLA by orchestrating a horrific campaign of ethnic cleansing against ethnic Albanians in the territory. As many as 10,000 are estimated to have died at the hands of Serbian troops. [Yeah, yeah, we know the more realistic numbers. And so does the Guardian. Further, newspapers have been cutting out the "ethnic cleansing" charade since 2006, so this sentence clearly is there just to equivocate and equivalize.]

While deploring Serb atrocities, Marty said the international community chose to ignore suspected war crimes by the KLA, "placing a premium instead on achieving some degree of short-term stability".

He concludes that during the Kosovo war and for almost a year after, Thaçi's forces meted out revenge against Serbs, Roma and ethnic-Albanians accused of "collaborating" with the enemy.

Thaçi and four other members of the Drenica Group are named in the report as having carried out "assassinations, detentions, beatings and interrogations". This same hardline KLA faction has held considerable power in Kosovo's government over the last decade, with the support of western powers keen to ensure stability in the fledgling state.

The report paints a picture in which ex-KLA commanders have played a crucial role in the region's criminal activity over the last decade. [No kidding!]

It says: "In confidential reports spanning more than a decade, agencies dedicated to combating drug smuggling in at least five countries have named Hashim Thaçi and other members of his Drenica Group as having exerted violent control over the trade in heroin and other narcotics."

Marty adds: "Thaçi and these other Drenica Group members are consistently named as "key players" in intelligence reports on Kosovo's mafia-like structures of organised crime. I have examined these diverse, voluminous reports with consternation and a sense of moral outrage." [No moral outrage in the U.S., though.]

His inquiry was commissioned after the former chief prosecutor for war crimes at The Hague, Carla Del Ponte, said she had been prevented from investigating senior KLA officials.

Her most shocking claim, which she said required further investigation, was that the KLA smuggled captive Serbs across the border into Albania, where their organs were harvested.

The report, which states that it is not a criminal investigation and unable to pronounce judgments of guilt or innocence, gives some credence to Del Ponte's claims. It finds the KLA did hold mostly Serb captives in a secret network of six detention facilities in northern Albania.

Thaçi's Drenica Group "bear the greatest responsibility" for the ad-hoc prisons and the fate of those held in them.

They include a "handful" of prisoners said to have been transferred to a makeshift prison just north of Tirana, where they were killed for their kidneys.

The report states: "As and when the transplant surgeons were confirmed to be in position and ready to operate, the captives were brought out of the 'safe house' individually, summarily executed by a KLA gunman, and their corpses transported swiftly to the operating clinic.''

The same Kosovan and foreign individuals involved in the macabre killings are linked to the Medicus case, the report finds.

Marty is critical of the western powers which have provided a supervisory role in Kosovo's emergence as a state for failing to hold senior figures, including Thaçi, to account. It criticises "faltering political will on the part of the international community to effectively prosecute the former leaders of the KLA." [That's putting it mildly. It's more like providing them with layers and layers of protection.]

It concludes: "The signs of collusion between the criminal class and the highest political and institutional office holders are too numerous and too serious to be ignored.

"It is a fundamental right of Kosovo's citizens to know the truth, the whole truth, and also an indispensable condition for reconciliation between the communities and the country's prosperous future."

If as expected the report is formally adopted by the committee this week, the findings will go before the parliamentary assembly next year. […]
An important companion article by Guardian: Kosovo physicians accused of illegal organs removal racket
Others that ran the story:
Reuters
AP
Washington Post
CBS News
BBC and
NY Times: Report Names Kosovo Leader as Crime Boss
PARIS — A two-year international inquiry has concluded that the prime minister of Kosovo led a clan of criminal entrepreneurs whose activities included trafficking in organs extracted from Serbian prisoners executed during the Kosovo conflict in 1999.

The inquiry, prepared for the Council of Europe, names the prime minister, Hashim Thaci, as the boss of the Drenica Group, an organized crime network that flourished in Kosovo and Albania after the war and exerted control over numerous rackets, including the heroin trade, and six secret detention centers in Albania, some used in a black market in human organs.
…
The report did not explicitly describe any role of Mr. Thaci in the organ trafficking network.

The Council of Europe said the investigating team that gathered evidence used foreign intelligence analysts, international organizations, former fighters, logistics operatives and victims. The report cites some names but withholds others, saying local witnesses feared for their lives.

The roots of the network date from 1999 as the Kosovo conflict was ending. Over time, the ring established ties to "a broader, more complex organized criminal conspiracy" that operated in three other countries and endured for more than a decade….The Council of Europe report noted that investigators for the United Nations tribunal in 2004 went to the Yellow House, a notorious location in Albania, but later destroyed some of the collected evidence, which included syringes and traces of blood. The tribunal contends that it did not find enough evidence to aid any of its cases.
…
The report included testimony of people who provided logistics for the ring, driving captives in unmarked vans between a series of way stations in Albania.

The trafficking, according to the report, evolved over time and relied on detention centers spread through Albania that were controlled by the Kosovo Liberation Army. Initially the captives were Serb prisoners, but the ring also kidnapped ethnic Albanians to settle old scores, the report said.
But it was all put together first by Seth Frantzman (if we're not counting the 'not-to-be-believed' Serbian media), who wrote the following last month:
Does their ring have its origins in the dirty war fought in Kosovo in 1998-1999? The anti-Israel and anti-Semitic media like to shed light on supposed Israeli involvement in organ trafficking, but what this case shows is that the networks behind the story have much deeper and more disturbing roots.
Kosovo Organ Harvesting: The Plot Thickens
by Seth J. Frantzman
In his latest column (Bloody Coexistence, Nov.23), one of Israel's leading investigative journalists explores the bizarre horror and little-known roots of the Kosovo organ-trafficking ring. Almost all those involved were respected professionals in their communities…

In mid-November, the world media reported that Interpol was hunting for seven members of an organ-trafficking ring. They were accused of operating a clinic called Medicus in Pristina, the capital of Kosovo. Most news media were excited to reveal that two Israelis were among those named in the 46-page Interpol report. Less interest was shown in the other international members of the ring – Turkish and Albanian Muslims. Only one Israeli, Moshe Harel, was wanted by Interpol in connection with the ring. The other Israeli, Zaki Shapira, was listed as an unindicted coconspirator. A Turkish doctor and five Albanians were also indicted for their role in diverse criminal activities such as "trafficking in persons and unlawful exercise of medical activity."

The origins of the ring appear relatively recent. According to reports, Lutfi Dervishi, a urologist and professor at Pristina University, visited Istanbul in 2006 to attend a conference. At the conference he let it be known that he was looking for someone who could perform organ transplants. He was contacted by Yusuf Sonmez, a Turkish national and surgeon who has a history of involvement with illegal organ harvesting.

Sonmez maintains a website which claims he completed his residency in surgery at Istanbul University medical faculty in 1984 and was an expert in kidney transplants. According to a November 3 article in Hurriyet he also worked at the Ministry of Health. He completed his first transplant from a live donor in 1993, and by 2006 claimed he had performed more than,1,300 kidney transplants. In 2005 he was running a private hospital in Istanbul. Turkish websites indicate that his hospital was shut down in 2007 after a police raid, during which his brother Bulent was also detained. He received a suspended sentence.

Sonmez again fell out with the law over organ thefts in 2008. His medical license was revoked and he was banned from the profession for six months – which news outlets criticized as too weak a punishment. At the time Turkish articles called him the "the Turkish butcher" and Hurriyet referred to him as "Frankenstein." In 2010, when it emerged that he was involved with organ trafficking in Kosovo, he turned up in Azerbaijan, apparently free to go about his bloody business. His status at present is not clear.

In 2006, while at the height of his power, operating his own clinic prior to the police raids, he contacted Dervishi. Sonmez then contacted a Turkish-Israeli, Harel, who according to the government of Kosovo was born in 1950 in Turkey. Harel later allegedly "identified, recruited and transported the victims, as well as managed the cash payments before the surgeries." Sonmez, it seems, was also the contact for Shapira, who has a history of brushes with the law regarding organ harvesting. Shapira was once head of kidney transplant services at Beilinson Medical Center in Petah Tikva. He was also a member of the Bellagio Task Force on global transport ethics. In the 1990s he ran afoul of ethics charges in Israel and moved to Turkey. In 2007 Shapira was arrested in Turkey; it seems he was already connected with Sonmez's hospital. Now Sonmez brought Harel and Shapira to Pristina to help run Dervishi's clinic. The clinic was operated by Dervishi's son, Arban. Illir Rrecaj, a Kosovo Health Ministry official, granted the clinic a license to do urological checkups but was, according to Interpol, privy to the actual goings on there.

In October 2008 police suspicions were raised when a poor man was dumped at the Pristina airport and it was found his kidney had been removed. A raid on the Medicus clinic discovered that the organ harvesting ring had been bringing in poverty stricken patients from countries such as Turkey and Russia, promising them 15,000 euros, and then selling their organs for upward of 100,000 euros. Rrecaj was dismissed from his post. On November 4, Harel was arrested.

But according to other sources it appears the tentacles of the case go deeper. The Serbian newspaper Blic claims that Dervishi was also involved in the murder and harvesting of organs from Serbs who were captured by ethnic Albanian terrorists during the Kosovo war of 1999. After the war there were rumors that Kosovar Albanians were keeping Serb prisoners in camps near the Kosovo border with Albania.

A Spanish KFOR contingent attempted to penetrate the village of Vrelo but was called back. Carla Del Ponte, the former chief prosecutor of the UN for war crimes committed in Yugoslavia, claimed in her 2008 book that as many as 300 Serbs were murdered for their organs just across the border in the Albanian town of Burrel. The infamous "clinic" in Burrel became known as the "yellow house," but not until 2004 was it visited by a UN team to investigate the accusations. By then, only a few traces of blood remained.

According to Blic, in 1998 during the Kosovo crises, "[a] witness told Serbian war crimes prosecutors that he saw Dr. Lutfi Dervishi at locations where it was suspected that organs had been extracted from civilian prisoners and sold later." Another Serbian source alleges that Shapira was also involved in 1999 in instructing those who harvested the organs, and according to the Croatian magazine Politika, he showed up in Macedonia in the same year, connected to a similar operation. This claim is based on the fact that he had Turkish connections who were supporting the Kosovars during the war.

Whatever the case, it seems the recent organ-trafficking scandal is merely the latest emergence of the dark cloud that has hung over Kosovo for years; it has become a center for human and organ trafficking in Europe.
…
Does their ring have its origins in the dirty war fought in Kosovo in 1998-1999? The anti-Israel and anti-Semitic media like to shed light on supposed Israeli involvement in organ trafficking, but what this case shows is that the networks behind the story have much deeper and more disturbing roots.
And of course BBC reporter Mike Montgomery was on the case for a good part of last year, including interviewing ex-KLA fighters whose lives are now at risk for talking to him.
Another Serbian myth/propaganda/internet rumor bites the dust as such and enters reality.
Just to repeat: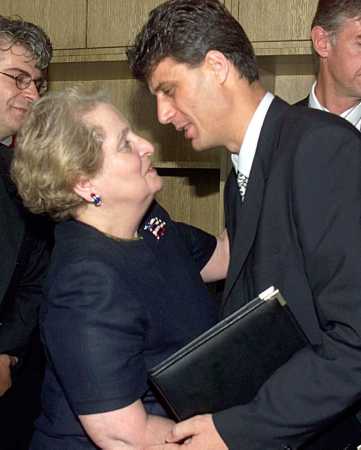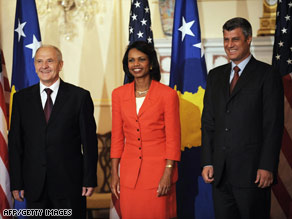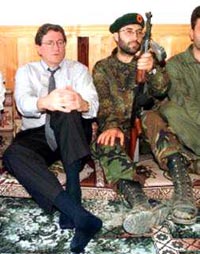 In Memoriam, Richard Assholbrooke. May this Jewish-born shahid's passing finally give us some peace.