July 02nd 2012 03:13:23 AM
Alice Walker Nixes Hebrew Translation of 'The Color Purple'
In a move called "unfortunate and discriminatory," Pulitzer Prize-winning author Alice Walker has refused to allow an Israeli publisher to translate her book "The Color Purple" into Hebrew.

Walker said she turned down a request from Yediot books because "Israel is guilty of apartheid and persecution of the Palestinian people, both inside Israel and also in the Occupied Territories."

In a letter to the publisher, which appeared on the website of the Palestinian Campaign for the Academic and Cultural Boycott of Israel, Walker — the first woman of color to win the Pulitzer Prize for fiction — stated: "I grew up under American apartheid and [Israel] was far worse.

"It is my hope that the non-violent BDS (Boycott, Divestment, Sanctions) movement, of which I am part, will have enough of an impact on Israeli civilian society to change the situation."

She also told the publisher: "I would so like knowing my books are read by the people of your country, especially by the young, and by the brave Israeli activists (Jewish and Palestinian) for justice and peace I have had the joy of working beside. I am hopeful that one day, maybe soon, this may happen. But now is not the time."

Walker published "The Color Purple," based on her childhood in segregated Georgia, in 1982. [Which apparently was a racial paradise, if Israel is "far worse."]

Abraham H. Foxman, national director of the Anti-Defamation League, said in a statement: "It was more out of sadness than anger that we react to the news of Alice Walker's decision not to publish her classic novel 'The Color Purple' in Hebrew. [Because he can't be angry at black people.]

"It is sad that people who inspire to fight bigotry and prejudice continue to have a biased and bigoted side. For some time Walker has been blinded by her anti-Israel animus. Unfortunately, this willful ignorance and bias against Israel has led her to exercise poor judgment in her publishing endeavors.

"As someone who is seen as a leader in the fight against racism and discrimination, we hope that Ms. Walker will make the effort to truly understand Israel's fight for its survival and reconsider her unfortunate and discriminatory decision." [Well said, Foxman. Maybe one day he'll get it through his head that Jews aren't part of the Minority Club. That's right, Jews are outcasts among the outcasts, which are the in-crowd now anyway. (And of course Serbs are outcasts among the outcast outcasts, but let's not get into that.)]

Commentary magazine called Walker's letter "among the most egregious acts of discrimination against Israel by leftist intellectuals."

Last year Walker said in an interview: "I think Israel is the greatest terrorist in that part of the world. And I think in general, the United States and Israel are great terrorist organizations."
Hey, Abe — it doesn't seem like this ad campaign did what it was supposed to: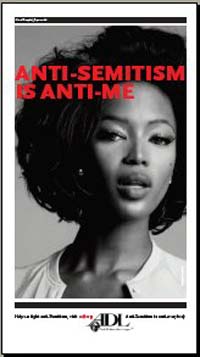 Anyway, after all this, my only question is: Was the book Color Purple as shitty as the movie?
(Because even Spielberg directing couldn't help. So Israel probably isn't missing anything.)
Of course, Walker Sr.'s comments don't come as a surprise. In 2008 I caught this occasional lesbian's daughter — Rebecca — describing her roots as follows: "…of Russian, African, Irish, Scottish and Native American descent." I was intrigued by the "Russian" part until I figured out she just didn't want to say "Jewish." (Her Jewish father was likely of Russian descent.)
The apple doesn't fall far from the poison tree; clearly the daughter inherited her anti-Jewish feeling from her intellectual stump of a mother.
The movie "Mississippi Burning" reminds us that among the three civil rights activists killed in 1964 were two Jews. They gave their lives in the fight against discrimination against blacks. What has the Arab world done for black people other than take countless of their lives or enslaved them? But, like Europe itself, Alice Walker has made her choice between Muslim and Jew. And like Europe, may she too reap its benefits.
Having only her comfort zone of racism in America as a basis of comparison, Walker still thinks it's all about defending a darker people. She has no idea just how dark these people are.

Today, you can hold your head up high if you're an anti-Semite.