March 20th 2013 09:46:06 PM
******UPDATE AT BOTTOM******
Patriarch: Serbs must return to Kosovo (B92, March 17)

Patriarch Irinej (Tanjug, file)

…"One of the first steps and items in the talks, today and tomorrow, a condition and request we need to set is the return of a large number of Serbs to Kosovo and Metohija," he said at a ceremony marking the ninth anniversary of pogrom against Serbs in Kosovo.

Irinej noted that 240,000 Serbs had been expelled from Kosovo and that it was the country's obligation to help those who still lived in Kosovo and the displaced to return to their homes.

He added that one should not despair over Kosovo's faith and that Kosovo "is, will be and will remain Serbian as long as it is in our thoughts".

"If some audacious power makes us lose Kosovo and Metohija, we will always have an example of the Jewish people who waited for Jerusalem for 2,000 years and finally got it," the patriarch noted.

He underscored that nobody was held accountable for the violence against Serbs that lasted from March 17 until March 19, 2004.

"I am sure that if we had [done] something like that, the whole world would have known it. Books and books would have been written and stories about the evil would have been told," the patriarch said.

He added that Orthodox churches and monasteries had no value if there were no Serbian people in Kosovo.

"If we survived five centuries under Turks, we will survive this as well. We must not despair," the head of the Serbian Orthodox Church (SPC) said.

The manifestation dubbed "Crime without Punishment", which was held at the National Theatre in Belgrade was organized by the Serbian government's Office for Kosovo. The event was attended by Prime Minister Ivica Dačić.

Today marks nine years since the March pogrom. In just three days, Kosovo Albanians expelled more than 4,000 Serbs and destroyed numerous churches and monasteries.
Indeed, it has been pointed out that ancient churches which survived five centuries of Ottoman rule could not survive five years of NATO occupation. Secular Muslim Albanians under NATO's gaze managed to achieve what the Ottomans could not: the de-Christianization of the Land of the Churches (Metojiha).
As the last leg of the U.S.- and E.U.-sponsored Kosovo theft proceeds at a critical pace, it's apparently safe for the mention of destroyed churches — past and current — to enter news reports:
EU's Ashton Expects Breakthrough In Kosovo Dispute (March 17, 2013)
The European Union foreign policy chief Catherine Ashton says Serbia and Kosovo are close to a deal to end the ethnic partition of the former Serbian province.
…
An accord would be welcome news for Serbian Orthodox Christians in Kosovo who hope to see an easing in ethnic tensions with the mainly Muslim ethnic Albanians. [ "Ethnic Tensions": See Crown Heights, 1991. But the Serbs likely wouldn't welcome an end to the ethnic partition, since then it wouldn't be safe to be Serbian anywhere in Kosovo.]

Christians have struggled with a "sharp rise" in threats and vandalism against their churches and other religious sites [Note: just as Albanians are being given full stewardship of Kosovo — what they wanted], human rights investigators told BosNewsLife.

CHURCHES ATTACKED

Since Orthodox Christmas assailants attacked a monastery, set on fire a chapel and wooden crosses, and destroyed over 100 Orthodox tombstones, reported Belgrade-based Balkan rights group Centar 9.

At the heart of EU-mediated talks is the status of Kosovo's Serb-dominated north where the central government has very little presence.

In a significant U-turn, Serbia offered to recognize the authority of Kosovo's government over the north, in exchange for autonomy for Serbs living there.

The two sides were at odds however over the powers any Serb institutions in the north would have.

But Serbian President Tomislav Nikolic now says they are in his words "never closer" to settling their differences.

Kosovo's Prime Minister Hashim Thaci told reporters earlier they were at what he called "the beginning of the end" in reaching an accord to normalize relations between Kosovo and Serbia. […]
The beginning of the end, indeed.
As for the return of Serbs to Kosovo, if the item below is any indication, that's not looking too good:
Kosovan minorities struggle after repatriation (swissinfo.ch, March 15, Veronica DeVore)
Roma and other minorities forcibly sent back to Kosovo from Switzerland after the Kosovan war ended are not being cared for as set out by a 2009 agreement between the countries, says a just-published report.

The findings, published by the Society for Threatened Peoples, state that although Kosovo's promise to protect minorities like the Roma "is down on paper, it is not being practised".

The report also declares Kosovo "anything but a safe country," especially for minority groups, for whom there is no legal protection. And, due to its bad economic situation and poor infrastructure, Kosovo is not in a good position to ensure the successful re-integration of minorities, say the findings.

The Society for Threatened Peoples has therefore called on the Federal Migration Office to stop sending Roma and members of other ethnic minority groups back to Kosovo until the situation improves.
…
After having taken in some 40,000 asylum seekers from the region during the Kosovan war, Switzerland was one of the first states to recognize an independent Kosovo in 2008 and in 2009 declared it a "safe country of origin" for asylum seekers.

Following that declaration, the countries agreed to a "Memorandum of Understanding" in which Kosovo promised to ensure the migrants would be successfully re-integrated. In turn, Switzerland said it would support Kosovo's socio-economic development and assist with asylum seekers' repatriation. […]
Closing on the theme of what Orthodox churches were and weren't able to withstand:
23 Mar 2008
My letter to the US Embassy in Athens
by Theodoros Karakostas
Founder, Bysantine Cultural Project

I write as a Greek Orthodox believer and American citizen that abhors the unrelenting bullying of Serbia….I would be most appreciative if someone at the Embassy could explain to me why Serb suffering in Kosovo for the past nine years has been entirely unopposed by our government, NATO, United Nations, and European Union while any time any Serbs are complicit in some sort of stupid behavior as in the attack on the Embassies there seems to be unanimous condemnation of all Serbs collectively?

I would like to know why there have been no arrests since the Orthodox Monks Father Chariton Lukic and Stefan Purim were decapitated by the Muslims in 1999, and why the KLA leadership has not been held responsible for the March 2004 pogroms in Kosovo that resulted in four days of terror against innocent Serb civilians? I would like to know why the destruction of beautiful Serbian Churches and Monasteries that survived the Ottoman centuries of occupation, the Nazis, and decades of Communism have not survived under the occupation of NATO, the United Nations, and the European Union?

I would like to express my grief at the horrendous suffering that Serbs are enduring in Kosovo. As an Orthodox Christian, my suffering brothers of Kosovo are in my thoughts and prayers during this lenten season that is being observed by Eastern Orthodox Churches. I am particularly distressed over the destruction of all the Churches, with the Sacred Chalices, Icons, Crucifixes, and Gospels.

As a Greek Orthodox, the events in Kosovo bring to mind the status of the Greek Churches of occupied Cyprus which have been systematically destroyed under the Turkish occupation. I would like to ask why it is that Orthodox Christians are exempt from the protection of international law, and why the vile desecration of Orthodox houses of worship from Kosovo to Cyprus are tolerated? The United States has gone out of its way to placate Muslim sensibilities, why are the religious sensibilities of Orthodox Christians treated with such indifference?

Kosovo is Serbia! This is a historic fact, as is the reality that Serbia was a staunch American ally in two World Wars! The Croats, Bosnian Muslims, and Muslims of Kosovo were collaborators of the Nazis that aided and abetted the Holocaust. It is oxymoronic for the administration to support military aid to the KLA regime while claiming to be waging a "War on terror". The KLA has been hosting Al Qaeda, a fact that has been documented by terrorism expert Yossef Bodansky, and by numerous journalists and Balkan experts.

Theodoros Karakostas
And a 2010 blog post with similar themes:
Mosque at Ground Zero – Kosovo Orthodox Churches (LiberallyConservative.com, Aug. 22, 2010, Don Anastas Bistroff)
…[E]xamining what has occurred in Kosovo, which was taken over by Albanian Muslims with few Serbs left is significant and not something discussed in the press.

While Muslims wish to build a 14-15 story Mosque at or near Ground Zero in New York City…the left would like to discuss freedom of religion and tolerance. So let's talk about freedom of religion and tolerance, in Kosovo.
…
Over 150 churches and monasteries in Kosovo, Serbia have been destroyed or seriously damaged over the last 6-7 years. Now authorities project to turn the hull of one sanctuary into a nightclub. The Church of Christ the Savior in Pristina has been turned into [a] public toilet.
…
Not one political leader has spoken in defense of the Christians. Not one has castigated the [Albanian Muslims]. Not one has accepted responsibility for this Muslim murdering madness.

Mosques, in the meantime, are being constructed all over Kosovo. Allah be praised. The Koran be honored. Mohammed be crowned.

Vice President Joe Biden paid a visit to Kosovo in 2009…leaving a deep split in the Serbian church. The diocese overseeing Kosovo, which the church considers the cradle of Serbian Orthodoxy, issued a strong statement condemning the visit. "The U.S. vice president is visiting Kosovo as an independent state, to confirm forceful secession of Serbia's territory and its handover to Albanian terrorist[s] who were not punished for numerous crimes against Serbian people, Serbian property and Serbian cultural and religious heritage…"
…
The ancient churches and monasteries of the Serbians have been destroyed for the last decade. MakNews.com reports in 2009:

"…This has been an unprecedented act of genocide. The planned and systematic destruction of the Christian history of Kosovo-Metohija under US/NATO/EU sponsorship. Churches that had survived for over 500 years under Ottoman Turkish rule were reduced to rubble under the protection of 30,000 NATO troops.

"On December 2, 2002, 46 tombstones at the Orthodox cemetery in Kosovo Polje and Decani were destroyed following celebrations of Albanian Flag Day held on November 28 near the Visoki Decani Monastery. The KFOR troops did nothing to protect the cemetery. The Orthodox cemetery is one hundred meters from the Italian checkpoint and the KFOR base. The Serbian Orthodox Church representative stated that 'the cemetery is now completely desolate with not a single grave intact.' These acts of vandalism and wanton destruction 'threaten to erase any trace of Serbian presence in the region.'"

This is the tip of the Muslim genocide against Serbians and Christian churches and it's nearly impossible to find reporting from the mainstream media…Where is the world standing up for Serbians and there religious heritage? It doesn't exist!

The video below shows the Serbian monastery called Manastir Devic, built up in 1434 (XV century). Albanian terrorists have started their first attacks burning and destroying this monastery since 1949. Finally, after pull-out of the Serbian army and arrival of NATO and UN to make peace in Kosovo and Metohija, this monastery has been completely destroyed, 17 March 2004.

Unfortunately, this monastery shares its destiny with over 274 Serbian churches and monasteries that have been destroyed by Albanians since 1988.

Why are Albanians still supported by America, Britain, Germany and most of EU counties to take Kosovo from Serbia (even though by every single international law Kosovo is and has been Serbian for centuries. Is this what American politicians so proudly call democracy?
And in a few days we can mark the 14-year anniversary of our own, aerial pogrom of the Serbs.
******UPDATE******
The Handsnake — I mean, Handshake:
What better place for a handshake over the Islamo-Catholic undoing of Orthodox Christianity than the Vatican: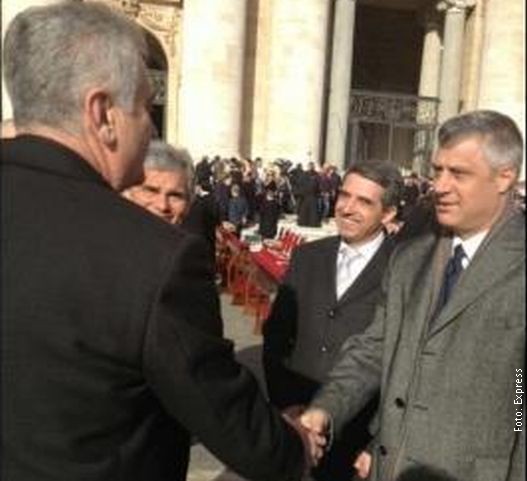 Serbian President Tomislav Nikolic and Kosovo "Prime Minister" Hashim "The Snake" Thaci
And here is a photo of the handshake between Snake and Serbian Prime Minister Ivica Dacic after their sixth meeting to doom Kosovo Serbs, with the EU's Baroness Ashton smiling between them over her poisoned legacy-in-the-making.
One is reminded of the infamous handshake between Rabin and Arafat.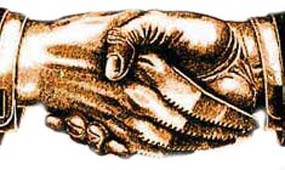 I'm also reminded of a warning by my Italian-American friend Lou, who worried that a conservative government in Israel would have an easier time giving up Jerusalem, as the watchdogs wouldn't be as vigilant as they would be under Labor leadership. Similarly, we have a supposedly "nationalist" government in Serbia sealing the deal in giving that Jerusalem away.