June 17th 2013 04:49:33 AM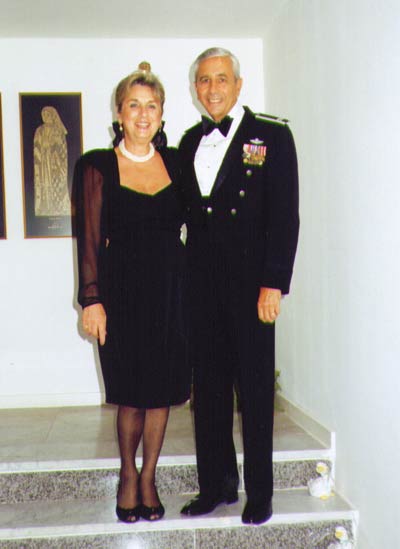 Stella and George Jatras, awesome couple
And really, it still is. Because for some reason I woke up thinking about her on Sunday morning, dreading the possibility that I could hear those two words, which came four minutes later, from my husband downstairs: "Stella died." He'd gotten a facebook alert from Michael P.'s page.
In terms of character, Stella Jatras defied the odds: Pro-Serbia AND pro-Israel. An anti-jihadist before it was chic and then gauche. A military wife who nonetheless recognized when her country turned treasonous. And, well, pretty damned hot.
I can't find the picture I wanted to post of her (I spent half of Sunday looking for it). But she was in one of those Boogie-Oogie-Bugle-Boy line-ups with three other ladies — a black-and-white shot from perhaps the 50s. I was so annoyed by her great looks and legs that I deleted the thing all three times she sent it to me. But not really — I never made a permanent deletion, since I wanted to keep the photo. But it was too hard to find in my deleted folder, and so I've used the photo above.
She emailed me on Dec. 30th saying that this year was her and George's 60th anniversary and they would be celebrating it at George's 60th class reunion at the Naval Academy. I don't know if that already happened, or was to happen later this year.
I always pictured the day I'd introduce her to my husband: "Stella, this is Lev. Lev, THIS — IS — SPARTA!" (see the film "300″), because Stella had the fighting spirit of 300 Spartans in her soul, and so her email moniker "Sparta" was very fitting. Now that I think about it, the email was Sparta13, rather prophetic given that it's 2013. As it turned out, Lev never got to meet her.
In addition to being a more tireless defender of Serbs than even I, she was an early activist against Islamization. She had spoken up when the Islamic Saudi Academy (ISA) was coming to Alexandria. She and her husband George and other concerned neighbors had to contend with vilification in the local presses, including from supposed "tough" guy General Schwarzkopf, who — I had no idea — was a Saudi-lover, and joined in putting pressure on the objecting Americans.
Here was what she wrote me upon Schwarzkopf's death in December:
Can you believe that he said we fought in the first Gulf War for freedom of religion????? Saudi Arabia where there are no synagogues, no churches – only Islam – in the strictest form.

I don't know if you remember the case of Pat Roush – when we were having the hearing for ISA, Pat (from California) stayed with us so that she could testify at one of our meetings – and that ISA should not be built until her kidnapped daughters had been returned to her. She was on TV quite a bit at the time. She was on with Bill O'Reilly when he made an ass of himself – he bullied her and said something to the fact that she was getting too emotional and cut her off.

We had Muslim women go by where we were sitting and if looks could kill, we would have been dead.

It was a nasty job. However, our efforts paid off when a friend called and said that the FBI had nixed the deal. I don't have anything except her call and can't find anything on that on the internet – but the Saudis' did not build their ISA after all. [Update: It was built later, and was where the valedictorian who wanted to kill Pres. Bush hailed from.]
…
I have pictures that I took of Schwarzkopf, George Bush and Barbara when they came to Jeddah, Saudi Arabia on Air Force One at the Royal Pavilion. Because I worked for the United States Military Training Mission (secretary), George and I were invited – which by the way was forbidden for me to be working next to men – only in hospitals is that permitted…Stella
When Schwarzkopf died, Stella was too decent to write a letter reminding people that he was part of the infiltration problem. "Let the man rest in peace," George told her, and she obliged. But she did re-circulate the following item:
Gen. Schwarzkopf backs Saudi school (Loudoun EASTERNER, Jan. 28, 1998)
General H. Norman Schwarzkopf, commander of Operation Desert Storm, this week issued a strong statement of support for the relocation of the Islamic Saudi Academy to Ashburn.

In the statement issued from his home in Tampa, FL., Schwarzkopf countered some allegations made against Saudi Arabia and said he would be "very disappointed if American citizens blocked the Islamic Saudi Academy from being established in Loudoun County."

The proposal to move the Academy to Loudoun from Fairfax County has resulted in widespead public debate, some of it from military families [before they were castrated] and much of it based on alleged treatment of Christians in Saudi Arabia. The general's letter follows:

"It has been brought to my attention that there are some people in Loudoun County who believe that American soldiers who served in the Gulf War, particularly in Saudi Arabia, were prohibited by the Saudis from worshiping and keeping with them a personal Bible or cross. Such a statement is absolutely untrue.

"There were 775 Army, Navy, and Air Force chaplains in the Gulf area during Desert Shield and Desert Storm. They freely conducted religious services at all of the bases where U.S. forces were stationed. These services, of course, included Christmas services during the holidays and Jewish religious services during the high holy days. The only thing that the Saudis asked of us was that we not televise or publicly advertise our religious services.

"I would personally be very disappointed if American citizens blocked the Islamic Saudi Academy from being established in Loudoun County. First of all, we Americans always practice freedom of religion and to block a school because of their religious beliefs would be directly contrary to what we are fighting for in the Gulf War. Secondly, Islam is a religion that is completely tolerant of other religions especially Christianity. Many of the passages of the Koran are exactly the same as passages in the Bible and Christ is recognized by the Islamic religion as a prophet.

"I strongly support the relocation of the Islamic Saudi Academy to Ashburn, Virginia. My wife, Brenda, who was born and raised in the Shenandoah Valley of Virginia, also supports the location of the school."

The letter was released by a representative of the school. It is the first time from a national figure on the subject of the proposed move of the Academy.

Gen. "Stormin' Norman" Schwarzkopf, a second generation graduate of West Point, spent two tours of duty in Vietnam, where he was commander of ground troops in General and later led the Desert Storm operation which led to the expulsion of the Iraqi army from Kuwait. He is now retired.
And now he's deceased, thereby available for Stella to give him a piece of her mind in person. Which I'm sure she'll get to eventually. At the moment, her schedule is rather tied up. She has a funeral to attend, an extensive family reunion to get through, and a glowing life review to experience when the Big Guy presses the playback button.
I'll close by linking to some of Stella's hard work, which has been making the rounds this weekend:
When is a Diplomat Not a Diplomat? When you're Richard Holbrooke
What G.I.s Need to Know about Kosovo
Behind Enemy Lines: Fact or Fiction?
From Camp Swampy to Camp Bondsteel
Carla Del Ponte's Pound of Serbian Flesh
Wesley Clark: The Guy Who Almost Started WWIII
The Media's War Against the Serbs