June 01st 2014 10:49:22 PM
As we know, Facebook is a place — nay, a world — where people make just a little more of themselves than what they really are. Where they're something other, something greater, something better. Quite often, it's also the epicenter of 'Thou Dost Protest Too Much.'
Take one Facebook friend of a friend, who posts things like, "At least my kids know they have a mother who loves them more than anything else in this world." This being a mother who, when the kids were just out of kindergarten, found a new love more exciting than their father, bringing on divorce and lost custody, and now makes the kids commute between states every month to see her. Sounds like there's something she loved, or at least chose, over the kids.
Or how about another acquaintance who, every time her husband does something else stupid, takes to Facebook to reaffirm how happy she is to have found him, and professes her undying love.
Or take my dad, the dog lover. He's always posting heart-warming doggy pictures and writing things like, "I'd have a hundred if I could." This is a man who said that the deaf blue-eyed terrier I adopted doesn't know how to behave and has strange eyes; who sent my mother's adopted beagle mix to the shelter after two months because he couldn't be bothered to keep an eye on the dog so it wouldn't bite the furniture ("He has angry eyes, anyway."); who more recently, when my mom said she wouldn't mind getting one more dog, said, "I already have a dog, but do what you want since I won't have anything to do with that dog"; and who randomly hurls insults at family but is prone to posting Rockwellian scenes of blissful family life.
On Facebook, you are what you'd like to be, and would like to be perceived as being. And so, if Kosovo is a country on Facebook, that probably means it's not a country.
Then again, Facebook recognition could make it official, despite the social network's protestations of modesty:
Kosovo Gets A Facebook 'Like' (Radio Free Europe/Radio Liberty, Nov. 20, 2013)
The world's largest social network, Facebook, has finally listed Kosovo as its own country — more than five years after the breakaway territory proclaimed independence from Serbia and after more than 100 countries…have extended formal recognition.

…Kosovars who wanted to create or promote a Facebook account would now have the option of choosing "Kosovo" as their location. Until now most users simply had the option of "Serbia."
…
Kosovo's prime minister, Hashim Thaci, welcomed the move, saying that senior Facebook executives had informed him earlier in the week about the company's decision…Kosovo's minister for EU integration, Vlora Citaku, went even further in her enthusiasm, stating on her Twitter account that Facebook now "recognizes Kosovo as a state." She included the hashtag #digitaldiplomacy with the tweet, underscoring the increasing importance that social-media websites have for smaller, emerging countries like Kosovo.

Facebook confirmed the move to RFE/RL, though was quick to tamp down any suggestion that Facebook had the power to "recognize" Kosovo (or indeed any other country)… "Companies have clearly no role to play in the formal recognition of countries as this is a matter for the international community to decide. We do try to ensure that our service meets the needs of our users…."

The move appeared to validate the activities of groups like DigitalKosovo and others who have tried to raise public awareness of the importance to the economy of being correctly identified by websites like Facebook (as well as other e-commerce sites like hotel-bookers, car-rental agencies, and internet retailers).
…
In addition to helping Kosovo, the move underscores the overwhelming — and sometimes uncomfortable — importance of Facebook with its approximately 1.2 billion monthly active users.

Facebook did not comment on what prompted it in this instance to identify Kosovo as a location, but clearly the move has vast implications — and not just for Kosovo's relatively small user base. […]
Here's what may have prompted it:
[A] Group of Facebook users recently launched an online campaign to gather signatures for the letter addressed to Mark Zuckerberg, founder and the owner, asking him to recognize Kosovo.
"Asking" appears to be a subjective term. I did a search to find this appeal, this 'letter' that surely must have been an effective piece of digital diplomacy and political sophistry to have achieved such swift and defined results. Here is what I found:
Kosovo is not Serbia Mark Zuckerberg: We want from Facebook to recognize Kosovo as an independent state

Luard Kullolli

Petition by

Luard Kullolli

clinton twp, MI

Kosovo is recognized the world over 100 countries and is an independent state, we regret that still qualifies facebook.com Kosovo as Serbian province. As every country in the world and Albanians in Kosovo have the right to be represented at Facebook.com them as citizens of Kosovo.

To:
Kosovo is not Serbia Mark Zuckerberg
We want from Facebook to recognize Kosovo as an independent state

Sincerely,
[Your name]
Indeed, the "letter," and the "asking," come across more like an order, to the extent they come across at all. This is the sort of thing that Facebook high-ups respond to? Meanwhile, do they have any clue that in a few years they'll have to change the Kosovo designation again, from Kosovo to Kosova, the usurper pronunciation. (Already by 2010, the 'Kosovo passport' accepted by EU countries was marked "Republic of Kosova.") Then, a few years later when the full Albanian jig is revealed, Facebook will have to change the designation yet again, to Albania, after the temporary 'country' merges with the fatherland then adds pieces of Macedonia, Montenegro, more Serbia, Greece and maybe Bulgaria.
Thank You, or Else. From "Europe's Youngest State." (So Young, it's Not Even a State .)
The tone of the Albanian 'request' is reminiscent of something in a July email from Canadian military reporter Scott Taylor:
Just a heads up. The 'Kosova' Foreign Minister is in Ottawa today. He did an interview with my colleague at Embassy magazine and then demanded that he be allowed to see the copy before it goes to press. When she advised him that is not the magazine's policy, he berated and verbally threatened her [raised voice, insults, menacing presence]. She was reduced to tears and very frightened! These guys are total thugs. And his reason for being in Ottawa? To thank Canada for recognizing 'Kosova' and all of our past support. Unbelievable.
The foreign minister was there also to get — as with all things Kosova — a little ahead of himself, and of his not-yet-country: to seek "Canada's support for Kosovo's eventual bid to join NATO."
Ah, but this is all too inside-baseball for the blind leaders of the blind, the American media who give Kosovo's thugs ('leaders') carte blanche ink, without caring to know the nature of those they're promoting in toe with the State Department. Huffington Post, for example, knew only to publish the minister's seemingly humble thanks:
"Thank You, Canada!" From Europe's Youngest State (Enver Hoxhaj, Minister of Foreign Affairs, Kosovo, July 22, 2013)
On my official visit to Canada this week, I want to thank Canadians for all that you have done to support the sovereignty and security of the youngest state in Europe and a new member of the worldwide family of multi-ethnic democracies. [Or, at least, the illusion of such. See also "Young Albanians Reject Serb Friendship."]

Shortly after Kosovo declared independence on February 17, 2008, Canada recognized Kosovo on March 18 [incidentally, the fourth anniversary of the 2004 pogroms against non-Albanians], and now our nations have full diplomatic relations. Earlier, Canada sent some 1,300 troops to NATO's Kosovo Force peacekeeping mission, and 20 Canadians gave their lives in the former Yugoslavia. Additionally, Canada contributed $135-million in development assistance to Kosovo from 1992 through 2010.
…
Today, there are few if any excuses for countries not to recognize Kosovo's statehood. We ask that they do so to cement our region's Euro-Atlantic integration on a durable foundation of peace and democracy.

Thank you, Canada.
Facebook got the message, apparently, and laid some of that cement. As always, exceptions are made for Albanians and they get what they want. But really, what Jewish C.E.O. could resist an appeal from Michigan (that 'letter' from Luard Kullolli), where the ever so eloquent petition originated? Keffiyeh Central, with its Greater Dearborn headquarters of Hizbullah rallies that bring the Muslim community closer together. Particularly during Israel's 60th birthday in 2008, the same year Muslim Kosovo declared its own birth (again). Which brings up an interesting inconsistency by Facebook: Unlike Kosovo, if one tries to fill in "Palestine" as the country option, that still doesn't work. And yet, all things being relative, Palestinian terror has gone about achieving statehood over the decades far more 'legitimately' and patiently.
The Albanian-Jewish Paradox
A December follow-up on the Facebook recognition somewhat illuminated "what prompted" it, bringing little surprise to those who have been following the aftermath of the least discussed and least analyzed war in American history, the little war that happened just when Americans decided that what a president does in his private life doesn't affect how he runs the country (or ruins others). And so, as ever, the name Eliot Engel popped up, the wide-smiling congressman whose job description is to please his dangerous constituency in the Bronx (links added):
Kosovo's independence is Facebook-official (Boston Globe, Dec. 26, 2013)
The small Balkan country of Kosovo might not have a seat at the United Nations, but it has won recognition from an organization that may be more influential: Facebook…Facebook generally only lists UN-recognized countries, but a lobbying campaign by Kosovars and by New York Representative Eliot L. Engel, a steadfast supporter of the country, convinced Facebook to make the change.

Recognition by Facebook is just one entry on Kosovo's wish list. The government also wants a slot in the ever-popular Eurovision song contest [especially after the dreaded Serbs won it on their first go] and the right to field an international soccer team. And who knows? In light of how Tonibler — an Albanian-language rendering of Tony Blair — has become a popular boys' name in honor of the former British prime minister's role in the NATO air strikes, it's possible that the first Kosovar winner of the Eurovision song contest will be named after Mark Zuckerberg.
Or, perhaps, after Simon Wiesenthal. In a microcosm symptomatic of, and embodying all, the Kosovo dilemmas, contradictions, and historical blasphemies, a month ago the Simon Wiesenthal Center proudly announced: "Wiesenthal Centre Partners Yom HaShoah in Kosova." The press release:
SIMON WIESENTHAL CENTRE - EUROPE
Tel. +33-147237637 - Fax: +33-147208401
E-mail: csweurope@gmail.com
For further information contact Shimon Samuels on 0033609770158

Pristina, Kosova, 28 April 2014

By invitation of the The Kosova-Israel Friendship Association - Dr. Haim Abravanel, and its President Leke Rezniqi, the Simon Wiesenthal Centre-Europe co-sponsored its 2014 Yom HaShoah (Holocaust Day) commemoration.

This followed an October 2013 visit by the Centre's Director for International Relations, Dr. Shimon Samuels who stated:

"I travelled through Kosovo to meet with children and grandchildren of the rescuers of Jewish fugitives from the Nazis who were escaping from other regions of the ex-Yugoslavia", adding, "I visited, with the KIFA, the mountain passes through which the refugees were taken to safety in neighboring Albania, where they survived the Holocaust".

Samuels continued, "I was greatly moved by the story of 'the 100 White Hats' — the egg-shaped headgear worn by Kosovar peasantry — purchased by Leke's grandfather, Arsilan Mustafa Rezniqi, to disguise the fleeing Jews.

For this, Arsilan was recognized by Yad Vashem as a 'Righteous among the Nations'"[.]

The ceremony was held on 24 April and featured the opening of the exhibition: "Rescue of Jews in Kosovo during the Holocaust - Uncovering a Hidden Legacy"

Samuels stressed that "this exhibition sets a remarkable example by Muslim Kosovo to the Muslim world", continuing, "the naming of your Kosovo-Israel Friendship Association for Dr. Haim Abravanel is testimony to our interdependent humanity. Leke's Muslim grandfather who was his rescuer, was, in turn to be saved by this Jewish physician".
…
The Centre congratulated KIFA for the essay contest it is launching in Kosovo's schools and universities, in association with Verbe et Lumiere — Vigilance — on "The Holocaust and Jews in Kosovo".

"These initiatives have brought together three heroic figures who overcame ethnic and religious boundaries to care for 'the other': Arsilan Mustafa Rezniqi, Dr. Haim Abravanel and Simon Wiesenthal. May they be our guides through the dark passages of contemporary hate", concluded Samuels.
So much for that.
Apparently, there's a lesson that organized Jewry still hasn't learned. A monster who favors Jews is still a monster. He's just more interesting than most. Put another way, just because someone likes or saves Jews, it doesn't mean he gets to kill Serbs. Therein lies the Albanian-Jewish contradiction. If one cares to notice it. The Wiesenthal people can be assured that if it were Jewish lands that neighboring Albanians were after, they'd redefine the word anti-Semitism.
One might also care to notice that, for all the de-Jewifying of the Holocaust lesson, diluted to general messages of "tolerance" and applied to every aggrieved group, here is one case where the application would actually serve, given the very direct Jewish-Serb Holocaust connection. But sure enough, here one finds the aggrieved group's case being callously ignored and even quashed.
Meanwhile, the blatant historical perversion of such high-minded blather as "overcoming ethnic and religious boundaries to care for 'the other'" almost goes without saying. The sentence is being uttered, after all, in a state founded on ethnic, religious, cultural and linguistic cleansing, and murderous racism of 'the other', morphing into a current state of apartheid. In March 2004, National Review deigned to publish the fact that "A pogrom started in Europe on Wednesday. A U.N. official is quoted as saying that 'Kristallnacht is under way in Kosovo.' Serbs are being murdered and their 800-year-old churches are aflame…[T]oo many of Kosovo's Albanians have shown that all the speeches about democracy and multi-ethnicity…are false."
It's also really something to see Simon Wiesenthal Center using the terro-Fascist pronunciation "Kosova." Then again, who ever heard of Jewish escapees from the Nazis being described as "fugitives"?
Pogrom of the Dead
The Wiesenthal-'Kosova' partnership ceremony came just two days after one of those 'responsible' and 'mature' officials — as we're constantly assured Kosovo's governorship is — threatened to demolish an Orthodox church going up in Pristina (and to turn it into a "war crimes museum" in memory of Albanians); it came a week before the Kosovo prime minister himself called the church a "Milosevic monument," a tag used for 15 years now to cleanse everything non-Albanian; it came days before a (supposedly 'dismantled') KLA commander announced to a local TV station his intention to destroy the UNESCO-listed Decani Monastery, which was built in 1327 and which sheltered Albanian women and children during the 1999 war, and which last year was forced to shut its doors (despite our NATO's "protection"), as Albanian terror celebrated five years of independence by trying to take land that churches are "occupying" (the plan being to then hijack the landmarks as "Kosovo history" so as to remove evidence that anyone predated Albanians there) — and by smashing or desecrating any Serbian headstones still standing, this time ostensibly because a monument to Serb-killers was disallowed in Serbia proper. Just some scenes from what Reuters saw as "signs of a thaw with Serbia as Kosovo turns five":
This is all without mentioning the KLA ("UCK") graffiti that was going up on Decani's walls in April while the Wiesenthal people were en route back to Israel and Los Angeles.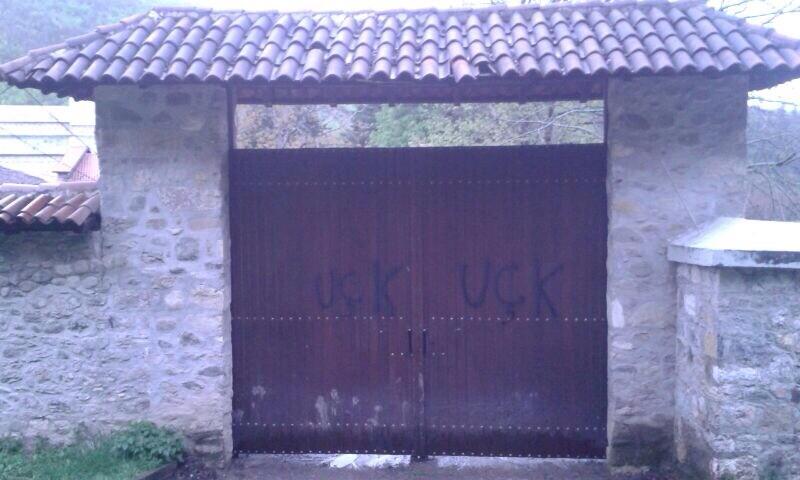 The Judeo-Albanian lovey-doveys capped a month that opened with continued unlawful seizure of monastic land by Albanians, this time near Orahovac, another town that has been almost entirely cleansed of Serbs (with early help from the UN, OSCE and KFOR, which "supported the KLA's violence most openly, on the principles that 'every Serb is a war criminal' and that anyone has the right to accuse, try and sentence a Serb," as the otherwise Serb-unfriendly Humanitarian Law Center laid out in February 2000). Orahovac became a sort of "barbed wire-enclosed concentration camp for Serbs," whose "freedom of movement was limited to a circumference of 500 meters," outside of which they needed an armed KFOR escort, even for ambulances. The monastic land seizure there in April involved the Saints Cosmas and Damian Monastery, which is being threatened by local Albanians while it undergoes restoration after being blown up in 1999 and its flock driven out. (What we in the West called — and still call — ethnic cleansing of Albanians.)
The previous month, amid graffiti reading "The only good Serb is a dead Serb" on the Church of the Dormition in Djakovica (which had been burned to its foundations during the March 2004 anti-Serb riots and where four elderly nuns are what remain of the Serbian community), a group of Serbs was prevented by Kosovo police from visiting the convent and a nearby graveyard on the Saturday of the Reposed; and on Orthodox Christmas Eve this past January, "Albanians held mass rallies in front of the convent, stoning two buses of Serb pilgrims, preventing them from visiting the convent and preventing the sisters from attending a Divine Liturgy on Christmas.
After creating this environment for Christians, the American embassy had the courtesy to post the following advisory this Easter:
Security Message for U.S. Citizens: Pristina (Kosovo), Easter Holidays
The upcoming Easter holidays are of particular religious significance for Catholic and Orthodox Christian communities, and it is expected that their places of religious worship will likely be significantly more crowded than normal. Given occasional threats against religious institutions in Kosovo, particularly the more prominent churches located in urban centers, the U.S. Embassy would like to remind all U.S. citizens in Kosovo to remain vigilant and report any suspicious activity to the Kosovo Police.
Funny thing, Easter was never a dangerous time in the Yugoslav region under communism; the West has really outdone everyone, not least of all when we bombed right through that "religiously significant" Easter, both in '99 and '95. We take only Ramadan off from that sort of thing.
Someone Please Fire the Incompetent Minister of Genocide
Jewish Albanian-appreciation is complicated further by the glaring Serbo-Israeli parallels that are swept under the rug: Everything that Albanians have done to the Serbs successfully — including the image war that turned the world against them — has been right out of the Palestinian playbook, as blogger Pamela Geller recently nailed it. Particularly nasty is the similarity wherein Palestinians are trying to achieve a Jew-free Middle East while claiming ethnic cleansing and genocide — and while growing in population.
Likewise, the ever-growing Albanian population shouted 'ethnic cleansing' and 'genocide' in pursuit of a Serb-free Kosovo.
U.S.-NATO Alliance with Extremists and Fascists Spawns Vicious Web of Deceit
"Kosova" is founded on torture, slaughter and remnants of WWII Fascism. It is with the architects of such a 'state' that Simon Wiesenthal Center and too many other Jewish organizations and institutions are bonding — while the remnants of a people whose Jerusalem this was are under siege. Never mind the additional fact that the besieged belong to a nation that was first to endorse the Balfour Declaration, breaking the icy international silence and referring to "Israel" 30 years before the name was adopted. And never mind the words of Israeli ambassador Yossi Levi last year upon the 14th anniversary of the NATO bombing: "We Jews will never forget the incredible human and heroic role of many Serbs who saved Jews during the Holocaust…[T]he Serbs provided arms to the Jews…and were often killed together in the same pits."
Similarly, Serbia provided one of the first loans to America, whose independence it recognized as fast as America recognized against Serbia's sovereignty in 2008. Washington may be too deep in a moral abyss as regards these people, but Jerusalem and those who love it are not.

Albanian Nazi slaying a Serb Orthodox priest in Devic, Kosovo in WWII

1944. The Kosovo-Albanian SS Skanderbeg division, which rounded up Kosovo Jews later killed at Bergen-Belsen

Karl-Gustav Sauberzweig, commander of the Nazi SS Division Handzar in Bosnia. He is shown wearing the Albanerfez, or national Albanian skull cap made by the SS for the [300] Nazi Albanian Kosovar Muslims in the division.

Xhafer Deva…interior minister of the Nazi-created Greater Albania…helped form [Skanderbeg].

Troops of the fascist Balli Kombetar ('balists'), a volunteer Kosovo Albanian Nazi organization formed in 1939

Balists murdering Serb civilians in the road, 1941.

The Balli Kombetar (also spelled Bali i Kombetar) insignia on a Pristina wall in 2006.

Gjon Marka Gjoni, the fascist leader of the Albanian Roman Catholics, whose followers were in the Skanderbeg SS Division.

Kosovar Albanian Skanderbeg Nazi SS Division on the move in Kosovo, 1944.

Kosovar Albanian political leaders with German and Italian occupation officials.
And the images below are from the 80s. Like WWII, the 80s came before the 90s, the decade that supposedly caused all the Serbs' ills:

Serbian gravestones destroyed…in Srbica in 1985.

Kosovo Serbs flee en masse from Kosovo, June 20, 1986.
But hey, the perpetrators of all this have nothing against Jews (historically and for now). Congratulations, Wiesenthal folks. What a ringing endorsement.
They're not entirely out of order, of course. Between killing Serbs in WWII, Albanians did save Jews. (Though not the Jews of Kosovo).
But Pope Pius XII also saved Jews. And yet the Jewish community repeatedly has asked the Vatican to hold off on canonization until more information could be learned, for a fuller picture of Pius's role during WWII. Why isn't the same analysis required for the full "Kosovar" story, and the same prudence exercised? As ever, the Albanians get a pass on their hasty path to the next prize.
It goes without saying that the Alba-Judeo humanity fest did not end with an appeal to the victorious-but-still-punching Albanians that they put into practice the ideals they were being honored for demonstrating in WWII, by showing the pummeled Serbs even a fraction of the non-barbaric side they once showed Jews.
And it goes without saying that the 2013 Facebook recognition, which on November 20th came just in time for Albania's independence day of November 28th, was bestowed with nary a raised eyebrow over the way that year opened: with a pogrom of the dead that was kept out of the presses, their bones scattered in honor of Kosovo's fifth anniversary. As with the "letter" to Zuckerberg itself, primitiveness gets rewarded.
Now to determine if Kosovo statehood is to be celebrated on February 17th, when it immaculately self-birthed in 2008; on November 28th, as 'Kosvoars' have been celebrating Albania's holiday all along; or on November 20th, when the Albanians' latest Jewish sucker made the unilateral declaration "official."
And you thought Facebook was a dangerous place before.
APPEAL
The May rains in Serbia and Bosnia poured for days before there was any coverage of the floods in the West, prompting tennis star Novak Djokovic to implore media to raise awareness, and to accuse CNN and BBC of "virtually ignoring a 'total catastrophe of biblical proportions'," as The Guardian deigned to report five days in. He added, "Half the country is in danger of not having any electricity, there is total immobilisation, evacuations…I see that on CNN, the BBC and other big networks there is a lot about the miners in Turkey, and so forth. This is another disaster, but there is no broadcast [about] Serbia and Bosnia, nothing about the biggest floods that we have ever seen, that maybe Europe has ever seen. This is incredible. I just hope that people can find [some] common sense and broadcast this….We need help." (Djokovic pledged his $750,000 Rome Masters prize to aid, and is asking everyone to help through his foundation.)
Three days into the flooding, Canada's Globe and Mail finally started reporting (though the government hasn't issued so much as a press release or any aid, a pattern among Western governments, prompting a petition that leaders speak publicly about the events, and one that they send aid). Another three days later, Reuters relented and reported that Russia and the EU were helping, the latter somewhat reluctantly at first: "The European Union has been half-hearted, even cold, asserting its bullying posture over admitting Serbia to the club but indifferent to its times of need. In the words of Svetlana Maksovic, writing for the Serbian monthly Geopolitika, "many Serbian people are upset by the…lack of reaction…especially after EU Foreign Policy Head Catherine Ashton did nothing more than send her condolences." And while a massive Macedonian charity drive collected $165,000 just over the first weekend after the flood, U.S. ambassador Michael Kirby offered $100,000 from the embassy, after first lecturing Serbia about gay rights. Pretty pathetic, considering we didn't help rebuild after the NATO-assisted terrorism against a country that, unlike some under the Marshall Plan and more recent examples in the Middle East, did not declare war or attack us first.
Such a natural disaster and state of emergency occurring anywhere else in the world would be headline news, and every American celebrity would be doing a telethon (on that point, thank god for Billy Idol and Russell Crowe; Angelina Jolie also pitched in). However, since the floods happened where Serbs live, and humanity had sympathy for them surgically removed, only Russia took notice in the early days, sending food, water, rescuers, boats and diving equipment. Only once landslides started dislodging landmines, it appears the wrathful flooding was finally newsworthy. That, and the sappy stories they realized they could write about former belligerents — Serbs, Bosnian Muslims, Croats, and Abanians — reaching out to help one another, something that UNLV professor Dr. Michael Pravica wrote about from a more intimate perspective in his Pravda.com op-ed this week, adding a few other important observations from his visit to the region:
Doctors, nurses, and other aid workers from a variety of [Slavic] nations were working in Hotel Slavija, rushing to and fro….and I found very few (if any) citizens from Western nations. [M]y government (USA) gave next to nothing in aid…and neither did Canada (roughly $30,000 CAD). In two days of fundraising, Serbian-Americans in Las Vegas collected some $50,000, to give some comparison….[T]he West and NATO squandered billions of dollars illegally arming combatants…and illegally bombing Serbia, [under the guise of] "humanitarian concern" …This demonstrates that the "humanitarian" intervention in the former Yugoslavia then was really political and regime-changing in nature…and that Western governments could[n't] care less about helping these peoples when they really need it unless there is something in it for Western leaders.
(Note that he wrote "Western leaders," not "Western countries," for which there is no national interest in the "help" we've been raining on the Balkans.)
Americans shouldn't let Russia be the only good guy in the region yet again, and should help the victims even if they're the politically incorrect Orthodox Christians and not, for example, our kindred Muslims (sarc). Though to be sure, Muslims were affected, with the AP reporting that almost a third of Bosnia "resembled a huge muddy, lake," so there's at least hope for that region, the only one that NY Times seems to be mentioning. As Nebojsa Malic wrote me, "I get the 'Serbs aren't people, so their suffering can't be human interest' mentality of the Western press, but Muslims have died and lost property in the flooding too." As for the Serb part of Bosnia, consider that it's Israel's best friend in the Balkans, and Israel has been delivering aid to Serbia. The region has not seen such a catastrophe since the last time we "helped" it, in 1999.
The European Bank for Reconstruction and Development (incidentally which in 2012 also made the usual unusual move of accepting Kosovo membership despite its not being a country) so far estimated the damage at $4 billion. Here is a list of needed items, and here are additional instructions. British-Serb publication "eBritic" also has a helpful Flood Issue and update, this weekend adding a Red Cross SMS number at this full directory of how to help. Three other donation sites, with the last two being most reliable are http://brussels.mfa.gov.rs/cir/, International Orthodox Christian Charities in Baltimore (already on the ground), and lifeline.org. There are also the good people at the Serbian diaspora organization 28June, whose efforts can be helped via PayPal at 28jun.org@gmail.com. And this accidental Serbia-lover on Huffington Post recommends this site.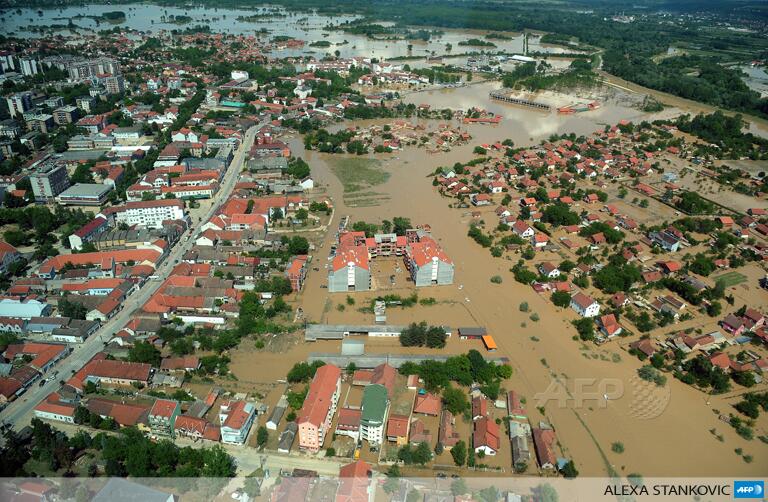 25-year-old Kosovo refugee Slobodan "Jumbo" Nedeljkovic, who lost his entire family in 1999 and is now looking for his wife and two-year-old son, has been on the front lines of flood rescue
Albanians, meanwhile, demonstrated the depth of their humanity:

While Albania sent five search and rescue units (to Bosnia), and Pristina took the opportunity to help Serbia, giving the appearance of good faith as it seals the Kosovo deal this year, Albanian fans of Kosovo's Drenica football club went to a recent Sunday match with Pristina.

And fans at a basketball match in Pristina.

Shefqet Krasniqi, imam of Pristina's Grand Mosque: "What is happening in Serbia is undoubtedly God's punishment for all the…injustice against the Albanian people. NATO stopped but did not condemn Serbia for all the crimes and genocide against the innocent population in Kosovo. I am sorry for the children who got born after 1999 because they have the least guilt."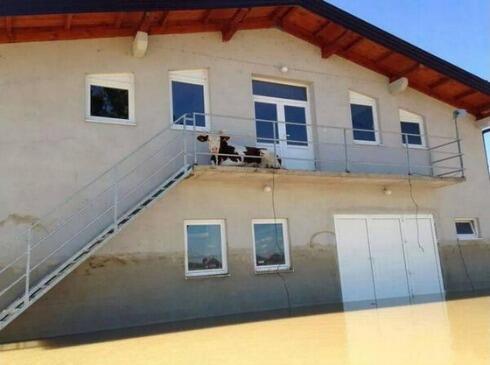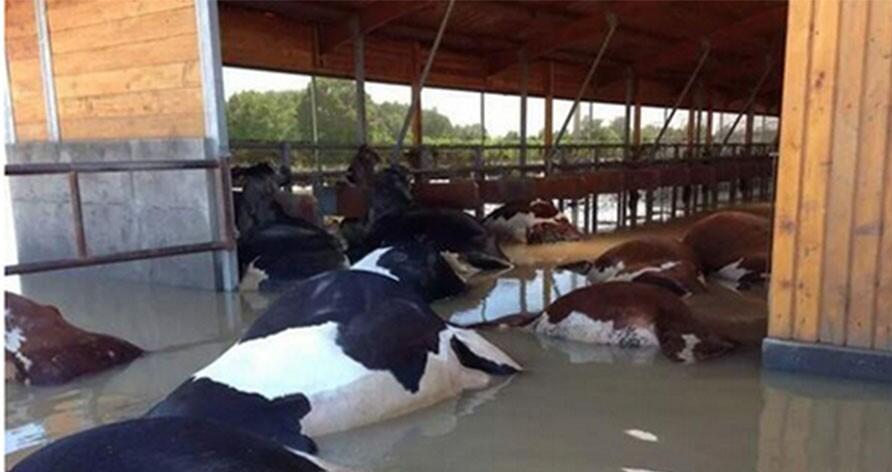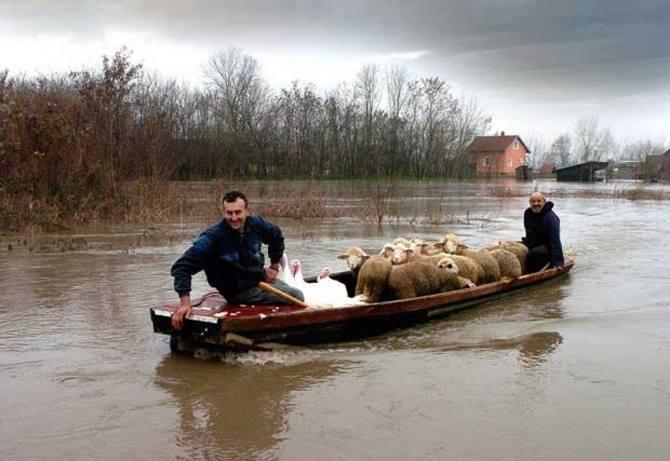 SMS 1003, http://t.co/EqIhQfxkK3, serb.in/my, #SerbiaFloods, #SerbiaNeedsHelp