March 13th 2007 01:54:12 AM
It was brought to my attention by a Huffington Post reader that in this photo of flags on Pristina's Victory Hotel, the Union Jack is upside-down as well (I'd previously noted that the American flag is upside-down).
The owner of the hotel is Hashim "The Snake" Thaci, our KLA point man when we allied ourselves with that terrorist group in 1999. He had met with bin Laden in 1995 and executed six of his lieutenants shortly before greeting this woman: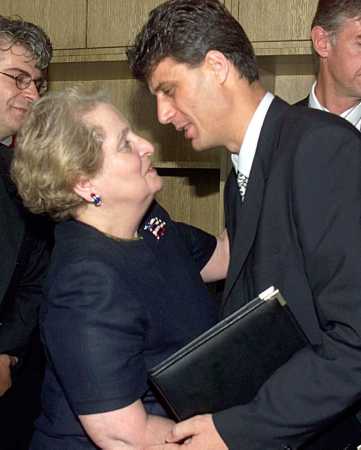 On this occasion, Thaci recognized the lady, though previously, as the NY Daily News reported in 2000, the Albanian delegation to the Rambouillet peace negotiations had mistaken her for the cleaning woman:
"One member of the delegation, who didn't realize who she was, and probably thinking she was some cleaning lady because it was after midnight, simply said to her, 'Give us five minutes and please go away,'" recalled Albanian diplomat Dugagjin Gorani in War on Europe, a British TV program. Instead, Albright exploded in rage, swearing at the group, according to the reports.
Thaci is aware that his hotel flies the American and British flags upside-down, and so are the Yanks, according to an American source in Kosovo, who adds that this is just "Thaci's way to show who's boss."
I intimated something to this effect two years ago, after seeing a Dutch documentary on PBS titled "The Brooklyn Connection," and observing the interactions between former NATO Supreme Commander Wesley Clark and our Albanian KLA terrorist allies. I wrote:
Watching the four-star American general pal around with the seedy, gangster-like rebel fighters, one gets a sense that the current balance of power is but temporary, and that the former general is addressing his future masters.
Indeed, Clark has been sweating for seven years to make sure he delivers his terrorist allies their "Kosova," or the KLA guns turn on us next:
From Friday's New York Times:
The calculation of the United Nations is that people like Mr. [Hajriz] Jakupi and other former fighters in the Albanian rebel group called the Kosovo Liberation Army will accept the deal, since it gives the Albanian population considerable independence, though with a dose of international supervision….But as planning proceeds, there is also a worry that things might go wrong…

Mr. Jakupi, 35, leads a group of former fighters from the Kosovo Liberation Army, which waged an insurgency against Serbian security forces from 1997 to 1999, a conflict that took 10,000 lives and ultimately forced NATO to intervene. Some of his colleagues were at the center of two other insurgencies, in Macedonia and southern Serbia, in 2001.

…"If independence is not recognized, I think people will take up arms," Mr. Jakupi said. "It is the minimum we can accept. This is what our heroes gave their lives for in the war."
From the Belgrade wire service Tanjug over the weekend:
International representatives have observed, over the recent days, intensified regrouping of armed groups in black uniforms with insignia of the former Kosovo Liberation Army (KLA) in the territory of Drenica, Pec and Djakovica in Kosovo and Metohija province, the Belgrade daily Vecernje novosti [Evening News] said on Saturday.
…
Forces of the local United Nations (UN) administration UNMIK and the peacekeeping force KFOR have been given strict orders "not to engage in conflict or discussion with the armed groups, and, upon sighting them, to abandon their mission and immediately return to base," Vecernje novosti said.
Take note: The orders to the KFOR (NATO) soldiers are to avoid clashes with the Albanian side at all costs, so as to not draw attention to Kosovo as a flashpoint of violence. Violence that is being used to gain independence, which we are supporting. Even as they shoot at NATO forces and bomb UN installations (not to mention continue killing Serbs, whom KFOR can't protect since they're not allowed to shoot at Albanians), we are helping them achieve their violent goals. Here is an ominous sign, reported again by Evening News:
Information coming from the French intelligence says that [former U.S. diplomat William] Walker met with many ex-KLA members [on his visit two weeks ago] which he personally trained for special operations against the Serbian forces.

…In Pec in the hotel "Metohija" he met with ex-members of [indicted war criminal currently at the Hague Ramush] Haradinaj's special unit which in 1999 conducted the hardest crimes against the Serbs and other non-Albanians…He also met with all of his old spies which he recruited during his Kosovo stay as leader of the UN Verification mission prior to the NATO bombardment.

According to what the intelligence services of the great countries told their governments, Walker was on a mission of preparing terrorists and extremists for conducting the final phase of the project for the creation of an independent Kosovo in case this issue is not resolved in a peaceful manner.
In other words, everything you think you know about the war on terror and the war on drugs is turned on its head in Kosovo, as James Jatras, former analyst for the Senate Republican Policy Committee, said in this recent interview with CBN.
Let the record show that in Kosovo, "victory" is indeed an upside-down American flag.