How many times has it been said or written sarcastically of us Balkans heretics that "The place she wants you to worry about for terrorism is not in the Middle East or Pakistan, but in the Balkans. She wants you to think that Bosnia/Kosovo is the next Afghanistan."
Well, over the past three years more and more people have gotten the memo that ISIS is setting up its Great White Hope in Bosnia and Kosovo, while recruits from both continue topping the numbers, proportionally speaking.
It has something to do with the fact that the West created Afghanistan-like potential "in the heart of Europe," as the Balkans are again emphatically being called, this time not to dramatize some desperately concocted genocide "in the heart of Europe," but to underscore the juxtaposition of the Middle East making its way into Europe, which is happening thanks in large part to that early help from media and governments in concocting that genocide and the wars they justified with it.
This European Middle East we facilitated is precisely what the Caliphate had pinned its hopes on for infiltrating Europe more expeditiously. How many times have we few tried to explain this, and in how many different ways, in response to criticisms that we were mischaracterizing the vast majority of secular, European, moderate, pro-American "Kosovars" and "Bosniaks," as if that were the point.
As we peruse the following year-in-review about Bosnian and Albanian jihadis (and these are just the ones I haven't had a chance to chronicle yet on this blog), let's keep in mind that old pals U.S., UK and Germany brought us all of this. That's who's made this world for us, and so more of our children have to die, starting with the soldiers who are sent by the same devils to face the enemy proliferated by us (UsIS?). And still they want us to believe that it was a bigger deal that some Serb paramilitaries in the 90s executed up to a thousand Muslim soldiers ("8000," as they call the same figure), and so everything we're dealing with now is justified by it.
Inside Kacanik, Kosovo's jihadist capital (UK Telegraph, Aug. 23, 2015, by Colin Freeman)
Tiny town boasts only 30,000 people, yet two dozen local men have gone to fight jihad in Iraq and Syria
Nestling in a wooded valley that its citizens laid their lives down to defend [sic: seize], the town of Kacanik in southern Kosovo is fiercely proud of its war dead.

Well-kept cemeteries include nearly 100 victims of Serb-led ethnic cleansing [sic] in 1999, while in the town centre, a statue clutching an RPG honours fallen members of Brigade 162 of the Kosovan Liberation Army [what?].

But a decade and a half on from the war that brought about Kosovo's independence, there is rather less pride in Kacanik's new crop of warriors.

In the last three years, some 24 local menfolk have gone to fight for jihadist groups in Syria and Iraq, giving the town of just 30,000 people an unwanted reputation as the jihadist capital of the Balkans.
Not in any way predicated on the first crop of violent, Christian-host-society-delegitimizing-and-slaughtering domestic terrorists, of course, those "Kosovan" Liberation Armyfolk.
…"[Lavdrim] Muhaxheri [the jihadi who last year beheaded a Syrian teen] has given Kacanic a name as the most radical city in Kosovo, if not the whole Balkans," said Musli Verbani, a local imam, who claims that hardliners forced him from Kacanik's Islamic Association four years ago. [More than a "claim," as reporter Freeman could have checked.] "I warned that this kind of thing was coming, but no-one listened."

…For a nation [sic] of just 1.8 million people, [Kosovo] now punches well above its weight in terms of the number of citizens joining Isil. The interior ministry estimates that some 300 Kosovans have followed in Muhaxheri's' footsteps, making Kosovo Europe's biggest contributor per capita. [Syria alone has 300 from Kosovo, Albania and Macedonia.] Along with neighbouring Albania, which has fielded around 200, and nearby Bosnia, which around 160, it is now seen as a potential launch pad for Isil in its bid to establish a new front against Europe in the Balkans.
What's this? Albania-Kosovo-Bosnia as some sort of jihadi hideout/transit point and launching pad for the Caliphate into Europe? Not like we were warned a million times or anything. Wow, so the enemy found some utility in our pro-American Muslim projects? Who would have thunk?! But wait — before you go second-guessing those projects — The Telegraph wants to keep you on-program via the following image:

Captain Andy Phipps from the British Army holds his head in hands as he looks over the site of a possible mass grave of nearly 100 ethnic Albanians in southern Kosovo Photo: Reuters

What also alarms Western security officials, though, is why any Kosovans would join Isil's fanatics at all.

[Because they're Muslim?]

After all, back in 1999, it was the West that rescued Kosovo's mainly Muslim population, with Nato bombing raids that halted the campaign of ethnic cleansing by Serb extremists.
Yes, let's be sure to use the language of "ethnic cleansing" and semantic juxtapositions such as "Serb extremists," lest people start questioning whether either of those was ever accurate, and whether what we did was help with the first leg of a logical conclusion, saving the Caliphate time, money and bodies.
Since then it has been staunchly pro-Western, with the capital, Pristina, boasting both a statue of Bill Clinton and a road named after George W Bush….There are even young Kosovans named "Tony" in honour of Tony Blair.
Some people are so easy.

A Yugoslav army truck with soldiers on it passes next to a police truck with ethnic Albanian refugees near the town of Kacanik, some 60 km south of Pristina [Just look at those women and children in an open truck being ethnically cleansed to safety, away from the fighting; note the older boy's casual stance, while the younger boy looks scared mostly of falling off the Serbian truck.] Photo: Reuters

Most Kosovans also follow moderate Islam that allows bars on the same street as mosques, and which is enshrined in a new constitution promoting the diversity suppressed during Communism. [Well then, it must be ironclad, permanent and impermeable; after all, everyone — especially the Caliphate — respects national constitutions.]

Yet those same liberal values have also allowed less tolerant voices to flourish, including hardline Islamic charities that arrived during the chaotic post-civil war years…Prosecutions are already pending of various recruiting networks, including one that passed messages via go-betweens at a kebab shop near the Bill Clinton statue.

[Now you get the picture, and what that statue really represents.]

It is, however, already too late, according to Mr Verbani, the Kacanik imam.

A former KLA fighter, he personifies the moderate face of Kosovan Islam. He studied in Cairo and speaks fluent Arabic, yet looked just like another drinker in the cafe bar where he met The Telegraph, wearing neither a beard nor robes.

[Looks like someone's been had. How did Mr. Verbani put it above: I warned that this kind of thing was coming, but [Mr. Verbani] didn't listen.]

It was precisely that secular outlook that he found himself having to defend as far back as 2006, when a confrontation with a young local radical named Jeton Raka turned violent.

"At first Jeton was just another good Kacanik kid, but he became more extremist by the day," said Mr Verbani. "He said the government of Kosovo was against faith, and that school taught children to be unbelievers. I told him he couldn't speak like that at my mosque, and eventually he came to my house, saying 'I will burn you and your family', and petrol-bombed my car. Even then, though, the municipality and the police didn't help me."

Raka is now believed to be in Syria along with Muhaxheri, while the government crackdown has largely driven the rest of Kacanik's radical fringe out of town…[I]n such a small community, most know someone now fighting abroad.

Among them is Sadek Dema whose nextdoor neighbour, Hetem Dema, 41, was killed in January after apparently going to fight with Isil's rival al-Qaeda faction Jabat al-Nusra.

"He fought in the KLA and was always a good and religious man, although he never showed signs of being radical," said Mr Dema, as Hetem's five year-old son, Harith, cycled past on his bicycle.

[Because one form of radicalism (Albanian-nationalist-separatist) never leads to the next, right?]
…
Arbana Xharra, a Kosovan journalist who has investigated [the Islamic charities'] activities, says that anyone who speaks ill of them can find themselves denounced and threatened as "Islamophobic".

"I've had to change my kids' school after I got messages online from people saying they would cut my children's throats — they even knew what time they went to class," she said.

Like many moderate Kosovans, she also points the finger at Turkey, whose Islamist government has funded networks of mosques across its Ottoman-era provinces of Kosovo, Bosnia and Albania…One senior diplomat from a moderate Arab regime recently told The Telegraph that radicalism would foster in the Balkans as long as Turkey's influence remained unchecked. "The EU's best chance is to get countries Kosovo and Albania into its club," he warned.

[The definition of fanaticism: If what you're doing isn't reaping the desired results, keep doing what you're doing.]

That is a view echoed by Ramadan Ilazi, Kosovo's 30-year-old deputy minister for EU integration, who says the EU is being too slow in accepting Kosovo's membership bid. Kosovo's constitution, he says, is everything that a liberal EU bureaucrat could want, complete with a national anthem that has only music rather than words so "as not to offend anyone".

Yet to this day, Kosovans cannot even travel to Europe without visa, giving small town youth in places like Kacanik little chance to broaden their horizons [or targets].

"Kosovo was built as an antidote to nationalism and the causes of the war [sic: it was built on hypernationalism that wanted only war]," said Mr Ilazi, who has a picture on his office wall of him shaking President Clinton's hand as a 14-year-old boy. "But when people don't see tangible results of their desire to become part of Europe, that allows radicals to suggest that Europe doesn't want us."

Still, with Kosovo still also suffering problems with corruption and organised crime, and with Brussels suffering enlargement fatigue, most estimates are that it may be another decade before Pristina enters the Brussels club. That gives the radicals plenty more time to urge men in towns like Kacanik to head East rather than West.
So hurry up and give the Albanians everything they ask, when they ask, even if that gets their non-country into the EU before the actual country they broke off from. I mean, you definitely want ISIL's #1 contributor to be in the EU.
Now, on to July: Bags with "weapons and uniforms" found near lake [Badovac] in Kosovo (B92, Tanjug, July 20, 2015)
…The bags were found near the location where [on July 11] several persons were detained on terrorism charges… "There were black uniforms in one of the bags, a letter believed to be written in Arabic, and two Kalashnikovs (AK-47s), while it is suspected that the second bag contains explosives and ammunition." […]
ISIS set up stronghold in the heart of Europe as terrorists secretly buy land near an isolated village (Sunday Mirror, July 18, 2015)
Islamic State have established a stronghold in mainland Europe, a Sunday Mirror investigation reveals.
What?! WHERE? Where on earth in Europe could it be? What choice location have they found? Of all European locations, where has ISIS chosen, pray tell?
…Security services think the area in Bosnia is used for ISIS training camps and could be a base for devastating terror attacks on the West. Crucially, the location gives IS a key strategic position due to its proximity to the Mediterranean which is used by extremists from Syria, Iraq and North Africa.
There's a place in Europe that's strategic for the jihad???????? And it's Bosnia? No Wayyyyyyyyyyyyy!
At least 12 ISIS fighters trained in the village of Osve have left for Syria in recent months and five are reported to be dead. Terror expert Dzevad Galijasevic said: "…There is no one there who isn't ready to respond to the summons to jihad."

…A number of villagers wore Islamic-style clothing, including two women wearing burkas. Our guide – our driver and translator – said we were being watched and it was too dangerous to photograph them. Clearly worried, the dad-of-one said: "We should leave now – our presence here is beginning to cause suspicion…If they see the camera all hell will break loose."

It is understood that notorious ISIS supporter Harun Mehicevic…has purchased two hectares. Mehicevic fled Bosnia during the 1990s Balkan wars and settled in Melbourne, Australia, where he is considered one of the country's most dangerous men…

Other known terrorists believed to have bought land in the village include Jasin Rizvic and Osman Kekic, who are both now fighting with ISIS in Syria. Muslim leader Izet Hadzic – arrested by Bosnia and Herzegovina's security service Sipa in a raid – is also understood to have property in the village, as have many others who have gone to fight in Syria and Iraq.

One villager…who does not want to be named, said: "We regularly hear gunshots coming from the woods up there for long periods at a time. It happens every week…."

Bosnia is an ideal position for jihadis travelling illegally from Syria to Greece, via Turkey, and then through Macedonia and Serbia.
How about that! Why wasn't anyone screaming this from the rooftops? Oh wait, we were.
…Five months ago, anti-terror cops raided the village of Gornja Maoca in the north of the country following reports of houses flying the ISIS flag…It has been raided by police several times over the past decade due to suspected links with radical groups.
…
The report, The Lure of the Syrian War: The Foreign Fighters' Bosnian Contingent, said that between 2013 and 2014, 156 Bosnian men and 36 women travelled to Syria, taking 25 children with them. It said 48 men and three women had officially returned by last January. […]
The article above followed a July 2 BBC item titled Bosnia: The cradle of modern jihadism? by Mark Urban on "Newsnight":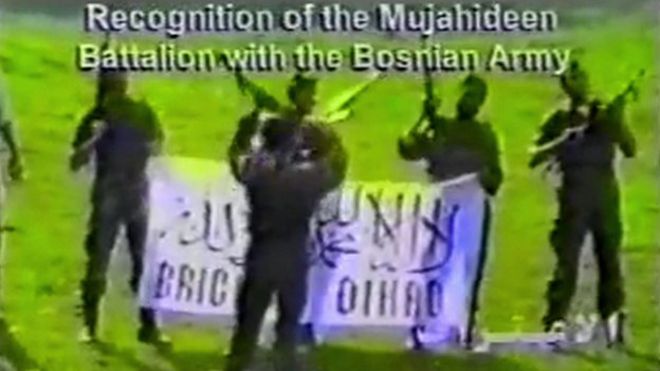 Back in the 1990s something happened in central Bosnia-Herzegovina that inspired people to this day and helps explain why that country now has more men fighting in Syria and Iraq…as a proportion of its population, than most in Europe.

The formation of a "Mujahideen Battalion" in 1992, composed mainly of Arab volunteers in central Bosnia, was a landmark. Today the dynamic of jihad has been reversed and it is Bosnians who are travelling to Arab lands.
No! It couldn't be — not the religiously unreachable, uncorruptible Muslims of Bosnia! Who could have seen this coming?!
"There is a war between the West and Islam," says Aimen Dean, who, as a young Saudi Arabian volunteer, travelled to fight in central Bosnia in 1994. "Bosnia gave the modern jihadist movement that narrative. It is the cradle."
Imagine that. Bosnia as the birthplace and nexus of modern jihad. A decade ago almost to the day of this publication, just after the London attacks, the UK Guardian said as much: "[Al-Qaida] was in business from 1993…[T]he big surge…came not after 9/11 or Iraq but in the mid-1990s — with Bosnia serving as the recruiting sergeant." And as early as 2002 there was this: "The mullahs of Iran saw the Balkans as a prize to be won for the glory of Allah and markedly intensified political involvement in Bosnia-Herzegovina…Iran proclaimed [it] a microcosm for resisting the West's war on Islam, and called in reinforcements." 2004: "It appears that the Bosnia operation, supported by Bill Clinton, played a vital role in globalising the mujahedin mentality….Many Arabs, as the journalist James Buchan put it, were left stranded in Afghanistan 'with a taste for fighting but no cause'. Bosnia provided some of them with a new cause." And 2007: "Liberal hawks and al-Qaeda have no moral equivalence…Yet both camps view world affairs in simple terms in which everything is reducible to a clash between good and evil. Maybe that is because both were forged during that most moralized of wars - Bosnia."
Now, if Bosnia created the West vs. Islam narrative, how does one explain all that Western aid, training, and firepower that went to the Muslims against the Christians in Bosnia? It's a head-scratcher, for sure. How could the Muslim world totally misunderstand our intentions with all the help we gave them? How much more loudly could we scream: "Hey, in the war between the West and Islam, we're on the same side!! There's no need to look to the fanatics for help. We can be as helpful as any terrorists!"
…Dean's point is that the West and the Salafists…were on the same side in Afghanistan, but became enemies in Bosnia.

[Well someone should have told us!]

…[I]t was in early 1993, when it became a three-way fight against Catholic Croatians as well as the Serbs, that the Mujahideen Battalion swelled to the hundreds and started to hunt non-believers more actively…British troops fought the Mujahideen Battalion at Guca Gora and elsewhere in the summer of 1993 — the opening shots of that army's fight against jihadism [So now we're casually admitting what it was?]…In the nearby town of Travnik, that had been almost equally Muslim, Croatian and Serb before the war, the foreigners helped drive out thousands, and tried to impose Sharia law on those who remained. They were also involved in kidnapping local Christians, and beheaded one, Dragan Popovic, forcing other captives to kiss his severed head.

…[T]he Mujahideen Battalion was also suspected in many others including the kidnap and murder of aid workers as well as the execution of 20 Croatian prisoners.

The foreigners never amounted to more than one per cent of the fighting force at the disposal of the Sarajevo government, despite the frequent claims of the Serb and Croatian media to have spotted Islamic fanatics from abroad just about everywhere. From an early stage the Mujahideen also started recruiting Bosnians and, by 1995, in the final months of the war, the incorporation of several hundred local men allowed the outfit to be expanded into the Mujahideen Brigade, around 1,500 strong.


Dragan Popovic was kidnapped and beheaded by foreign fighters in Bosnia

By the summer of 1993, the Sarajevo government was starting to wake up to the potentially toxic effect of these jihadists on their image as a multi-ethnic, secular republic. So, in an attempt to control it, the battalion was placed under the command of III Corps, the Bosnian Army formation headquartered in the central city of Zenica…
…
Hundreds of Mujahideen went from Bosnia to Chechnya, Pakistan and Afghanistan. Among their alumni were two of the 9/11 hijackers, the murderer of American hostage Daniel Pearl and numerous other al-Qaeda cadres.
…
Today also there are suggestions in Sarajevo that the SDA — the late President Izetbegovic's party — is not taking a tough enough line against foreign fighters. Only this time they are the hundreds of Bosnians who are choosing to fight in Iraq and Syria…In fairness, the Sarajevo government has taken action to ban recruiting for foreign wars and has mounted numerous raids to disrupt extremist networks and arrest those who have returned from fighting in the Middle East.

However, its critics note that for years it turned a blind eye to those Arab Mujahideen who remained in Bosnia but continued to agitate, and has allowed several communities of home-grown Bosnian Salafists to emerge in recent years.

Among those who link what is happening now with the 1990s is Fikret Hadzic, who has been charged with fighting for the so-called Islamic State in Syria…Hadzic had joined the Mujahideen unit in 1994….Other Bosnians who served with that unit back in the war include the leader of an important Salafist mosque in Sarajevo, and Bilal Bosnic, who is in detention awaiting trial. Bosnic is charged with recruiting fighters for the Islamic State group.

With IS now trying to start a "new front for the Caliphate" in the Balkans [What? Someone sees potential in the Balkans for the Caliphate?], there are many who worry that Bosnia is vulnerable because it remains so weak and fragmented, even two decades after its war ended. […]
Sure, that's why. Not because of the aforementioned approval of Bosniak politicians, but because Bosnia is fragmented, and so the only solution is to centralize it. Meaning, put the Serbs and Croats under one Islamic roof. That'll fix everything, especially if Washington has anything to say about it. Meanwhile, if there's any doubt that "fragmented" is code for decentralization that needs such a fix, an August Jane's Intelligence Review article dispelled it:
On 23 July 2015, Croatian newspaper Globus quoted a report by Croatia's security agencies saying Bosnia was home to 4,000 Islamic State extremists…The institutional vacuum that emerged after the end of the war and the subsequent ossification of Bosnia's institutional makeup into a decentralised state divided along ethnic lines further aided the proselytisation of Wahhabi ideology.
The next paragraph ups the ante, saying that, actually, jihad isn't nearly as big a threat as the Serb nationalist-separatist response it can produce, so it's really Bosnian-Serb leader Dodik who's still the problem to worry about:
…A greater risk stems from the possibility of such attacks being utilised by local politicians to advance a separatist agenda, similar to what occurred in the aftermath of the [May] attack [on a police station] in Zvornik. Bosnian Serb leader Milorad Dodik has been pressured lately due to the Bosnian Serb entity's grave fiscal problems….Using divisive nationalist and separatist rhetoric and discourse has previously assisted him in deflecting from pressing issues, and any new attack is likely to be exploited by his government to thwart any attempts at centralising Bosnia's governance model. This increases the risk of renewed inter-ethnic animosity and retaliatory attacks by Bosnian Serbs against Bosniak enclaves situated in the Bosnian Serb entity of Republika Srpska…
So, the article ups the ante even more, imagining scenarios wherein Bosnian Serbs could potentially attack Bosnian-Muslims. Notice, however, that the phrase "retaliatory attacks" is used, implying that the Muslims will have done something to cause the attacks but not saying so outright, referring instead to "renewed inter-ethnic animosity" and "any new attack." That is, Jane's cowardly uses the old trick of general language sans perpetrator when referring to Islamic violence, while "boldly" using "by Bosnian Serbs against Bosniaks" when referring to the Serb response, real or imagined. (As we see in reporting on the Middle East, e.g., "Israelis Kill Six Palestinians on Beach" vs. "Bus Explodes in Central Jerusalem" or "IDF Soldier Stabbed at Crossing.")
A June UK Guardian article likewise thinks the best way to deal with the Muslim-fanatic threat in Bosnia is to centralize Muslims and Christians under one Muslim-dominated roof:
Isis targets vulnerable Bosnia for recruitment and attack (Guardian, June 25)
High youth unemployment, ethnic tensions and political paralysis help jihadis lure young people to Syria and open up new terror front in heart of Europe (June 25)
…Europe could come to regret the failure to confront Bosnia's profound structural problems in the two decades since the war. Isis produced a new recruitment video this month, targeting the Balkans region and Bosnia and Herzegovina in particular… "If you can, put explosives under the cars, in their houses, all over them…" one of the Bosnians, identified by a pseudonym, Salahuddin al-Bosni, implores the audience in Bosnian.
…
The authors [of the aforementioned "Lure of the Syrian War" report]…found that Bosnia was ill-equipped to deal with the potential threat. It is a weak state, split by a 1995 peace agreement into two entities
It proceeds with more legitimate points:
…Furthermore the federation is divided into 10 cantons. Twenty-two police agencies operate in the country with overlapping jurisdictions and roles…[T]here is no single database on foreign fighters, and the existing data is "mostly scattered, often incomplete or disorganised"… "We are not doing anything. We are just observing," [author Vlado] Azinović said.
…
Salafist communities operating outside the official mosques have sprung up in three districts, Gornja Maoča, Osve and Dubnica, and "pop-up" radical mosques, often funded from the Gulf, have appeared in Sarajevo, Zenica and Tuzla.

After three years of observing Bosnian jihadis, the authors place them in two broad categories: veterans who fought alongside mujahideen volunteers from the Arab world in the 1992-1995 Bosnian conflict, and young Bosnian men "driven mostly by adrenaline and a quest for self-validation, self-respect, group belonging, and purpose." Almost a third of the Bosnian Isis recruits had criminal records. [That harkens back to what we already know: Islam is a crime syndicate, one that validates or redirects violent tendencies toward a 'higher purpose'.]
…
Like most Isis videos…[it] paints an idyllic picture of insurgent life in Syria, with Bosnian, Kosovan and Albanian fighters walking off to battle like a smiling band of brothers while enjoying time with their families on their days off, complete with complimentary cars.

["Kosovan AND Albanian fighters," a.k.a. Albanian and Albanian fighters.]

…With the use of computer graphics, the film portrays the sweep of Balkan history as a prolonged expropriation of inherently "Muslim lands", first by "crusaders", then atheistic communists, and finally nationalists. [Gee, but that portrayal was good enough for the West in the '90s.] The current Bosniak political leadership are painted as collaborators with the enemies of Islam "preparing you like sheep for the next genocide".

With a dramatic skewing of history, the film credits the mujahideen brigade with "repelling the Serbs" in the Bosnian war, although in reality it had a limited impact on a small section of the frontline. Meanwhile it depicts the large-scale US-led air campaign against the Bosnian Serb military as incidental and somehow designed to prevent the rise of the Muslim faithful. […]
Well, it sort of was, relying on the logic that we should help them so they don't turn to the fanatics for help. What a surprise: as would later happen in Kosovo, they accepted help from both, and doubled down on the Islam. One supposes the "incidental" part holds true since Western participation, which was passive at first, was egged on by journalists, only later becoming a full-blown policy agenda. (It also took the Bosniaks bemoaning Western indifference to their self-made plight, guilting us about not doing enough to aid them in their war of secession. Yet "far from appreciating Western help in claiming a state in the 'heart of Europe,' the Bosnian Muslims have come to believe that was the very least the West owed them, and have engaged in mockery of Western assistance," Nebojsa Malic wrote in 2007. Then, because we ultimately went along with it, it reaffirmed their victim status. "By hyping the supposed Muslim 'genocide,' Jim Jatras has written, we "stoked Muslim rage, not mollified it.")
But back to the "Kosovars": 20 Families Join The Islamic State (RTS, Zeri, July 19)

A few decades ago these three would have gone to Woodstock; today it's ISIS. Photo: telegrafi.com, InSerbia.info
Three brothers from the village of Klina — Arben (38), Adnan (34) and Ekrem (29) — ran to Syria earlier this year and took their wives and children….One of the brothers told his mother that he was "bored enough and that he has to go to fight in the name of Allah". [Pot used to be enough for boredom; now they need Allah.]

Shortly after the flight to Syria, Ekrem Hasani was killed and it is still unknown what happened to his wife and children.

None of them ever worked before fleeing to Syria, said brothers' mother to "Zeri".

According to the daily, because of poverty, people of Kosovo are forced to join the Islamic State….
Yet another case of the people of Kosovo being "forced" to do something. That is, being victimized yet again. And again it's a form of 'victimization' whose solution is to victimize others.
But if poverty is 'forcing' the people of Kosovo to join IS, why aren't the even poorer Serbs, Roma and Ashkali of Kosovo joining ISIS? Maybe because they're not Muslim? Leaving the main vulnerability to recruitment not poverty, but Islam. (ISISlam?)
Imam from Podujevo Bekim Jasari, who has been fighting against Wahhabism since the beginning…[said] poverty, education, failure, isolation from others are gaining momentum… [He] criticizes religious schools, teachers, the Academy of Sciences, adding that Albanians can no longer raise their voice against this evil. "God said that knowledge is more valuable than worship," concluded Jasari.
They sure didn't have a problem raising their voices against secular Yugoslav society. (Maybe because it just wasn't so evil?) Why are they so cowed now? Cowed by what their own persistence and national aspirations have created.
Still on July, and still on Kosovo, this Albanian kickboxer in Germany had joined ISIL in January and was pro-American enough to die on July 4th. If one reads the linked Wikipedia page, one sees that even thriving Albanians in Europe, with a bright future, join IS. (Notice that his top-model Thai wife had to first convert to Islam before he'd marry her. Why? I mean, if Albanians are so secular?)
…He also opened a Muslim-oriented Muay Thai training camp in Winterthur, Switzerland…with stricter rules applied. But the training programme was marred with media scrutiny when three young men aged 16 to 20 attending the camp, and a sister of the one of the trainees all decided to join ISIS ranks…In January 2015, Gashi left Germany to join up with Islamic State militants in Syria…His father Enver Gashi pleaded with him through the media to return….In a later interview with the Swiss German SRF station in June 2015, he said he was "trying to help build a modern caliphate in Syria" …His death was widely reported on 6 July 2015 after his brother confirmed the death of Valdet on 4 July.
This past June, Maclean's magazine caught on to the growing trend, incorporating in its characterization of Kosovo as a jihadi hub the very objection commonly raised to such a characterization: the pro-Americanism that's supposed to negate any possibility of Kosovo being a jihadi hub:
How an America-loving country became a jihadi hub (Macleans, June 15, 2015, by Michael Petrou)
Kosovo owes its existence to the West. Its capital even has a statue of Bill Clinton. But even here, Islamic State is taking root.
The Western country that has sent the most recruits on a per capita basis…is one that owes its very existence as a state to NATO's military intervention on its behalf.

An April report by the Kosovo Center for Security Studies (KCSS) reveals that as of January, some 232 Kosovars have joined Islamist militant groups in Syria and Iraq, a rate of 125 recruits for every one million people living in the country. This is well ahead of Bosnia, which comes in second with 85 recruits per million, and of Belgium, the third-ranked country, with 42 recruits per million.
Savor that a moment. The top two slots for contributing nations to IS are held by Kosovo and Bosnia. Our pro-Muslim projects.
…According to Shpend Kursani, an external research fellow at KCSS and author of the report, most Kosovars still have a positive view of America and NATO…raising disturbing questions about Islamic State's ability to penetrate communities that, being broadly secular and pro-Western, would seem to have little reason to support it.

Islamic State's recruiting success in Kosovo upsets Kosovars…. "There's a sense that people joining Islamic State are betraying in many ways the very nation," says Florian Bieber, professor of southeast European studies at the University of Graz.
…
Muslim Kosovars are still much more likely to join jihadist groups than Muslims in Albania and Turkey….[Isn't that interesting?] Turkey, which borders Syria and Iraq and is a major transit point for foreign fighters joining Islamic State, sends only eight recruits per million Muslims, barely six per cent of Kosovo's rate.
…
[A]ccording to Kursani, the rate of Kosovar recruits is still worrying — in part because Islamist extremism is such a radical departure from the way the faith has traditionally been practised in Kosovo and elsewhere in the Balkans. [Which, recall, was supposed to make them impermeable, proof-positive that we weren't aiding a potential threat.]

Changes began in the wake of the 1999 war [how about that!], with the influx of charities and other NGOs from Saudi Arabia and elsewhere in the Gulf…Kursani has also traced a number of ethnic Albanians from Kosovo, Macedonia and Albania who studied together in the Middle East during the 2000s and, as he puts it, "started hanging out with the wrong crowd." …The ethnic Albanians returned to the Balkans. A few began to preach in Macedonia, and one or two did the same in Kosovo, where they had some success spreading the foreign ideology they had acquired. [How about that!]

…[T]here has also been an erosion of national identity as a unifying force since the war, and for some young people, religion has filled that gap. [How about that! So much for all those reassuring emails I get: "Albanians' religion is Albanianism, you bitch. It's a NATIONAL struggle." Yeah. We know. And still it misses the point.] This, in turn, creates dislocation within families, Kursani says, as secular parents recoil from the new-found religiosity of their children. Young people then turn away from their parents and find community among supporters of violent Islamism. [Twitter isn't enough anymore?]…

Another contributing factor to Kosovo's fecundity for jihadists may be the poor economic prospects of its young people. Kosovars are leaving their country by the thousands…Others, unemployed, isolated from their families, and lacking a strong sense of communal identity other than religion, look elsewhere.
…
None of these factors is unique to Kosovo. Liberal strains of Islam have elsewhere been challenged by severe and chauvinistic manifestations of the faith. Other countries are poor and have gone through conflict and political upheaval. It's noteworthy that Bosnia…is also a rich source of jihadists among European nations.
How about that. Kosovo isn't alone. Why, "other countries" with "liberal strains of Islam," have been challenged. Such as…say…for example…off the top of the writer's head…just randomly picking here…BOSNIA…rolls off the tongue. That other Balkans project of ours.
Continuing with the thread about the influx of Gulf "charities" and such, a June 24th NPR interview was titled After Kosovo Emerged From War, Foreign Extremists Radicalized Youth
Decades of communism left Kosovo a largely secular place. But after the U.S.-backed war for independence, extremists radicalized young people. Now some have joined the Islamic State in Syria. (It's that U.S. might, or Might-us, touch we have: Everything we touch, turns to Islam.)
AUDIE CORNISH, HOST: …NPR's Ari Shapiro just returned from Kosovo….[H]ow big a role does religion actually play in public life there?

SHAPIRO: Well, before I left for Kosovo, I spoke with Akan Ismaili, who is Kosovo's ambassador to the United States, and he describes this as a country that is Muslim in name, but far less so in practice. Here's what he said.

AKAN ISMAILI: …[T]he media would start describing it as a kind of an Islam-light just by what they were seeing. By a couple of years later, they were describing it as an Islam-zero because you would not see it in a sense that it's there.

SHAPIRO: And Audie, I can tell you from first-hand experience that this is true. I was in Kosovo last week during Ramadan, and the cafes in the capital Pristina were full during the day. People were eating and drinking. And I asked restaurant owners if business had dipped at all because of people fasting for Ramadan. They said nope, not at all.

CORNISH: So if the country's so secular, how has radicalization come to be seen as a problem?

SHAPIRO: …[W]hen Kosovo emerged from war in the 1990s….groups from Saudi Arabia came in to build schools and dormitories where people were essentially brainwashed…For some context here, youth unemployment is above 50 percent in the country. People in Kosovo are not allowed to travel to other parts of Europe without a visa, so a lot of young people feel trapped. And that makes them easy targets for indoctrination, as you can hear in this video.
…
"Black days are coming," [an Albanian-speaking male in the video] says. "You will fear to walk in the streets."

I wanted to find this young man's family, so we drove far outside of the capital city, high up into the mountains. It was so remote, so poor, it was hard to fathom that this is 21st century Europe.

We've just arrived in this tiny village of Bukovik, and every building looks half ruined and crumbled. The road is rutted. It's made of dirt. There are a few chickens but no sign of people. The mosque is the only building that looks new…They've moved to the foot of the mountain to try to find jobs in the slightly larger town of Gjilan.

In Gjilan, too, mosque is the fanciest building in town. This place feels totally different from the capital, Pristina. Men here have long beards. The women wear headscarves. Eventually, we do find the father….In fact, we find a few families like his, people whose relatives have gone to Iraq and Syria. All of them refuse to speak with us. So I reached Deputy Foreign Minister Petrit Selimi. He's the government's man in charge of fighting radicalization, and he connects this problem to larger challenges that face any new country emerging from war.

PETRIT SELIMI: Transition's very tough. To become from zero to hero, it's not an easy process. A lot of people feel that a new country has born but they don't have the new opportunities in life.

CORNISH: …What does the government in Kosovo see as a solution?

SHAPIRO: When I asked officials that question, they told me they can't do this on their own. They need Kosovo to become a member of some international organizations. Here's Deputy Foreign Minister Petrit Selimi.

SELIMI: We're not part of U.N. We're not part of Interpol. We're not part of UNESCO. We're not part of FIFA World Cup in soccer.

SHAPIRO: Well, that might be a good thing at this point, but go on (laughter).

SELIMI: Yeah, well, you know, we're not part of the Eurovision song contest, which, also, you may say is a good thing. (LAUGHTER) But these are platforms of public cultures in which people become proud of their societies and their countries. [Funny, one thing that never seemed to be lacking in Kosovo is pride.]

SHAPIRO: He argues that if this small new country becomes more of a part of the global community, then people from Kosovo won't have as much reason to look for belonging elsewhere in a group like ISIS.
Notice how for every next mischief that Albanians are involved in, the solution always seems to be in giving them the next thing and the next and the next that was never part of the original deal. Everything will be solved if you just keep pushing the full agenda of what they wanted from the start of their expansionist war which they recruited us into and which was the gateway to all these problems in the first place. And yes, let's repeat the boomeranging rationale behind helping in the first place — that if we help them, they won't look to the radicals for help. Maybe, since it hasn't worked yet, it'll work this time around. What can go wrong? Surely enshrining something born of evil doesn't reap more evil?
Continuing backwards through the past year finds us with this May item:
A Kosovo father recounts harrowing trip to retrieve sons from Syria (By Jonathan S. Landay - McClatchy Washington Bureau, May 6, 2015)
For months, Faik Uksmajli warned the Kosovo police that his elder son was determined to go to Syria to join the Islamic State. And for months, the police insisted that the country's border posts were on alert, ready to stop him if he tried.

So when Uksmajli's son Arbnor telephoned one day last July to say that he, his wife, two children and younger brother, Albert, were in Syria, Uksmajli took matters into his own hands…

It's also a story of a father's love and determination to reunite a family sundered by the Islamic radicalism that's been growing in Muslim-dominated Kosovo since the 1999 U.S.-led military intervention put Europe's newest country on the road to independence from Serbia…Just a day after an Islamic State death threat forced [Uksmajli] to leave Syria, 21-year-old Arbnor died and Albert, 19, lost an arm in airstrikes in the eastern city of Aleppo.

Uksmajli now is all but bankrupt, unable to maintain the concentration he needs to operate the dangerous saws and grinders of his small woodworking business. He feels betrayed by his government and bitter that he's powerless to rescue Albert – who went to care for Arbnor's family, not to be a jihadi – or his daughter-in-law and grandchildren, who remain in Syria.
…
The family lived in Germany for years, dodging late Serbian strongman Slobodan Milosevic's brutal ethnic cleansing offensive, which he'd unleashed in 1998 to crush an uprising by Kosovo's oppressed ethnic Albanian majority, leading to the U.S.-led intervention. [That's to keep you on track, lest you start questioning how big and dangerous this "dodged" Milosevic bullet really was, leading to questions about how necessary it was for us to turn Kosovo into a jihadi hub.]

After the war, Uksmajli moved the family and his business – producing doors and other wooden products – back to his village.

The business prospered. Uksmajli's sons graduated from university. Arbnor returned to Germany to work, while Albert found a job with a U.S. humanitarian group, teaching music to poor children.

In 2013, Arbnor returned from Germany and began attending the village mosque, Uksmajli said, nodding at a minaret across pastures and orchards. And that's when his son began to change [NO, really?!], Uksmajli recounted, explaining that Arbnor grew a beard, regularly attended prayers and adopted the puritanical Wahhabism of Saudi Arabia.
…
Early last year, Arbnor started railing about the Syrian civil war….He also spoke about bombing Camp Bondsteel, the U.S.-built NATO peacekeeping headquarters in eastern Kosovo.

"I asked him, 'What's happening to you? Why are you acting like this?' …My son told me, 'The first chance I get, I'm going to plant a bomb in Bondsteel.'…"

Uksmajli blamed the radicalization of Arbnor and some 20 other young men who he said also had gone to Syria on the local cleric, Nehat Husseini, and an associate who'd had several run-ins with the police after returning from fighting in the Middle East.

Uksmajli said that all Arbnor talked about "was how to plant a bomb inside Bondsteel, because Nehat Husseini told him, 'You will be closer to heaven the more Americans you kill.' I said to him, 'How dare you say that. Who was it who helped us in 1999? Do you know that the Americans are our greatest friends? . . . It was God first and Bill Clinton second.'"
…
"I told the police that my son is praying in the mosque and the imam of that mosque is telling my son to go to Syria," Uksmajli said. "I told them about the man who'd been to Syria…I told them they're pressing my son to bomb Bondsteel."

The police questioned Arbnor, and released him. At that point, Uksmajli said, his son stopped coming home most days and turned off his cellphone. Again Uksmajli called the police, asking them to arrest Arbnor and confiscate his passport and those of his family, but to no avail, he said.

"…Arbnor called me and said, '…You must know that we are stronger than the police and we can get passports anytime we want. The imam, Nehat Husseini, can get us passports in 24 hours.'

"I was calling the police every second day," said Uksmajli. "This period was May 2014, and the police again told me not to worry because they'd already contacted people at the airports in Albania and every other border of Kosovo and the moment they try to cross the border, they'll be detained. The police also told me that they already had their passports."

In a statement to McClatchy, the Kosovo Police denied confiscating the passports. The police, however, confirmed that they'd asked Kosovo border authorities and "other countries in the region" to watch for the group and to alert the Kosovo Police if they tried to leave the country, so that an "official request to stop their travel" could be issued.

"…[O]n June 29 I called the police. I told them my sons weren't home. They told me there was no chance for them to cross the border. And after six days, Arbnor called me from Syria.

"…I asked him, 'How could you do it without passports?' And my son told me, 'No, we got our passports back.' And then he hung up."

Another call to the police. Another assurance that the group couldn't leave Kosovo.

So Uksmajli did his own sleuthing, canvassing travel agents in the nearby town of Ferizaj.

"I found the travel agency in Ferizaj where they'd bought their tickets," he said, explaining that his sons had taken a bus to Albania's capital, Tirana, from which they'd flown via Istanbul to Gaziantep in Turkey, a key transit point….Uksmajli made copies of the group's ticket receipts and showed them to the police.

'I said to them, 'Here is the proof. You see that they went and that they had passports. So are you stronger or are the imams?' The police just shrugged and said anything was possible," he said.

The police, he charged, "have their own financial interests in sending people to Syria" and collude with the hard-line clerics.

The police deny it, saying they've stopped "dozens of young people and many families with children from going to Syria."

Uksmajli decided to follow his sons, to try to persuade them to return home. He asked the government for financial assistance and a document certifying that he wasn't going to Syria to fight. He got neither. So he sold his car and truck for about $34,000, bought a plane ticket and flew to Gaziantep.

He found a small restaurant in Gaziantep, and using his fluent German he asked diners whether they knew how someone could get into Syria or Iraq to join Albanian-speaking fighters. A German-speaking Afghan offered to drive Uksmajli for about $30,000 to a compound near the Iraqi city of Mosul where Albanian-speakers were based.

…That evening, Uksmajli climbed into a van driven by the Afghan, who was with another man. Both were armed. Two Afghan women – clad in body-length black chadors with eye-slits to see through — and a third man sat in the back, bound for the Syrian city of Aleppo. They drove across the border without a problem and, after an all-night trip, reached Mosul.

It was Aug. 15, a little more than two months after Iraq's second largest city had fallen to the Islamic State's offensive that swept to the doorstep of Baghdad. There was fighting everywhere. "…All the way to Mosul, I saw bodies. . . . I saw burnt cars, bodies all over, children who'd been killed, women, old people. Houses on fire. But the driver knew which roads to take."

In Mosul, Uksmajli found some fighters from Albania, who advised him to look for his sons at a base of Albanian-speakers outside Aleppo, Syria's second largest city…As the van approached the entrance, Uksmajli said, he saw his younger son, Albert, walking out with two men. He shouted for the Afghan to stop. As the vehicle slowed, gunfire rang out, ripping the van with bullets.

The Afghan floored it, but the bullets found the tires, and the driver had to stop a half mile down the road. Uksmajli and the two men in the front seat got out…The women were dead. The [third] man was alive, but barely, bleeding from a head wound.

"The driver dragged the two women out of the vehicle and left them in the road," Uksmajli said. "The man was still alive. The driver turned around and shot him in the head. I asked him, 'If I also was wounded, would you have killed me as well?' He said to me, 'Yes, because what would I do with you if you were injured?'

The three men ended up walking to a nearby house, where the Afghan ordered Uksmajli to wait and then left with his companion. A few hours later, another German-speaking Afghan showed up. His name was Ali Hussein.

Hussein had fought with the Soviet force that occupied Afghanistan in 1979, but then apparently he'd switched sides and become a jihadist. He knew some Albanian words that he'd picked up fighting against the Serbs in Kosovo with some 40 other foreign Islamists. He knew Uksmajli's village [Naradinja]. His passport showed that he was 63 years old.

Uksmajli spent the next eight days driving around war-ravaged eastern Syria with Hussein…Hussein kept a black Islamic State flag in his car that he'd display when passing through the group's territories and would hide when passing through land controlled by Syrian rebels who were fighting both the Islamic State and the Assad government.

"There were women and children dead all over the place. Old people. Houses were on fire in Aleppo, Raqqa, Homs, everywhere…I saw different kinds of groups, like groups from Russia, from Serbia, from different countries," Uksmajli recounted. "There were lots of groups. and you never knew who was fighting whom."
…
On the final day of his stay near Aleppo, Uksmajli finally received a written response in Arabic…that a check with clerics in Kosovo had showed that, "You aren't a person who was sent to fight. Your name isn't anywhere. Someone sent you from the police, and if we capture you, you know how you'll end up."

That evening, Hussein told him he'd have to leave Syria immediately if he wanted to live.

"Then Ali took my phone because I'd been recording videos the entire time. He told me, 'We need to destroy this phone because if they capture us together with this phone, they will behead us both.' "

They crossed the border on Aug. 24 and drove to the Turkish city of Hatay, where Uksmajli boarded a flight to Istanbul. From there, he flew to Skopje, the capital of Macedonia, and then drove the short distance home.
…
The bad news came Sept. 1. Albert called to say he'd lost an arm and Arbnor had died in airstrikes on Aleppo the day after his father was forced to leave Syria.

Uksmajli is convinced that the raids were launched by American aircraft, but the U.S.-led air campaign against Islamic State targets in Syria didn't begin until Sept. 23.

Several police officers came to speak to Uksmajli after news about his sons spread. But no one came from the government or the Islamic Community, the official body that oversees Islamic affairs in Kosovo, he said.

Uksmajli said he'd called for an investigation of Husseini, the cleric, but that none was launched.

"I've been on television. I publicly mentioned the imam's name, my sons' names. The Kosovo Police said they've got no evidence," said Uksmajli. At one point, an Albanian-speaker called, warning that Uksmajli would be beheaded if he didn't remove a video of one of his interviews with a local TV station from the Internet. […]
Not so long ago, these threats would come for speaking out against the beloved KLA and the Kosovo leaders it sprouted. Now the threats are as much for speaking against the religious ones — whom the KLAniks supposedly kept in check. One is all just a bit reminiscent of the other. And these poor Albanians are finding themselves a bit bewildered. No, Mr. Uksmajli, America is not your greatest friend. It's no one's friend, not even its own.
April brought us this Bosnia interlude:
Once a magnet for foreign mujahedeen, Bosnia now exports them (AFP, April 29, by Rusmir Smajilhodzic)
A magnet for foreign jihadists during its 1990s war, Bosnia is now grappling with the threat from home-grown extremists wooed by the conflicts in Iraq and Syria.

While most Bosnian Muslims are moderates, a few thousand have adopted the ultraconservative Salafist brand of Sunni Islam introduced by the fighters who flocked to Bosnia…Twenty years on, the radical preachers giving fiery sermons in "mesdzids", or improvised prayer halls, are no longer foreigners. Those taking up arms are also local men.
…
Hardliners, whose numbers are estimated by the authorities at around 3,000 followers, represent just a fraction of Bosnian Muslims, who make up around 40 per cent of the population of 3.8 million. But their ranks are suspected of supplying scores of fighters….

Some 150 Bosnians are believed to have joined jihadist groups in Iraq and Syria, while some 50 others have already been and returned from the battlefield, according to the intelligence services. Two men arrested at Sarajevo airport in February were charged with attempting to join the Islamic State group….

"Those who return to the country are very dangerous….they start to recruit others," said Jasmin Ahic, a professor at the Sarajevo University Faculty of Criminology. To prevent their departure, parliament last year introduced sentences of up to 20 years in prison for jihadists and their recruiters.

In January, a radical imam in the northwestern town of Buzim was the first person to go on trial accused of recruiting people for jihad. Husein Bosnic, a former member of a mujahedeen unit in Bosnia's war, replaced Nusret Imamovic as leader of the country's Salafists after Imamovic left for Syria in late 2013, according to intelligence sources and the US State Department. Imamovic, who is named on a US State Department terrorist list, is believed to be the third-in-command of Al-Qaeda's Syria affiliate Al-Nusra Front.

Testifying at Bosnic's trial in Sarajevo, the relatives of several youths who travelled to Syria or Iraq, some of whom have died in fighting, said their kin attended his sermons. The prosecution accused the cleric of receiving "significant" funding from unnamed backers in Arab states. […]
It got so that even a U.S. propaganda outfit like Radio Free Europe/Radio Liberty couldn't ignore what's been happening, bringing us back to Kosovo the same month:
TRACKING ISLAMIC STATE
Report Finds Alarming Outflow Of Kosovars To Islamic State (RFERL, April 15)
…At least 232 Kosovo citizens are fighting alongside militants in Syria and Iraq, making Kosovo rank eighth overall (and first per capita) among the 22 Western states with citizens fighting in Syria and Iraq, a new report has found.
…
The majority of Kosovars fighting in Syria and Iraq are thought to have joined militants there in 2013. During that year, the recruitment of Kosovars intensified as IS and other foreign fighter factions strengthened their positions in the country, the [Kosovo Center for Security Studies] report said.

In October 2013, another Kosovar — 24-year-old ethnic Albanian Lavdrim Muhaxheri — appeared in an IS video calling on Albanian Muslims to join the militants fighting against Syrian President Bashar al-Assad.

Muhaxheri appears alongside other ethnic Albanians from Macedonia, Kosovo and Albania in an IS propaganda video, Clanging Of The Swords Part 4…Muhaxheri, who hails from the town of Kacanik in Kosovo, gained even more notoriety in July 2014, when a news report published graphic photographs of him apparently cutting the head off a young man. Muhaxheri went on to explain his actions in an interview with Tirana daily Dita on August 2, 2014, saying that he had decapitated the teenager because he suspected him of being a spy and that he had done "nothing more than what members of the KLA did during the war [in Kosovo]."

[For those reading between the lines, this is another uncanny similarity between the Albanians' "purely national struggle" and the jihad that Albanians have nothing to do with.]
…
After the Kosovo War ended in 1999, religion became more popular in the country thanks to societal disorientation and weak economic and political conditions, the [KCSS] report says.

[So after "non-jihad" wars with the infidel host society, both Bosnia and Kosovo emerged more religious. Uncanny.]

The KCSS accuses international and local government structures of neglecting Kosovo's rural communities after the war, which the report says created space for "Middle Eastern charity organizations to massively penetrate these areas."
Those local government structures would be the ones composed of the Albanians' KLA heroes. Meanwhile, we all know how the international overseers would reassign or hush up anyone who dared bring up the Middle Easterners taking over. ("[OSCE security officer Tom] Gambill presented evidence of a concerted Islamic fundamentalist build-up in Kosovo…to army and intelligence officials from the US and allied countries…indicating a terrorist presence, however, he was often ignored. 'The peacekeeping motto was, "don't rock the boat."' …Gambill's testimony is reminiscent of the situation in Bosnia….the Clinton administration had sought 'to keep the lid on the pot at all costs' regarding its role in abetting the Iranian infiltration of the country with mujahedin, military trainers and heavy weapons during the 1992-1995 civil war. While that was done to suppress an embarrassing and shortsighted government policy, the disregarding of dubious developments in Kosovo has had more to do with the general mediocrity and every-man-for-himself dynamic of a non-accountable UN peacekeeping mission."
Regardless, yes, let's point the finger at individual, micro reasons — and never at the Albanians themselves, who wanted a war with a predictable outcome. None of the specific micro reasons explains how some of us knew what the outcome would be from the start.
…Kursani told RFE/RL's Balkan Service that those in Kosovo who embrace the IS ideology are opposed to state institutions. "They are against all the state institutions, police and army, they're against voting, against handshaking with a police or a soldier for that matter, because in such a case, you would be immediately regarded as infidel," Kursani said.

Despite this, those who have fought and died in Syria are treated with caution or even rejection by local people.

"For instance, when we met a brother of a person who was killed in Syria, he was very isolated, neighbors kept calling him a 'terrorist'," Kursani told RFE/RL.

…Kosovo has already taken a number of steps to fight radicalization. In a wave of arrests in January, the republic's security services detained over 80 individuals suspected of involvement in terrorist groups. However, police have lacked evidence to file indictments against over 60 percent of those arrested….The IS ideology came to Kosovo via a "number of Skopje based imams who have visited and studied in the Middle East," the report said.

…The report says that the majority of Kosovo citizens in Syria have only completed a secondary education. One former militant named as A.A…told the KCSS that notorious militant Lavdrim Muhaxeri had asked recruiters in Kosovo, including an imam named Zekirja Qazimi, not to send educated people. Uneducated people were better able to follow orders without asking questions, Muhaxeri reportedly said.
A momentary side note first on Qazimi (pronounced Chazimi), then on Muhaxeri. It is not clear if Qazimi is a relation of the KLA et al's "Captain Lleshi," real name Ridvan Cazimi, who was among those "moderate" Albanians coached by NATO to stage attacks on Serbia in the late '90s. What is known is that the son of Lleshi/Cazimi is among the Albanian followers of ISIL leader Abu Bakr al-Baghdadi, a.k.a. Caliph Ibrahim. Lleshi's/Cazimi's brother Izet, meanwhile, is living off the glory of his family ties despite shaving off his jihadi beard and posting tons of family selfies on facebook when he's not obstructing war crimes arrests.

A 2001 photo of late southern Serbia-based Commander Lleshi, the picture of 'moderate' Albanian nationalism that was supposed to be deadly only to Serbs. Caption: Picture taken 13 March 2001 of the Commander of UCPMB (Liberation Army of Presevo, Medvedje and Bujanovac), Ridvan Cazimi with nickname "Lleshi" in the village of Trnovac during an interview. Cazimi was killed Thursday 24 May 2001 in the village of Trnovac. He was the Head of the Albanian Negotiation Team of Presevo Valley in talks with Yugoslav Authorities. Ethnic Albanian sources insisted on Thursday that Yugoslav troops had shot dead the top Albanian guerilla commander[, which Serbia denied]. EPA PHOTO EPA/VALDRIN XHEMAJ
Meanwhile, Muhaxeri, alternately spelled Muhaxheri, has been reported dead and reanimated half a dozen times, starting in August 2014, a death that a Facebook friend of his denied was true. Then came this December 2014 report, apparently about Muhaxheri under his jihad name:
Report: ISIS Commander from Kosovo Killed in Mosul, Iraq (Dec. 8, 2014)
Kurdish news outlet Rudaw is reporting that high-ranking Islamic State (ISIS/ISIL) commander Abu Abdullah Kosovoi was killed by a roadside bomb on Sunday inside of Mosul, Iraq. The Mosul Brigades, a group of ordinary citizens fighting against the Islamic State, are allegedly responsible for the hit…The Islamic State invaded Mosul, Iraq's second largest city, in June and pushed out the entire Christian community. Kosovoi was supposedly the terrorist group's top commander in Iraq.
Muhaxheri was again reported killed in January 2015, this time in Kobani, Syria. Before he reappeared in Iraq this past July, RFERL in May tried to pin down when a video of him killing someone with an RPG was taken. That article had a few precious updates and reminders:
* an updated figure of 500 Albanians in Syria and Iraq, 232 of them from Kosovo, "making Kosovo rank eighth-highest overall (and first per capita) among the 22 Western states with citizens fighting in Syria and Iraq."
* a new manner of death: by air strike.
* a reminder of the charming fact that Muhaxheri had reportedly worked at our Camp Bondsteel in Kosovo, and that "in 2010 he is thought to have been hired, via a private company, to work for two years in NATO camps in Afghanistan."
* a new factoid: Kosovo Albanian Fatlum Shalaku, "a 20-year-old bodybuilder from London, was one of six suicide bombers who blew themselves up fighting for IS in Ramadi, Iraq."
All along, however, the article made sure to use the usual phrases: IS Albanians "causing outrage" and "shock" back home among the majority of Albanians, who — gee — never saw this fruit of their labor coming:
Meanwhile, a new figurehead, an ethnic Albanian named Rivdan Haqifi or Ridvan al-Albani, emerged in Muhaxheri's stead…(Haqifi, who appeared alongside Muxaheri in Clanging Of The Swords Part 4, shocked Kosovo in November by ordering the death of those who had helped bring a young Kosovar boy home after his militant father abducted him and took him to Syria.)
That's a reference to this October item:
Kosovo 'jihad' boy rescued in Syria (BBC.com, Oct. 16, 2014)
An eight-year-old boy from Kosovo has been reunited with his mother after his jihadist father kept him for five months in Syria. Kosovo's Prime Minister, Hashim Thaci, said the country's intelligence agency had found and rescued Erion Abazi with help from Turkish intelligence…While Erion was in Syria, pictures appeared on social media showing him holding up one finger in the Islamic State (IS) sign, and tumbling around with other children next to the militants' black flag. […]
The aforementioned Kosovo-born bodybuilder/suicide bomber, meanwhile, has company:
The boy from Kosovo who grew up to be a suicide bomber (By Linda Pressly, BBC World Service, Kosovo, Oct. 8, 2014)
…Arieta is leafing through a pile of photos of her younger brother, Blerim Heta…

"My brother had a wonderful life. He had money. He didn't have a Mercedes, he had an Opel, but we were a happy family. And I can't understand why he did that."

Blerim was 24 when he left Kosovo on 7 August 2013, without a word to his family. Two days later Arieta got a text — he said he was in Turkey. She didn't worry, because after becoming a devout Muslim, he often travelled to hear different imams preach. Then she called his number and a message flashed up on her screen — "Welcome to Syria."
…
Like many Kosovans, her family identifies culturally as Muslim, but was never religious. Then Blerim started going regularly to the mosque. He began travelling to Macedonia across the border, and to mosques in other Kosovan towns.

"There is one boy in particular - I still see him around every day. He was the one who influenced my brother…"

In his last three months in Kosovo, Blerim Heta changed. He grew a beard. He wore his trousers shorter…and he watched a lot of YouTube videos of imams preaching. Then he was gone.
…
"He told me he's fighting for his religion and that other people are bad. He said he wanted to die for Allah, and that it would be a great pleasure for him. I started to cry and scream and say to him what kind of religion do you have to kill people, to kill yourself? And he said if you speak to me like that, I will never call you again."
…
Erion Abazi's family…[too] were all aware his father was becoming more religious. But it was only after her son's disappearance that [wife] Pranvera told them her husband asked her to wear a hijab, and talked about going to Syria.
…
On 25 March Arieta's brother killed himself and 52 Iraqis in a suicide bombing.
…
"When he was in Kosovo, Blerim said that suicide bombers, they're not Muslims. But when I talked to him in Syria, and I asked him, 'Is it good to kill people?' He said, 'If they're not Muslim, yes.'"
At least this kid gets the connection: He celebrated the 16th anniversary of America's March 24, 1999 "liberation" of their inner Muslim by taking that liberation to its logical conclusion.
Back to Bosnia, and an update on this previously touched-upon item:
Indictment: Bosnian immigrants plotted over Facebook (AP, Feb. 7, 2015)
CHICAGO — Six Bosnian immigrants accused of sending money and military equipment to extremist groups in Syria used Facebook, PayPal and other readily available services…[The indictment] says two of the defendants, a husband and wife in St. Louis, used some of the money to buy U.S. military uniforms, firearms accessories, tactical gear and other equipment from local businesses….

One of the suspects [is] Mediha Medy Salkicevic, a 34-year-old mother of four from the Chicago suburb of Schiller Park….The case will be tried in Missouri, where several other defendants were arrested… All six people who are charged are natives of Bosnia who were living in the U.S. legally. Three are naturalized citizens; the other three had either refugee or legal resident status….

Besides Salkicevic, the indictment names Ramiz Zijad Hodzic, 40, his wife, Sedina Unkic Hodzic, 35, and Armin Harcevic, 37, all of St. Louis County; Nihad Rosic, 26, of Utica, New York; and Jasminka Ramic, 42 of Rockford, Illinois.
…
The property manager at the complex where the Hodzics live told the St. Louis Post-Dispatch that the couple had been living there for 1½ years with their three children. Larry Sorth and his wife, Joyce, said they were surprised by the arrests and that the couple was friendly.

"She was very sweet, to tell you the truth," Joyce Sorth said of Sedina Hodzic.
That's the consensus of neighbors of the St. Louis Bosniak community in general, as was protested to me when I railed about the minarets going up there in 2008. (And of course none of this bad Bosnian news out of St. Louis was going to have an effect on Muhamed Sacirbey, that "American and Bosnian" who served as foreign minister for the discredited jihadist administration of wartime president Alija Izetbegovic, writing a July 4th piece extolling Bosniaks as "great Americans" and prattling on about loyalty to America despite its Srebrenica "betrayals." He invoked the St. Louis community as exemplary, and for good measure threw in something about Serbs going to Syria and/or Ukraine to perhaps kill and cleanse again — in contrast, Bosnian Muslims fighting for ISIS in Syria are merely victims of trickery "exploiting" Srebrenica.)
Still moving backwards through the past year, we land on this little Bosnia item:
Inside the Bosnian mountain village where locals fly the black flag of ISIS above their homes as jihadists' influence spreads (The Daily Mail, Feb. 4)

Militant Islam was all but unknown to Bosnia's mostly secular Muslim population until the 1990s Balkans wars


Children are pictured walking to school seemingly oblivious to the insignia of a terrorist group responsible for the brutal killing Jordanian fighter pilot Moaz al-Kasasbeh. The 26-year-old was locked in a cage, doused with fuel and torched.

…In September [2014], Bosnian police detained 16 people on charges of financing terrorist activities, recruiting and fighting for radical groups in Syria and Iraq, authorities said…

Militant Islam was all but unknown to Bosnia's mostly secular Muslim population until the 1990s Balkans wars when Arab mercenaries turned up to help the outgunned Bosnian Muslims fend off Serb attacks. […]
We're still supposed to be sorry they were outgunned?
Still on February here, security expert Gordon N. Bardos detailed "The Balkan Connection" to January's Charlie Hebdo massacre:
Officials in both the Paris State Prosecutor's office and Bosnia's Ministry of Defense have now confirmed that the ammunition used in the Charlie Hebdo attacks was produced in Bosnia, and officials now believe that the weapons used in the attacks may have come from Bosnia as well…[A]ll of this is hauntingly reminiscent of…the murder of Dutch film producer Theo van Gogh, in which, according to veteran Washington Post reporter Douglas Farah, the murder weapon had also been traced to Bosnia (other sources claim the weapon was produced in Croatia). There are other Balkan connections to the recent Paris tragedy as well. The "mentor" of Amedy Coulibaly (who killed a police officer and four other people in the attack on the Parisian kosher grocery store) and Chérif Kouachi (one of the brothers who attacked the Charlie Hebdo offices) was Djamel Beghal, a man who had been originally recruited by Abu Zubaydah, one of Osama bin Laden's top lieutenants and a man with both Bosnian citizenship and a Bosnian passport. Beghal himself was an associate of another Bosnian jihad veteran, the imam of London's Finsbury Park mosque, Abu Hamza al-Masri, recently sentenced to life imprisonment in US federal court.

This is not the first time France has been the victim of Islamist terrorists with roots in the Balkans. In the 1990s, the so-called "Roubaix Group" was largely composed of French veterans of the Bosnian jihad who managed to smuggle an arsenal of heavy weapons back to France from the Balkan battlefields. The Roubaix Group engaged in a wave of metro bombings and armed robberies across the country. Among the group's more prominent members were Christophe Caze and Lionel Dumont, both French converts to Islam who had fought in Bosnia. Other Bosnian jihad veterans involved in the Roubaix Group were Fateh Kamel (who was also connected to the Millennium Plot bombers, see below), and Rachid Ramda, whom French police found had sent a wire transfer of $10,250 to the individuals involved in the wave of bombings against the Paris metro system in 1995.

The Roubaix Group's most well-known action was a botched attempt to bomb a Group of 7 summit in Lille, in March 1996. Caze was afterwards killed in a confrontation with police, while Dumont escaped France and was, in March 1997, arrested in Zenica, in central Bosnia, in an apartment belonging to the local interior ministry. He subsequently "escaped" from a Sarajevo prison just five days before he was to be extradited to France.

Dumont was not unique among Islamist terrorists who found convenient Balkan hiding places — or support from local officials sympathetic to the global jihad. Ahmed Zuhair, a.k.a. Abu Hanzala, wanted in connection with the murder of a US citizen and a car bombing in the southern Bosnian city of Mostar, was revealed to have been hiding in the apartment of the chief of police of the central Bosnian town of Travnik (American intelligence ultimately captured Zuhair in Pakistan and transferred him to Guantanamo).

Similarly, in September 1997, Italian police discovered an assassination plot targeting Pope John Paul II during a planned pastoral visit to Bologna. All 14 men arrested were travelling on Bosnian passports. One of the individuals involved in the attempt was the Tunisian national and Bosnian jihad veteran Karray Kamel bin Ali, a.k.a. Abu Hamza. In 2001, Italian authorities requested Kamel bin Ali's extradition but Bosnian officials refused because he had "Bosnian citizenship." Subsequently arrested in 2007, he was allowed to take a short "holiday" from a Bosnian prison, during which he promptly escaped.

In December 1999, US authorities arrested would-be LAX bomber Ahmed Ressam on the US-Canadian border. During the subsequent investigation, US officials tried to track down the document forger for the plot, Karim Said Atmani, who lived in the Bosnian village of Donja Bocinja. US intelligence believed that Atmani was traveling between Sarajevo and Istanbul, but Bosnian officials denied that Atmani had ever been there — until investigators later discovered that Atmani had been issued a Bosnian passport six months earlier.

…[E]vidence that the Balkans are still considered a safe place for extremists to lay low can be seen in the May 2013 arrest of Zahid Ali Akbar Khan, one of the architects of the Pakistani nuclear program, on the Bosnian-Croatian border.

Southeastern Europe has also become an important base of activity for the security and intelligence services of various Islamist states; according to a report in the newspaper Dnevni Avaz late last year, Iran, Pakistan, Kuwait, and Saudi Arabia had some one thousand intelligence agents operating in Bosnia alone. Meanwhile, the propaganda department of the militant Islamist movement in southeastern Europe continues to draw new recruits and spew various forms of hate speech, with extremists in Bosnia such as the imam of Sarajevo's King Fahd mosque, Nezim Halilović-Muderis, and "journalists" with the Islamist website Saff telling listeners and readers that the Charlie Hebdo attacks were "staged." (These same people, by the way, claim that "the Jews prepared 9/11 and blamed the Muslims.")

…Some of the deepest fissures in our security efforts and counterterrorism strategies can be found in southeastern Europe. Many of the individuals and networks supportive of or complicit in the global jihad movement remain in important positions of power and influence in southeastern Europe, yet policymakers in Brussels, Washington, and elsewhere have for more than a decade ignored the dangers they pose — both to their own societies and others…
(Even a 2003 report had it: "Among the new material being circulated in Washington, DC, is a study…entitled Islamic Fundamentalists' Global Network-Modus Operandi: Model Bosnia, [which details] the linkages between al-Qaida and, for example, Bosnian Government officials….")
Just a brief pause on Charlie Hebdo, to point out a few ironies, karmas, contradictions, and just plain consequences. As Nebojsa Malic wrote in the days after the January attack, in 1999 the newspaper — rather unsingularly and unheroically — joined the undangerous chorus demonizing Serbs in the course of sanctifying the Muslim side. Here were two Hebdo cartoons that Malic reprinted on his blog:
The first is to the effect that "we've run out of women." That is, women to rape. Implying that the Serbs had raped — and then killed — all the Albanian women. In the second picture, we have an implicitly Muslim head, severed of course by a Christian Serb. I probably don't need to point out the inversion of that. Or of depicting Serbs as rapists and murderers in the first place, in a region where they were finally responding to the unchecked raping and killing that had been going on for generations as a tool of ethnic cleansing paving the way for a Greater Albania. "Yet those supposedly barbarous Serbs never responded with violence," Malic wrote, disproving the depiction.
Like everyone else, Hebdo didn't exercise the courage or intellectual rigor to sort out whether the Muslim side really was the victim, nor to stand with those who were standing up to Islam when it was still stoppable. In that crucial juncture, turning point and battlefield, the Balkans. Hebdo's communal denial of the Balkans jihad for what it was and the publication's participation in the world's 1999 joint criminal enterprise fed the beast that proved its undoing. While it's now our place to stand with Charlie Hebdo and say "Je Suis Charlie," at the moment those 12 staffers crossed into the next world, they might have thought, "Je Suis Serbia."
Continuing again through the past year: Kosovo Citizens Who Fight For Islamic State Are Serious Issue Today (Oct. 2, 2014)
Kosovo's Deputy Minister of Interior[, token Serb] Sasa Rasic has said that…"The situation is serious and a large number of people, around 100, are still under investigation," he explained. At the same time, the organisations that funded terrorism have been shut down or are under investigation…The rise of Islamic radicalisation and willingness to join a jihad is present in Kosovo, but also throughout the region and in Europe, and it is the result of events from the past 15 years, he said. Certain elements used the instability that followed NATO's bombing campaign against Serbia, but there are also some social and economic factors that have played a rol[e], he remarked. Although Kosovo is a secular country according to its Constitution, it still poses fertile ground for such activities, since most of the population is Islamic, Rasic said…The overall security situation in Kosovo is much better than before, he believes. "It is also indicated by the number of ethnically motivated incidents, which are dropping in frequency and are mostly no longer serious crimes. The talks between Belgrade and Pristina have helped, as well as some of the agreements signed in Brussels," he noted…
In other words, capitulation to the secular Muslim thugs can get you their cooperation in keeping the other thugs in check. But thanks for underscoring my earlier point that, secular or not, Kosovo is Islamic. Period. And so NATO was actively and obviously creating a problem from the get-go. Plus creating the jihad-helpful instability that he mentions. At least there are hardly any more non-Albanians to terrorize, making the ethnic incidents "drop."
In the September/October 2014 issue of World Affairs Journal, Gordon N. Bardos had another article: Jihad in the Balkans: The Next Generation
…While the Muslims of southeastern Europe remain the world's most moderate Islamic populations, an estimated five to ten percent has become indoctrinated….This is not an accident — the rise and growth of militant Islamism in southeastern Europe is the result of long-term efforts by extremists to radicalize local populations…All of this is funded by generous Middle Eastern donors and supported by small groups of local extremists who have infiltrated influential political, religious, and social institutions.

The origins of the militant Islamist movement in southeastern Europe can most directly be tied to the life and work of Bosnia's late Islamist president, Alija Izetbegovic. In the late 1930s, Izetbegovic and a conspiratorial group of like-minded Islamist extremists formed an organization called the Mladi Muslimani ("Young Muslims")…whose goal, as Izetbegovic himself frequently noted, was the creation of a "great Muslim state" …throughout the Balkans, northern Africa, and the Middle East. Toward this goal, the Mladi Muslimani swore an oath promising perseverance on their "path of jihad" and their "uncompromising struggle against everything non-Islamic." Tellingly, the name of their underground journal was Mudzahid ("Holy Warrior").

Yugoslavia's disintegration in the 1990s opened the doors for a second generation of militant Islamists to establish itself in the region…Mostly concentrated in a unit Izetbegovic formed in August 1992 named the Katibat al-Mujahideen, veterans of the Bosnian jihad in the 1990s included people such as Khalid Shaikh Mohammed, mastermind of the 9/11 attacks; Abd al-Rahim al-Nashiri, involved in the attack on the USS Cole; Mamdouh Mahmud Salim, involved in the August 1998 US embassy bombings in East Africa; Abu Hamza al-Masri, the spiritual father of the July 2005 London Underground bombings; and Zaki ur-Rehman Lakhvi, one of the participants in the November 2008 Mumbai bombings. Ali Hamad, a Bahraini-born al-Qaeda operative, has claimed that al-Qaeda figures would visit Bosnia with "state protection," and both the US and Saudi Arabia accused the Izetbegovic regime of giving Bosnian passports to known terrorists.

…[T]ogether with local extremist allies, an entire infrastructure supporting militant Islamist causes (and not infrequently outright terrorism itself) was created during the latter part of the decade, the consequences of which are still plaguing the region today.

Thus, in remote, isolated villages around the Balkans, militant Islamists have developed a network of extra-territorial, sharia-run enclaves that serve as recruiting stations for local converts and safe havens for jihadis from around the world. According to writer Janez Kovac, in the central Bosnian village of Bocinja Donja, for instance, inhabited by some six hundred people, extremists live "separate lives untroubled by local police, tax-collectors, or any other authorities. Outsiders never set foot in the small community." Another Bosnian village, Gornja Maoca, is the headquarters of Bosnia's main Wahhabi leader, Nusret Imamovic. Gornja Maoca has frequently been used as a way station for extremists joining jihads in Chechnya, Afghanistan, and Yemen. In October 2011, Mevlid Jasarevic, a Wahhabi from the Sandzak region, left the village with two other residents on the day he attacked the US Embassy in Sarajevo.

…The White Mosque in Sarajevo is the headquarters of Sulejman Bugari, a Kosovo Albanian-born imam whom the global intelligence firm Stratfor has described as a go-between for Albanian and Bosnian extremists. In Kosovo, the journalist Mohammad al-Arnaout has reported that the Makowitz mosque on the outskirts of Pristina and the Mitrovica mosque are recruiting militants to fight alongside Islamist groups in Syria….

The CIA has estimated that one-third of the Bosnian NGOs operating worldwide have terrorist connections or employ people with terrorist links. In the aftermath of 9/11, a raid on such a "charity" in Sarajevo, the Saudi High Commission for Aid to Bosnia, according to the Balkan Investigative Reporting Network, netted "maps of Washington, material for making false State Department identity cards, and anti-American manuals designed for children."
…
According to Fahrudin Kladicanin, the co-author of a recent study on Balkan extremists' use of the Internet and social media, "the number of those who are 'liking,' making comments, and sharing the content of these pages…is rising on a daily basis." The Facebook page "Krenaria Islame" (Albanian for "Islamic Pride"), which posts pictures and stories of Albanians fighting in Syria, has twenty-five hundred followers. According to Arjan Dyrmishi, a security expert based in Tirana, the Albanian capital, "if all the followers of this page were identified as terrorists, they would make a small army and pose a major problem…"

…Misogyny and homophobia are prominent elements of the militant Islamists' ideology. In Kosovo, the mufti of Prizren, Irfan Salihu, publicly claimed in a recent sermon, "Any woman who has intimate acts without being married according to provisions of the Islam [sic] is a slut and a bitch [and garbage]" [Things are pretty bad when Kosovo's most radical independence agitators, the Self-Determination Movement, also condemns the sermon and lets the cat out of the bag that Kosovo faces a "huge risk of religious fundamentalism."]

…[Bilal] Bosnic, the Bosnian Wahhabi leader, has posted a song on YouTube in which he sings:

The beautiful jihad has risen over Bosnia
And the Bosnian started calling "Allah Akbar" and praying
America had better know I am performing dawah
God willing, it will be destroyed to its foundations…

This unending din of propaganda is having an effect on a new generation. Over the past decade, militant Islamists indigenous to the Balkans have been involved in numerous actions and conspiracies: the October 2002 attack on the US Embassy in Vienna, the May 2007 Fort Dix bomb plot, the July 2009 Raleigh Group conspiracy, the 2009 New York City subway attack conspiracy, the October 2011 attack on the US Embassy in Sarajevo, a January 2012 plot to bomb nightclubs in Tampa, and the murder of two US servicemen at Frankfurt Airport in February 2012. Most recently, a young man from Kosovo became "the Balkans' first suicide bomber," killing fifty people in an attack in Baghdad in March 2014.

According to Bulgaria's former chief mufti, Nedim Gendzhev, militant Islamists in southeastern Europe are trying to create a "fundamentalist triangle" formed by Bosnia, Macedonia, and Bulgaria's western Rhodope Mountains…As Esad Hecimovic, a leading expert on the Bosnian jihadi movement, has noted, "There is now a new generation of Islamic preachers in Bosnia who were educated after the war at Islamic universities in Saudi Arabia, Jordan, Syria. . . . Thus, it is no longer possible to distinguish between 'imported' and 'local' versions of Islam in Bosnia and Herzegovina anymore."

Unfortunately, the international response to militant Islam's rise in southeastern Europe has ranged from neglect to outright denial. For instance, after 9/11, the then high representative in Bosnia, Wolfgang Petritsch, somewhat incredibly claimed in a New York Times op-ed that "no evidence has been produced that [Bosnia] has served as a base for al-Qaeda," while the current high representative in Bosnia, Valentin Inzko, for his part, has similarly argued that the Wahhabis in Bosnia "pose no danger to Europe." Yet as Evan Kohlmann, a leading specialist on al-Qaeda's campaign in Bosnia, has put it, individuals who deny that al-Qaeda is operating in the Balkans "are either lying or have no idea what they are talking about." […]
As long as we're on Balkanites in ISIS, it may be worth a mention that according to Croatia's Jutarnji List four Croatian chicks took "Saturday Night Live's" advice and opted out of college for ISIS, part of the Bimbo-isis sweeping the globe. Apparently there were also some Croatian males who ran off to Syria and Iraq, and the report reminds us that "Croatia is a transit country for radical Islamic elements." Croatia? A transit country for jihad-facilitating? Again? An interesting paragraph in the article:
…It was in an interview, confirmed by the former president of the Islamic Association Ševko Omerbašić [who] in 2011 [told] Daily Avaz that the Wahhabis "tried to root in Zagreb a mosque, but were prevented. They rented a house where they had gathered. Croatian intelligence service followed them, after which they were warned that they could have big problems, and they went where they have a little more freedom, in Bosnia…
Could this be? An ally of ours — a made-in-the-USA-and-Vatican-and-Germany democracy — following Muslims around and intimidating them out of practicing their religion? We certainly don't let Serbia or Macedonia get away with that sort of thing. And so the Muslims went to where they could have "a little more freedom" to be radical. Bosnia. My but what does our beloved Bosnia have to do with radicalism? Perish the thought! A few more tidbits:
Croatian secret services for several years have closely monitored the movement of radical Islamists in Croatia. Ševko Omerbašić then confirmed that Sead Plojović is the person who is trying to organize the Wahhabis in Zagreb and Croatia. Plojović is a native of Novi Pazar, and the family lived in Zagreb. In March this year [he was] arrested by Serbian police, suspected of organized recruitment and sending of young Muslims from Sandzak in Syria…It is Plojović and his sister Nesvresu [who are] considered the persons who arranged marriage of Dora Bilic [to] Sead Avdic with whom Dora last year went to Syria. Family Plojović is, as we found out, for years [has been watched by] the Croatian intelligence service. [Plojovic] is linked to Novi Pazar's Mevlid Jasarevic who in 2011 shot at the US Embassy in Sarajevo.

It is alleged that Plojovic, the martial arts coach at Gornja Maoca…organized training and hanging out with Jasarevic. In a brief statement for Jutarnji List in 2011, Plojovic condemned Jašarević's act: "I do not know Mevlid well, maybe I met him at gatherings in Maoča…." said Plojović, who was then living at the Zagreb address…He was suspected of having brought Jasarevic to Sarajevo on the day of the attack on the embassy. After, he was released because there was no evidence that he was an accomplice in the attack.

…US has recently declared Wahhabis from Bosnia a terrorist organization. Vienna has been identified as a center of spreading radical Islamism in the region, along with an organization surrounding the radical Viennese imam Muhamed Porca, all of which have ties with Wahhabis in Gornja Maoca and other places in Bosnia…Plojović was [tasked] in Vienna [with] the establishment of a Wahhabi movement in Croatia…Slovenian intelligence service for several years now supervise the work of Islamic organizations in Slovenia…Our respondents indicate a link [between] Slovenian and Bosnian Wahhabis and the arrival of Hussein Bilal Bosnic in Ljubljana[, Slovenia].

Bosnic was recently arrested in Sarajevo with a group of radical Islamists. Slovenian public was shocked a few weeks ago, when the Slovenian police arrested Slovenian citizens Boštijan and Rocco, who converted to Islam and then went to fight in Syria.

[They] have worked in Bosnia as humanitarian workers and associated themselves with the Wahhabis in Gornja Maoca. It was Bosnic who organized their departure to Syria….[T]he two Slovenians also met Nusret Imamovic, listed as one of the world's most dangerous terrorists by the State Department.
Jihad 'Made in Kosovo' (Deutsche Welle, Aug. 24, 2014)
Over the span of two days, 43 Islamic extremists were arrested in Kosovo. Dozens more are under watch, both at home and in the Middle East…The act that triggered the largest police action in Kosovo since the war in 1999 was…[Muhaxheri's] beheading of a 19-year-old in Syria….Those images were published in nearly every Kosovo newspaper and Internet portal and sparked outrage and deep shock among Kosovars.

The president of Europe's youngest nation [so young, it's not even a nation], Atifete Jahjaga, immediately announced her response. "Kosovo will be no safe haven for terrorists," she said. [Too late.]

…[I]n the last few weeks at least 16 bodies from Iraq and Syria were returned to Kosovo. It is also alleged that there could be a few hundred radical extremists within Kosovo.
…
Kosovo media report that at least 56 further suspects will be arrested shortly…According to Kosovar media, there were threats of a possible Islamist terrorist attack during the film festival "Dokufest"…Prior to the 1999 war in Kosovo, there were 560 mosques; today there are nearly 700 Muslim houses of worship.

The Islamic community of Kosovo (Bashkesia Islame e Kosoves - BIK) is very well organized. "With full responsibility I say, 'We have all mosques and imams under control,'" said the the chairman of BIK, Naim Trnava, in an interview with DW.

Still, he says, there are many "guests" coming in from the outside because the country's border is very open.

"After the war, anyone could come and go as he pleased. This is the reason a part of our youth have been indoctrinated," Trnava said.

Analyst Haki Abayi, chairman of the Rockefeller Brothers Foundation in Prishtina, believes the difficult economic situation has made youth particularly vulnerable to radical Islamic propaganda…
(But Washington promised us that Bosnian and Albanian Muslims were *not* vulnerable to Islamic propaganda, and so it was safe to help their war against the local Christians.)
…Moreover, in Kosovo there were, until a short while ago, four so-called houses of worship…Trnava believes radical groups and their supporters assembled there. This is likely the reason police recently closed one of these houses in Prishtina.

That closure is part of the "uncompromising fight" the government of Kosovo has declared against all extremists.

"In Kosovo there will be no place for extremism, radicalism, and terrorism. Kosovo is a free and independent country that will, with the help of the European Union and the USA, continue to fight for good and against evil," Prime Minister Hashim Thaci told DW.
And when it comes to good versus evil, you can trust a proven murderer heading a country. But at least we can trust the information coming from Imam Trnava (Ternava), who disapproves of building new churches and the Mother Teresa cathedral. ("No human brain can understand how a church should be built in the middle of 13 Muslim villages.") It's fitting that in 2009 Thaci, the butcher and ethnic cleanser who became prime minister, thanked Ternava "for the new culture of religious tolerance being cultivated in Kosovo."
It's also the same Ternava whose assistant was Sabri Bajgora, a known Wahhabi sympathizer, and whom even America's earliest media champion of bombing a UN member state on behalf of its restive Muslims has called "the Wahhabi head of the Kosovo Islamic Community," and detailed Ternava's academic usurpation and indulgence of fanaticism. The same Ternava who on a State Department-sponsored trip in 2007 told a Detroit Islamic center, "Pray for the independence of Kosovo…thousands of people went as shahids (martyrs) during all these sufferings. With the blood of these shahids…we hope in the near future to be the newest state in the world…Islam is such a comprehensive religion which includes all what the family needs and what an individual needs in this world…Teach it to others."
A 2009 article about an imam calling Ternava out had a telling title: "Wahhabis 'have spread their roots throughout Kosovo', imam warns government." Ternava's first thought for garnering international recognitions, meanwhile, went to the Middle East. During an August 2008 conference called 'Kosovo and the Arab World', he said, "The Western world has assisted in the establishment of the Kosovo state, while we anticipate the Islamic world to assist Kosovo strengthening its statehood," and called the conference a good opportunity to establish ties between the Islamic world and Kosovo. To that end, after mutual visits with the UAE in May 2014, Ternava secured construction of eight new mosques in Kosovo. And this is the replacement for the radical Shefqet Krasniqi, who was arrested a year ago.
But none of it keeps media from going to Ternava for assurances about Kosovo's tolerance and modernness. In July 2013 he obliged the Southeast European Times with, "Islam is peaceful and has nothing to do with fundamentalism…There is no extremism in Kosovo…there is a small part of the young people who have a little different understanding of the meaning of Islam…[that] can cause confusion among the broad mass of people." Which makes the following more honest comment by Abit Hoxha, researcher for Pristina's Centre for Security Policy, a bit of a head-scratcher: "The Islamic community does not do much except for the discourse of denying the inspiration of extremism, terrorism, fundamentalism. But the fact stands that inter-religious tolerance is not on the agenda…"
(Like Deutsche Welle still coming to Ternava, recall how Utah's Deseret News in 2007 would go for reassuring soundbites on the Trolley Square massacre by a Bosnian teen, to the very likes that Mr. Bardos warns us about, its favorite Bosnian imam Nezim Halilovic, who just this month called for a "Bosnian Spring" against Republika Srpska, including military action and Wahhabi fronts so that Allah might destroy it. Bosnia's security organs naturally responded with silence.)
According to a 2012 article titled "Kosovo: Catholic bishop: high risk of radical Islam," Ternava is included in the "interfaith dialogues" among Kosovo's Muslim, Catholic, and Orthodox leaderships: "Four years on from its independence, Kosovo…is calling on the West for help to avoid being swallowed by the slow advance of radical Islam… 'If the West were to leave us alone,' the Kosovo Ambassador to Italy, Albert Prenkaj, never tires of saying, 'our country would risk becoming a pupil of the more fanatical Islamic countries.'"
Which brings us back to our year in review:
The Hidden Growth of Islamic Extremism in Kosovo (Aug. 22, 2014)
…The constant development of Islamic influences in Kosovo remained unnoticed for a long time by most observers…Kosovo was supposed to be the example of a Muslim state in the middle of Europe that does not struggl[e] with religious and cultural challenges. Kosovo may have problems with trafficking, organised crime and corruption; but not Islam. [And of course organized crime has no connection to terrorism. 2003: "Substantial and irrefutable evidence is increasingly becoming available…as to the extent of the connection between al-Qaida terrorist groups, narco-trafficking and the Kosovo Albanian leadership within Serbia. This was highlighted extensively in the 1995 book by Yossef Bodansky, Offensive in the Balkans: The Potential for a Wider War as a Result of Foreign Intervention in Bosnia-Herzegovina…and [his] 1996 book Some Call it Peace: Waiting for War in the Balkans.]

…Until the 1980s, religion in Kosovo was a private thing. Under pressure from the Slobodan Milošević regime, it transformed into a nation-building and freedom-fighting issue.
Ah, so religion was intermingled with the "purely national" struggle. (It's not like author Chris Deliso has been screaming it from the rooftops or anything. Here he was in 2008: The Saudis are "'hoping to change nationalistic extremism into religious or Islamic extremism.' …While there are few targets to attack in the country, Kosovo is still a prize…[and it] provides areas for radicals to hide out, and members of its white population can blend into Western areas….A fugitive wanted by the Spanish police in connection with the terror attacks on trains in Madrid was pulled off a train by the Serbian police, and it is believed he was headed for sanctuary in Kosovo…." And as early as the month we attacked Serbia in 1999, Israeli investigative journalist Steve Rodan cited European security sources when reporting that "Kosovo has become the latest and most significant arena for radical Islamic states and groups that seek to widen their influence in Europe.")
…The growth of importance of religion in Kosovo is happening casually en passant and on a very grassroots level; and so is the social base for recruitment of potential Islam fighters. Several years ago, the holy month of Ramadan was unnoticeable in Kosovo's capital, Pristina. Today the group of people fasting from dawn to dusk is clearly visible in the city. The usually full cafeterias and restaurants in the main boulevard, boulevard of Mother Theresa, are empty during the day, the city becomes peaceful and qui[et] until the Iftar dinner time comes. [A slightly different take on Kosovo's Ramadan scene from that of the NPR reporter earlier, though one may be talking about daytime and the other, evening, or simply different stages of the Ramadan.]

The status of traditional Albanian national heroes like Mother Theresa or Skandenberg is now being questioned, as they were Catholics not Muslims. [But Kosovo was supposed to be a national struggle!] Unlike just a few years ago, covered women and men with a beard wearing pants above his ankles is a common sight nowadays in Pristina, not to mention the conservative cities and regions such as Kaçanik or Hani i Elezit.

It's becoming common practice to pay people in their initial phase of religiosity for regular visits to mosques, wearing a hijab or a beard. Several hundreds of euros are frequently donated to parents, or even more preferably to single mothers…as a payoff for making the children follow the ahadith, the traditions.

…The bad economic situation should be regarded, rather, as an indirect factor which creates an advantageous environment for recruitment…Another crucial reason – an identity crisis – is a more complex one. Kosovo Albanians, or Kosovars, experience trouble with defining who they are. They are not emotionally attached to the blue and yellow Kosovo flag, so they use the Albanian red flag….They are Albanians but they feel distinguished from the Albanians in Albania. They fought for independence and sovereignty, but they feel their country is run by foreign embassies. Religion offers a clear identity and a sense of belonging. [How about that!]

There is still a strong belief in Kosovo society that religion and state should be separated. When the Macedonian Albanians were protesting in July against the authorities in Skopje, the protests enjoyed strong support from the Kosovo Albanians, but faced a critique regarding the strong religious component of the protest, including the use of the green Muslim flags and organisation of the demonstrations in front of mosques. At the same time, terrorism has a long tradition in Kosovo and it is difficult to distinguish Islamic terrorism from the general phenomenon of terrorism in the country executed by paramilitary organisations or other politically driven groups. […]
So Macedonia Albanians' push for "rights" is Islamic after all? Who knew?! And terrorism as such has — drum roll — a long tradition in Kosovo and it's difficult to distinguish Islamic terrorism from Albanian terrorism. Well I'll be darned. It was domestic terror that the Yugoslav Army and police responded to, after all.
That same August 2014, Nebojsa Malic reminded us of four key things:
…[Syria] isn't the first time the Empire is in bed with murderers and terrorists: prominent Washington politicians have praised the "Kosovo Liberation Army" as fighting for "human rights and American values." In fact, one such politician – John McCain – has heaped praise on both the KLA and the ISIS. The KLA-run "Republic of Kosovo" has even helped the Empire "train" Syrian jihadists, back in 2012. Maybe that explains why so many Albanians (aka "Kosovars") are killing and dying in Syria and Iraq today.

Of course, the Imperial media claim the Albanians are "outraged" that one of theirs would behead people. Yet why would they be, when the KLA had no problem beheading Serbs or committing other atrocities in 1998-99? Jihadist beheadings were also common during the Bosnian War, but the media narrative of "Good Muslims" vs. "Evil Serbs" insisted on burying that inconvenient fact. The Empire continues to cover for the KLA even today.
…
Washington's spokes critters proclaim [about the Kiev regime] it's perfectly fine for a government to bomb its own people, because that's just "defending sovereignty." Except, when Serbia actually defended its sovereignty in 1999, with far less force, NATO screamed "genocide" (which it wasn't) and launched a war of aggression. […]
The same month also brought this: Albanian Jihadist Reportedly Killed in Syria (Balkan Insight, Aug. 18, 2014)

[Idajet] Balliu poses with an Islamic State flag on Facebook.
Now, just because Balkans jihadists have been properly internationalizing, doesn't mean they're about to neglect the locals, their original targets — whom America, England and Germany helped to target:
Bosnian and Albanian Muslim Extremists threaten: Belgrade is next target! No Serb will remain on the planet! (Pravda, Jan. 9, 2015)
Terrorist graffiti appeared overnight in the vicinity of Dečani Monastery (Serbian-Orthodox Diocese of Raska-Prizren and Kosovo-Metohija, Oct. 12, 2014)
…The most common graffiti are UCK, ISIS, AKSH (Albanian National Army), "The Caliphate is coming" and some undecipherable lines that may look like an attempt to write in Arabic. While [KFOR] Col. Minelli, the chief of the police, and the Abbot Fr. Sava were inspecting the graffiti a group of young Kosovo Albanians who were passing on the road overlooking the monastery land began shouting UCK in chorus…[T]hree young Albanian men were detained by the police for provocative behavior.

…The perpetrators of [the graffiti] provocation most probably entered the monastery property on the eastern side where there is no wall. Six years ago the Monastery had to stop construction of the wall on the eastern side because they were openly threatened in the press by the local UCK war veteran organization, claiming that the Monastery had no right…

Today's incident comes several days after the incident at Peć Patriarchate gate where a Wahhabi person (identified as Alegorik Muhamed Beqiri born in 1992 from Skenderaj/Srbica, with residence in Peć/Peja) attacked and injured a local Kosovo policeman shouting "Allahu-Akbar". On that occasion the Church learned that this man and his companions had allegedly threatened the Catholic nuns in Peć a few days before telling them that they would be slaughtered.

Dečani monks informed KFOR two months ago that they could see four vehicles full of bearded men dressed in Wahhabi style passing by the monastery on their way to the Dečani gorge…Today's incident also comes six months after unknown individuals left UCK graffiti on one of the Monastery gates (24 April 2014). The perpertrators of this incident have not been brought to justice yet (NEWS http://www.eparhija-prizren.com/en/statements/uck-graffitti-painted-decani-monastery-gate-communique-diocese)…In recent weeks KFOR has increased the security around the Monastery…
Kosovo: New "ISIS" Graffiti On Visoki Decani Monastery (Inserbia.info, Oct. 13, 2014)

Photo: Novosti
New graffiti in support of the Islamic State of Iraq and Syria (ISIS) and the Albanian National Army (AKSh) appeared on the gate of Visoki Decani monastery….Sava Janjic, prior of the Serbian Orthodox monastery Visoki Decani, wrote on Twitter.

"This morning we have noticed another ISIS graffiti on the monastery's gate closer to the church. This is a shame," Janjic wrote. […]
Authorities Urged to Protect Kosovar Reporter Threatened by Muslim Radicals (Reporters Without Borders, Sept. 3, 2014)
…[Visar] Duriqi's coverage of Islamic issues and religious extremism has been a source of annoyance in radical circles…

"I received many threats, mainly via Facebook, after the [Muslim Youth Forum's website] communiqué was published," Duriqi told Reporters Without Borders. "The MYF statement is a death sentence. I am being threatened with beheading. I hope the police will investigate this quickly. I do not feel safe at the moment." […]
Consistent as ever, rights groups such as Reporters Without Borders stir only when Albanians are endangered. Only this time, unlike in 1999, it's for real, and of the media-Albanian-humanitarian-Westerventionist cabal's own making.
Flashback to 2001:
Islam Builds a Future in Kosovo, One Mosque at a Time (RNS, Sept. 12, 2001)
Kosovo legally remains part of Yugoslavia. But the region's Muslim leaders are preparing for eventual independence.
…Andreas Szolgyemy, a Hungarian religion expert working in Pristina, said there is a "tremendous interest among the young" in Islam.…Saudi sponsors delivered 200,000 Albanian-Arabic Qur'ans to the province last October…At the current rate of growth, Szolgyemy predicted that Kosovo will have an increasingly Muslim character…Szolgyemy was quick to caution, however, that "maybe the main religion will be Islam but not the state religion…"

"We have made clear to all the Islamic organizations that we will accept their help but that we remain in control of the Islamic situation," said [Qemajl] Morina, [vice dean of the Islamic Faculty,] adding that Wahhabis are not especially influential. […]
So much for that.
******
An appendix on Bosnia-Iran, or Bosniran:
[A] senior CIA officer testified: 'There is no question that the policy of getting arms into Bosnia was of great assistance in allowing the Iranians to dig in and create good relations with the Bosnian government…And it is a thing we will live to regret because when they blow up some Americans…it will be in part because the Iranians were able to have the time and contacts to establish themselves well in Bosnia.' … 'Five years before the sophisticated terrorist assault on the U.S…the French were starting to uncover loosely linked violent networks spreading into several countries, all tied together by a common thread: Bosnia.' … Bosnia, the Muslim country America had so fervently supported during the previous decade, had also served as a finishing school for terrorists intent on killing Americans."
******
Another Flashback, one again underscoring the ultimate targets of the Islamic wars in those moderate-Muslim Balkans:
Wahhabis Threaten Bosnia's Security (B92, March 10, 2007)
Bosnian Federation police director Zlatko Miletic said the Wahhabi activity posed a threat to the whole country.

Miletić did not wish to confirm whether the Federation's MUP was undertaking an investigation into the sources that financed the group of Wahhabis led by Jusuf Barčić in Kalesija….Asked whether in some instances physical conflicts between Wahhabis and local Muslims reported recently could escalate, Miletic said that scenario was unlikely, however repeating the situation was such that it threatened the security in the Federation and the entire country.

Late last month, locals in Kalesija reported they were forbidden to play music, while their women were forced to cover themselves by the Wahhabis there, who called the local Muslims "infidels".

The group led by Jusuf Barcic gathered in the village slaughterhouse, "performing religious service", while other locals went to the mosque, located several kilometers away, according to an earlier Nezavisne Novine report.

The locals told the newspaper that at night the Wahhabis in the slaughterhouse played cassettes originating from military operations in the Bosnian war.
And another flashback:
Islam's Presence in Balkans Grows
(The Trumpet, Oct. 6. 2010)
Islam expands onto Europe's turf.
Experts are worrying that a new strain of radical Islam is growing in the Balkans. With Bulgaria a member of the European Union — and other nations set to join — these radicals could obtain EU passports, and easy access to the West.

The rise of radical Wahhabi sects…is even worrying "moderate" Muslims. On September 20, Suleyman Rexhepi, the leader of the Islamic Religious Community in Macedonia, called for the government, the EU and America to take "radical measures" against these groups.

Jakub Selimovski, head of religious education in the same community, said, "Wahhabism in Macedonia, the Balkans and in Europe has become more aggressive in the last 10 years."

"They are in Bosnia, here, Kosovo, Serbia, Croatia, and lately they have appeared in Bulgaria," he said.

Associated Press reports that the Wahhabists are thought to control five mosques in Macedonia's capital, Skopje.

Serbia arrested 12 Muslims last year for planning attacks, with targets including the American Embassy in Belgrade.

Organizations accused of having links to Wahhabism have been pouring money into Bulgaria since the mid 1990s. They have built over 150 mosques and teaching centers…The Bulgarian government has shut down some of these teaching centers; however, new ones continue to be built.

The state recognizes three official Muslim schools, but another seven are not controlled or regulated by the government. […]